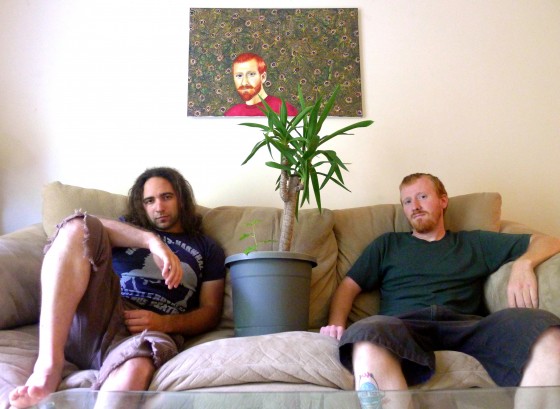 Kinky riff-twister duo A FUCKING ELEPHANT has completed its latest batch of percussive auditory penetration, and is preparing to drop the Seven Inches 7″ on January 22nd.
The New Jersey-based twosome hammered out two gnarly new tracks with engineer Colin Marston (Krallice, Dysrhythmia, Behold… The Arctopus), which will end a two-year release gap, the last new material having been captured on A FUCKING ELEPHANT's split full-length with cohorts El Drugstore nearly two years ago. As with the split, Seven Inches will pop out on Nefarious Industries, the indie label formed by deviants from both bands. The wax pressing will be limited to 500 copies overall — 250 on black vinyl and 250 on yellow — in addition to the tracks being available digitally.
Get freaky with the artwork for Seven Inches, created by Eric Nyffeler/Doe-Eyed Design, live footage of "I'm Addicted To Drugs And Sex And I Want You To Choke Me" — the a-side of the 7″ — and other AFE tomfoolery below.
Simply but aptly comprised of guitarist Matt Keys and drummer Greg Meisenberg, A FUCKING ELEPHANT has been assaulting basements and forcing acoustic trauma since 2007. In conjunction with Seven Inches slipping out, A FUCKING ELEPHANT will pack up the shrimp boat and set sail on a stateside tour in support of the wax attack. With the final few engagements of this latest DIY venture still being locked down, the tour is set to molest a total of seventeen cities throughout the East Coast and upper crust of the Midwest, with things getting greasy with a semi-local kickoff show in New Brunswick on January 4th. Shows will be updated over the coming days via the AFE Facebook and Earsplit tours page.
A FUCKING ELEPHANT January Tour:
1/04/2013 Court Tavern – New Brunswick, NJ w/ Ex Wife, Holy City Zoo, Ovlov, Two Inch Astronaut
1/05/2013 JR's – Philadelphia, PA
1/06/2013 TBA – NC
1/07/2013 The Wormhole – Savannah, GA
1/08/2013 Backbooth – Orlando, FL w/ Bog Prophet, Infinite Earths
1/09/2013 OAF House show – Tallahassee, FL
1/10/2013 TBA – Ocean Springs, MS w/ Ostrov
1/11/2013 The Handlebar – Pensacola, FL w/ Ostrov, Slowpoke Rodriguez
1/12/2013 Ziggy's – Chattanooga, TN w/ Uncle Touchy
1/13/2013 90 Proof – Knoxville, TN w/ Cryptodira, FXZero, Lucid, Scent of Remains
1/14/2013 Ultra Lounge – Chicago, IL w/ arbogast
1/15/2013 Berkley Front – Detroit, MI w/ Coffin Feeder, Snakewing
1/16/2013 TBA – OH
1/17/2013 TBA – Ithaca, NY
1/18/2013 TBA – St. James, NY w/ Bangladeafy
1/19/2013 Tuscan Café – Warwick, NY w/ Pigeon
1/20/2013 Public Assembly – Brooklyn, NY w/ Hannibal Montana, Noxious Foxes, Multitudes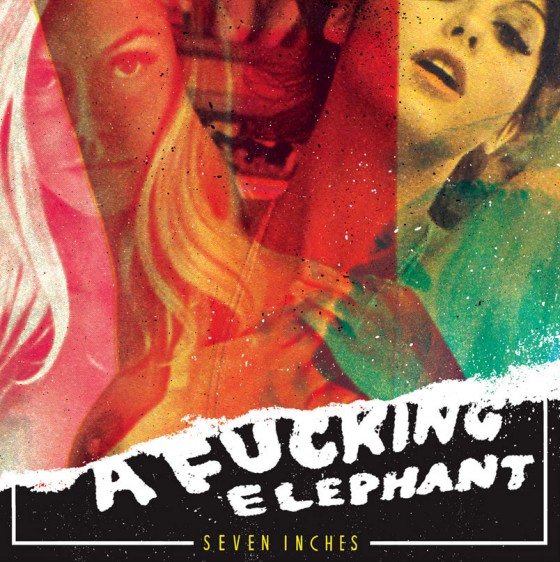 Seven Inches of A FUCKING ELEPHANT Track Listing:
side A: I'm Addicted To Drugs And Sex And I Want You To Choke Me
side B: A Bunch Of Good Looking Roundeyes
http://www.facebook.com/AFElephant
http://www.facebook.com/NefariousIndustries
http://www.nefariousindustries.com