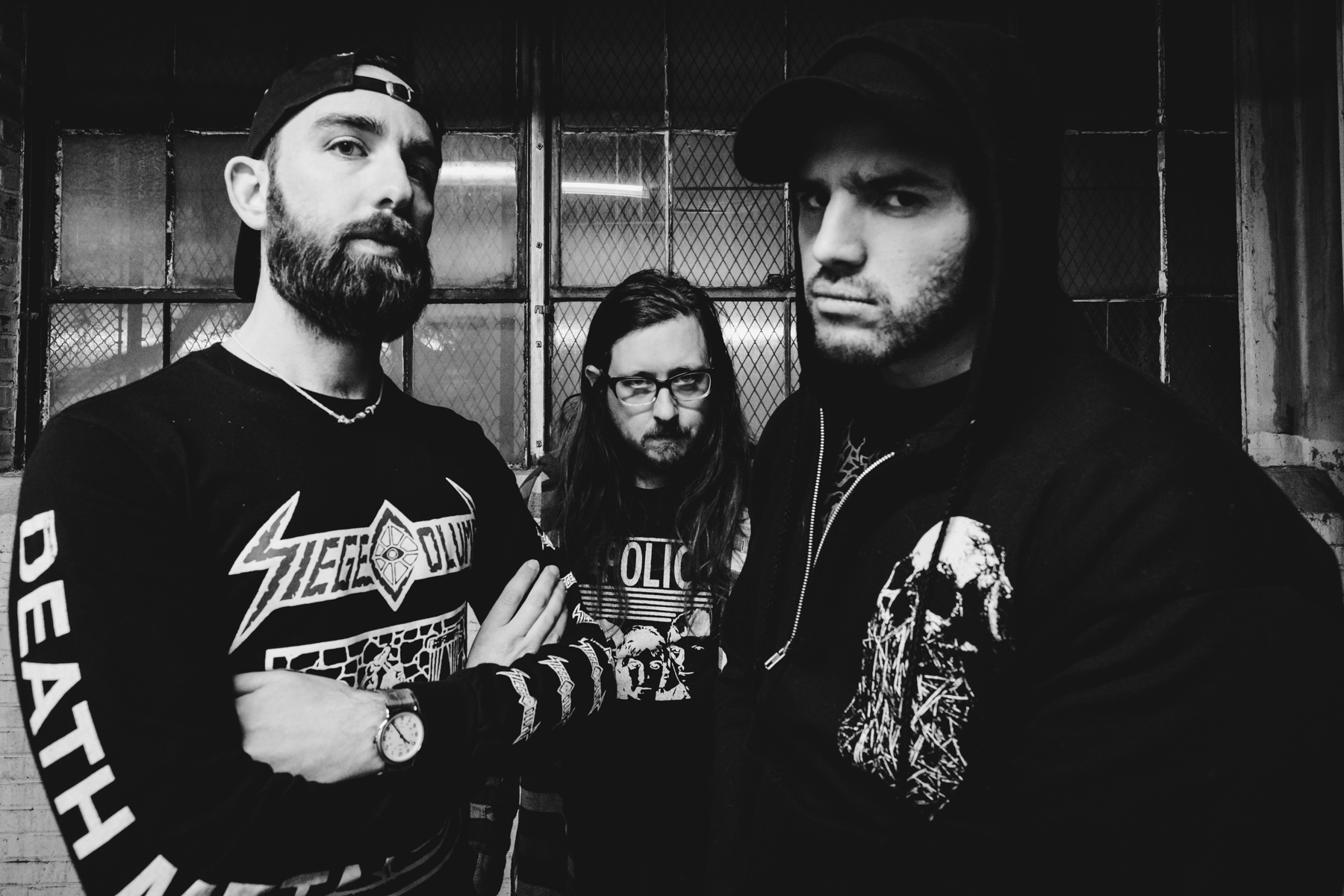 "…an interesting experiment in blending old-school cavernous death metal attitude and style with modern dissonant skronky flavor." — Metal Injection
This Friday, discordant death metal trio REPLICANT will unleash the blistering fruits of their Negative Life full-length upon the masses! In advance of its release, Metal Injection is streaming the record in full issuing, "It's easy to deliver dark sounds, but much harder to give weight and emotion to it in a way that connects with the listener, something Negative Life does in a way that sounds downright haunting and achingly miserable. The end result…occupies its own space within the pantheon of modern era technically inclined warped death metal. Particularly because, outside of Artificial Brain and a few others, most bands of this ilk have no interest in original death metal wave influences within their sound. In essence, the goal here seems to be an exercise in doing more with less, and it works in their favor every time from start to finish… Negative Life is an interesting experiment in blending old-school cavernous death metal attitude and style with modern dissonant skronky flavor."
Negative Life will see release on CD via PRC Music and digitally by the band on March 23rd. Preorder  Negative Life on CD HERE or digitally at THIS LOCATION.
Set in a bleak atmosphere of filth, malaise, and decaying infrastructure, the New Jersey-based trio deliver despotic, depraveds and pummeling riffs — a grinding and grooving aural consequence of the industrial primordial swamp that defines their surroundings. Featuring current members of technical death metal band Dystrophy, REPLICANT is morbidly heavy, brutally extreme, and frighteningly dark
The ten-track follow-up to 2016's critically-lauded Worthless Desires debut was engineered by guitarist Peter Lloyd at One Stone Recording and mastered by Alan Douches (Cannabis Corpse, Tombs, Converge, Revocation) at West West Side Music.
REPLICANT will bring their sonic chaos to the stage on several upcoming performances with more in the plotting stages. See all confirmed dates below.
REPLICANT:
4/07/2018 TBA – TBA, NY
4/12/2018 Blue Room – Secaucus, NJ
4/21/2018 Clash Bar – Clifton, NJ
4/22/2018 Anarchtica – New Brunswick, NJ
5/04/2018 Le Murdoch – Sherbrooke, QC
5/05/2018 Piranha Bar – Montreal, QC
5/23/2018 East Blocc – New Brunswick, NJ
5/25/2018 Court Tavern – New Brunswick, NJ
9/22/2018 Shadow Woods Metalfest IV – Harper's Ferry, VA
"…a muscular death-metal outfit that leans on dissonance for their brand of steamrolling hate." — Revolver
"Dissonant guitars tirelessly break the confining walls. A clattering bass patiently puts cracks in the floor like a subtle jackhammer. Pain-infused vocals vent anger and frustration. It's a reminder that the fight as not as futile as you may sometimes think." — Toilet Ov Hell on "Inescapable Grief"
"Cinematic-level experience that takes me by the hand and guides me through the rough and tumble walk of death metal fervor. Negative Life isn't just badass, it's pretty damn clever as well." — No Clean Singing
http://www.facebook.com/replicantnj
http://replicantnj.bandcamp.com
http://www.prcmusic.com
http://www.facebook.com/prcmusiccanada