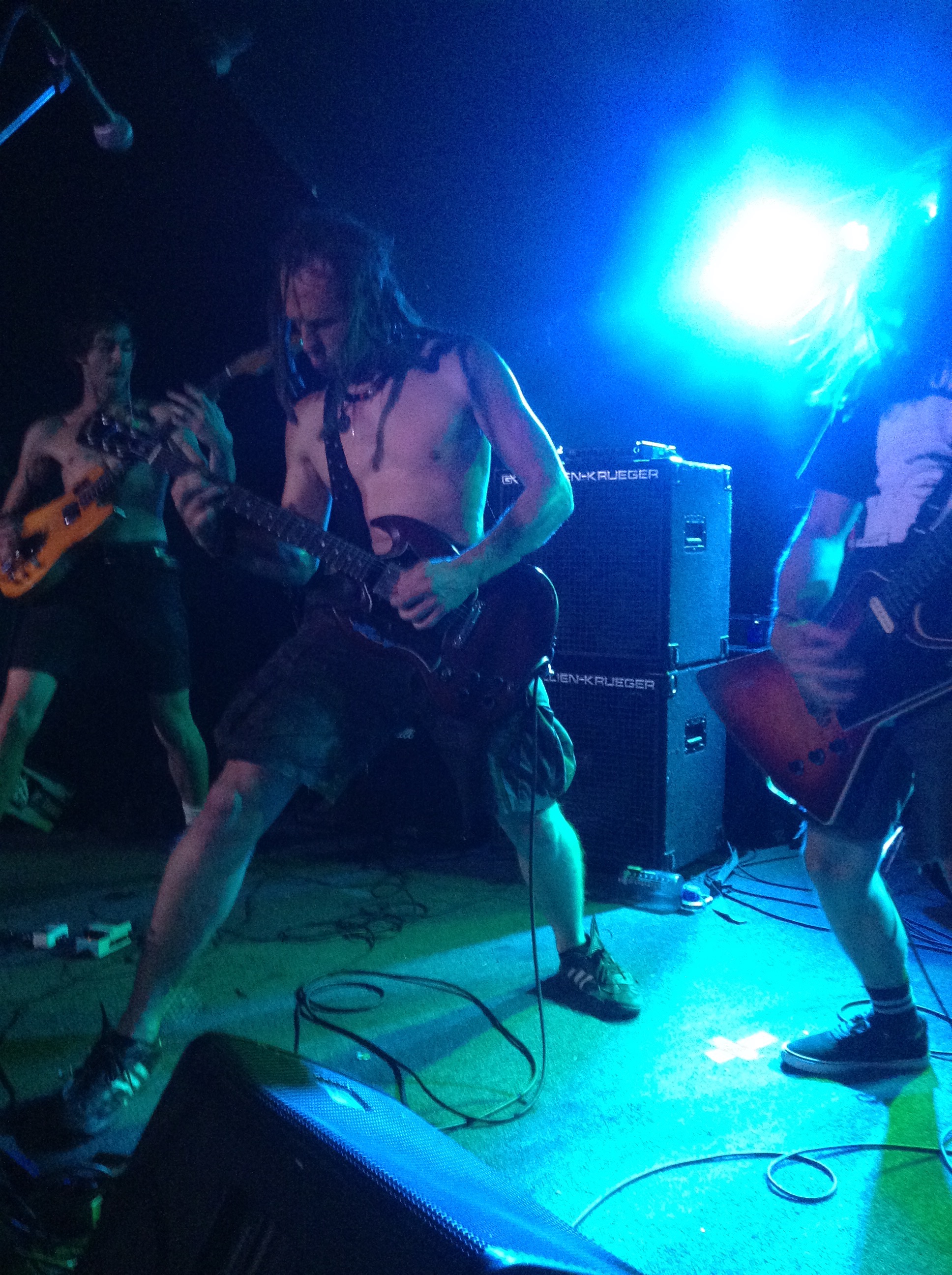 Portland, Maine-based rock-empowered black metal outfit ZUD has completed their long-awaited second album, and is preparing to independently unleash A Wilderness Left Untamed in September.
Since the release of ZUD's 2013 debut, The Good, The Bad And The Damned, the band's ability to seamlessly blend the likes of Necrovore, old Bathory, and old Mayhem, with that of Roky Erickson, Van Halen, Blue Öyster Cult, and even Heart has been heralded one of the most unique approaches to black metal in years. Regarded as a sound that distinctly stands apart from the so-called genre of "black'n'roll," ZUD has no time for what others may say is "true" or isn't (nor would they give a shit either way). The band has proven both live and on record that while always keeping the nods to those who cut the original trails in plain sight, they forge a path that is truly their own.
With A Wilderness Left Untamed, ZUD continues this journey with ten new tracks, clocking in with an hour of new material… a journey which will take the listener on a ride from one end of the rock'n'roll universe to another, full of surprises and unexpected turns, all the while distinctly always very clearly recognizable as the output of ZUD. Be it with first-wave black metal, surf, sappy '80s pop, NWOBHM, classic rock, garage, or psyche of the '60s and '70s, hardcore of the late '90s, or somehow everything at once, A Wilderness Untamed is an album which may trigger memories the listener may not have realized they'd had. ZUD traverses an insanely hilarious emotional roller coaster ride through the dark subconscious in a chaotic world, trying to make sense of it all, wondering what the point is, always remembering that though there is no argument in that "only death is real" …. Here we are and life is short, so what the fuck?
Engineered and mixed by Todd Hutchisen (East Of The Wall, Falls Of Rauros) at Acadia Recording Co in Portland, Maine, and mastered by Carl Saff (Grails, RVIVR, Unsane) in Chicago, Illinois, the ZUD lineup on A Wilderness Left Untamed was bassist Tim Walker (ex-ifandit), lead guitarist Nate Manning (ex-Cruel Hand, ex-Outbreak, ex-Bane), vocalist/guitarist Justin Curtsinger (ex-Gift Of Tongues), and drummer Darren Brown (Mome, ex-Sanctioned For A Riot).
ZUD will self-release A Wilderness Left Untamed on September 16th as they once again close out Shadow Woods Metal Fest in White Hall, Maryland, joining the likes of Vastum, Panopticon, Withered, Woe, Castle, Dead In The Manger, and many others. Additional ZUD tour dates and more band updates to be announced in the months ahead.
ZUD Live:
9/16/2017 Shadow Woods Metal Fest – White Hall, MD [info]
ZUD's The Good, The Bad And The Damned was declared, "a lot more fun to listen to than Watain," by Decibel Magazine, "Definitely unique and a little bizarre," by Metal Injection, and, "like Quorthon fronting Van Halen," by Ave Noctum. Cvlt Nation called the album, "a sick and twisted mix of classic riffs and black metal evil," Cosmos Gaming referred to it as, "a style I didn't know I wanted until I came across this release, and now I just want to keep going back to it," and No Clean Singing issued, "a jet-fueled charge of something like first-wave black metal combined with filthy rock 'n' roll. The drumming is off the hook, the riffs are more fun than a barrel of monkeys on meth, and the clean guitar solo is a banshee screamer. The vocals are also evil, vicious, and intelligible. Refreshingly different metal…"
A Wilderness Left Untamed Track Listing:
1. Sleep Talking
2. Thundercats Don't Play Dead
3. Mojave Acid Rain
4. For A Few Fucks Less To Give
5. Off The Map
6. Westbound Romance On The Napadogan Sub
7. In Conspiracy With The Franklin County Devil
8. Chasing The Dragon's Tail
9. The Way To The Forgotten Pond
10. Vuelo Final Para El Brujo
http://zud666.blogspot.com
http://www.facebook.com/ZUD-572368749452852