Attention old-school death metal fans, zombie/horror culture freaks and general savages… the debut full-length from Austrian deathsquad ZOMBIE INC. has arrived.
ZOMBIE INC. may be a new name to the death metal scene, but some of the henchmen involved this gory, plodding debauchery will surely raise some interest… namely former Pungent Stench vocalist Martin Schirenc's return to the death metal scene! Schirenc's guttural oral thunder is brutally backed by guitars from songwriting mastermind Wolfgang Rothbauer (Disbelief, Eisblut, etc.) and Gerald Huber (Collapse 7), low-end from bassist Daniel Lechner (The Cascades, ex-Lacrimas Profundere) and the percussive onslaught of Tomasz "Nefastus" Janiszewski (Belphegor, Fleshcrawl, Debauchery).
The individual potent collective of talents coalesce on ZOMBIE INC.'s debut, A Dreadful Decease, a gore-obsessed 41-minute stompfest loaded with the instinctive, intuitive and aggressive stylings of the death metal of the '90s, bringing names like Entombed, Autopsy, Dismember, Obituary, Deicide, Edge of Sanity and Gorefest to the chopping block. A Dreadful Decease runs rampant with horrific, apocalyptic zombie themes, both lyrically, atmospherically and visually, bearing professional artwork by SeasonZero Design. The album was recorded and mixed by Martin Schirenc at Vato Loco in Austria, and mastered by Dan Swanö (Edge of Sanity, Nightingale, Bloodbath) at Unisound in Sweden, who referred to the band as "great music… old-school, the perfect way."
A Dreadful Decease will see North American release on Tuesday, February 14th via Massacre Records.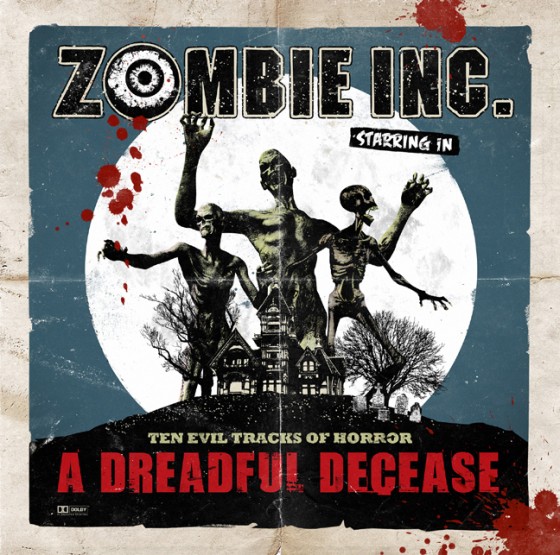 A Dreadful Decease Track Listing:
1. The Chaosbreed
2. Deadtribe Sinister
3. Challenge Of The Undead
4. Horde Unleashed
5. We Must Eat!
6. Bloodrain Overdose
7. Grim Brutality
8. Horror Fills This Hollow Earth
9. A Dreadful Decease.
10. Planet Zombie
ZOMBIE INC. lineup:
Martin Schirenc – vocals (Hollenthon, ex-Pungent Stench)
Wolfgang Rothbauer – guitars (Disbelief, Eisblut, In Slumber, Thirdmoon, GodHateCode)
Gerald Huber – guitars (Collapse 7)
Daniel Lechner – bass (The Cascades, ex-Lacrimas Profundere)
Tomasz "Nefastus" Janiszewski – drums (Belphegor, Fleshcrawl, Debauchery)
http://www.myspace.com/zombieinc666
http://www.massacre-records.com
http://www.facebook.com/massacrerecordseurope
http://www.myspace.com/massacrerecordseurope