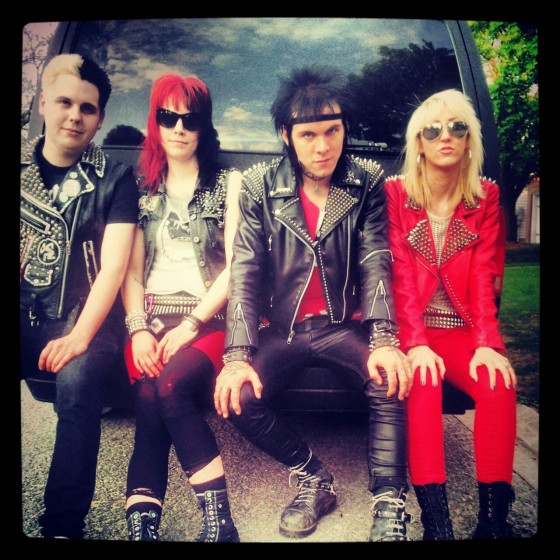 Ottawa punk quartet, ZEX, has just added another official video to their growing collection of visual accompaniments to their debut LP, Fight For Yourself, releasing a new clip for the track "Wanderlust" through Decibel Magazine's online persona, The Deciblog.
Channeling traditional heavy metal crunch and leads into their classic punk rock approach, ZEX's Fight For Yourself drops ten insatiably infectious and fully unruly anthems, the album recorded at Meatlocker Studio with Paul Yogi Granger in Ottawa and mastered by Brad Boatright at Audiosiege in Portland. With a solid fanbase and international buzz on the band already going for them, due to heavy widespread touring and a diehard worth ethic, the band independently released Fight For Yourself in Canada, and now Magic Bullet Records will deliver the album to the rest world, officially issuing the release on CD and digital globally on February 3rd with an LP to follow shortly after.
Directed by bassist Gab Sex, the "Wanderlust" video takes fans on the road with ZEX, with live footage, mishaps and general bedlam with friends and fans abroad, culled from their August 2014 US tour.
Check out "Wanderlust" now playing at Decibel at THIS LOCATION.
Also view the videos for "Fight For Yourself" HERE and "Savage City" HERE, and stream Fight For Yourself in its entirety HERE.
Having just completed a live run through Canada, in less than a month ZEX will head overseas for their Wanderlust Tour 2015, running through Malaysia, Singapore, Indonesia, Australia and New Zealand from February 7th through March 2nd. Additionally, ZEX will tour through North America again this Spring, with dates for their US Invasion 2015 May/June tour and more to be announced in the coming weeks.
ZEX Wanderlust Tour 2015:
2/07/2015 Penang, Malaysia
2/08/2015 Kuala Lumpur, Malaysia
2/10/2015 Batu Pahat, Malaysia
2/11/2015 Singapore, Singapore
2/13/2015 Sidoarjo, Indonesia
2/14/2015 Gresik, Indonesia
2/15/2015 Kediri, Indonesia
2/16/2015 Solo, Indonesia
2/17/2015 Klaten, Indonesia
2/19/2015 Bandung, Indonesia
2/20/2015 Jakarta, Indonesia
2/22/2015 Brisbane, Australia
2/24/2015 Sydney, Australia
2/25/2015 Canberra, Australia
2/26/2015 Melbourne, Australia
2/27/2015 Adelaide, Australia
2/28/2015 Melbourne, Australia
3/01/2015 Auckland, New Zealand
3/02/2015 Wellington, New Zealand
ZEX delivers energetic and riotous tunes, where streetfight-ready songs with a darker edge are surrounded by catchy, upbeat anthems, producing a humble, raw and inspiring culmination of straight-up melodic punk rock. Influences including Gary Glitter, The Sweet, Sweeny Todd, Suzi Quatro, Slade, Shakin' Street, Brats and the like, elements of founders Blondie, The Ramones, X-Ray Specs, Vice Squad, The Partisans and others can be heard in ZEX's sound, with a tightly-knit musical backdrop courtesy of drummer Tasha G (ex- Gone Drinkin', Get Wrecked, Slumlord) and bassist Gab Sex (ex- Revenge Of The Mormons), and wailing leads and solos from guitarist Jo Capitalcide (ex- Iron Dogs, Germ Attak), all fueling the vocals of Gretchen Steel, her clean approach wavering between the erogenous style of Debbie Harry and the more raw approach of Joan Jett or Pat Benatar.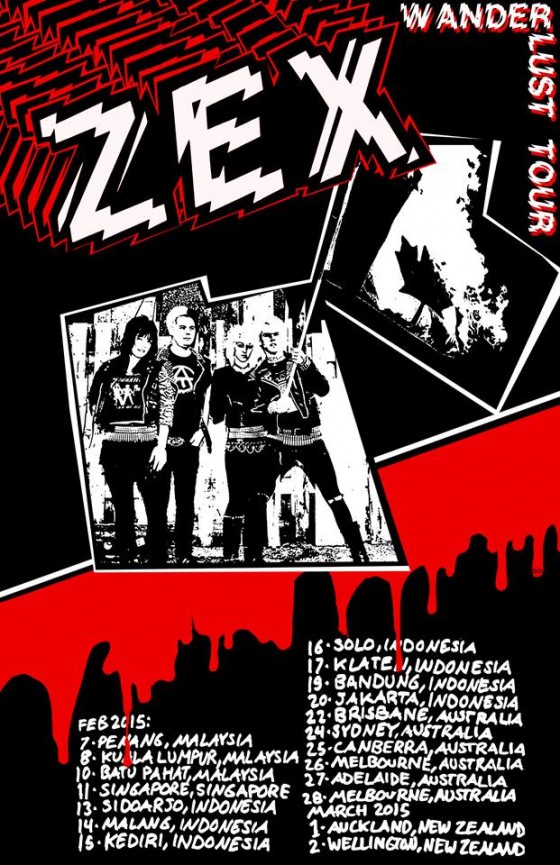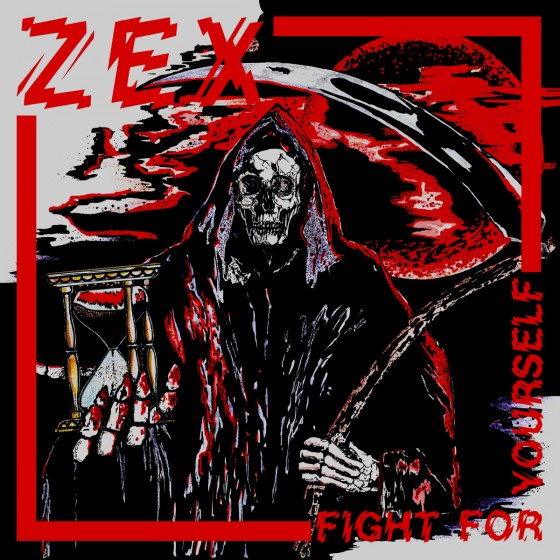 http://zexzexzex.com
http://www.facebook.com/zexzexzexofficial
http://zexzexzex.bandcamp.com
http://www.magicbulletrecords.com
http://www.facebook.com/magicbulletrecords
http://twitter.com/magicbulletrecs