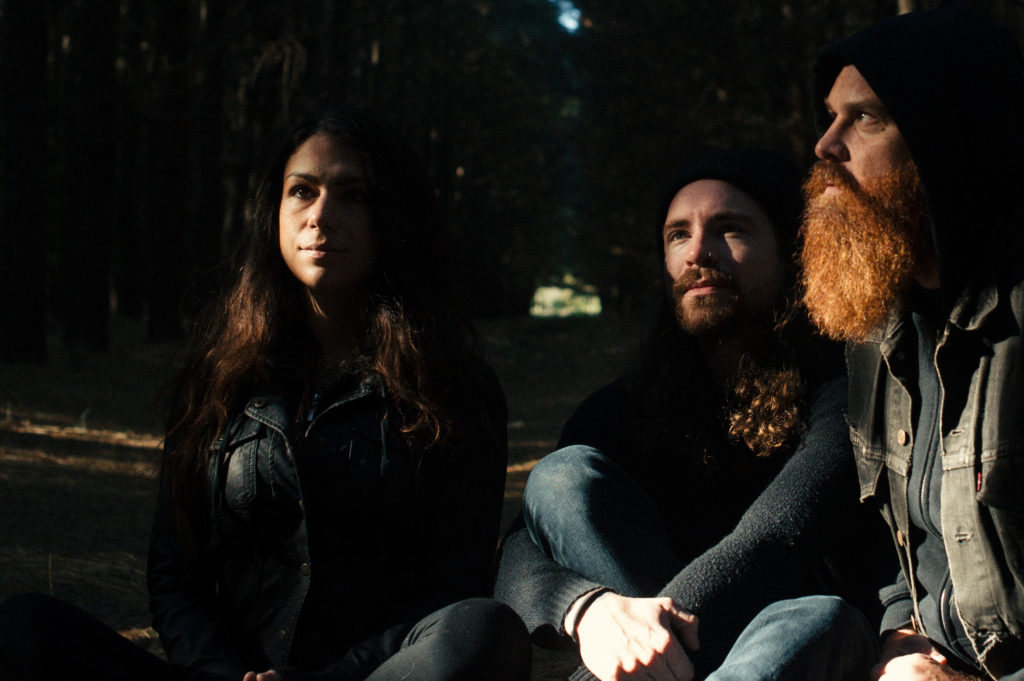 [photo by Alyssa Maloof]
Grimoire Records presents Death Ritual, the debut full-length album by Maryland-based doom trio YATRA, confirming the album for early January release. The record's cover art, track listing, and more have been posted.
YATRA is a journey into mountainous sounds, transcending into the deep forests of primeval times. Born from the ashes of the Maryland doom band Blood Raven, the new three-piece emerged in 2017 as frontman Dana Helmuth's new vehicle to embrace the darkness and doom. Confident in Maria Geisbert and Mike Tull as his new rhythm section, Helmuth's inspiration was fueled exponentially.
"We had moved back to the country, into a small cottage in the woods, with no plumbing for the first three months we were there," describes Helmuth. "We had an outhouse and outdoor shower. It was primitive, and it was during that time that I started writing all the material for Death Ritual. The solitude and the darkness of the night put me in a space of prolific writing and I wrote all eight songs in a month. We rehearsed three times a week and immediately started playing live shows regularly in Baltimore and New York City. We were able to channel that same darkness in the writing, also into our live shows, and the positive response was tremendous and really pushed us harder on our journey."
In fact, "journey" is exactly what YATRA symbolizes. While traveling through Nepal and the Himalayas by motorcycle in 2013, Helmuth learned the native word "yatra" which means journey or pilgrimage, which he later recalled as the namesake of this new doom trio. The band's eclectic sound combines the harsh, distorted vocal sounds of black metal over slow, heavy doom drones, fuzzed-out sludge riffs, and a tight rhythm section maintained by Maria Geisbert on bass and Mike Tull on drums. YATRA's sound clearly conveys heavy worship and dedication to tone. Helmuth's lyrics draw from fantasy and are influenced by the writings of Howard, Lovecraft, Auel, Tolkien, as well as many references to Norse mythology and Pagan ritual. No love or politics. Fans of Electric Wizard, Cough, and Sleep will find plenty to love in Death Ritual.
YATRA's full-length debut, Death Ritual was recorded, mixed, and mastered by Grimoire Records' Noel Mueller in August of 2018. The artwork features four mixed-media pieces by Aki Pitkänen, layout by Mueller, and the hand-drawn logotype by Dana Helmuth.
Death Ritual will be released on CD and digital download via Grimoire Records, and as a limited-edition vinyl release directly from the band, on January 4th, 2019. Find preorders HERE and watch for audio samples, tour dates, and more to be posted shortly.
Death Ritual Track Listing:
1. Hour Of The Dragon
2. Black Moon
3. Sacred Flower
4. Snakes In The Temple
5. Smoke Is Rising
6. Four Directions
7. Mighty Arrows
8. Sailing On
YATRA:
Dana Helmuth – guitars/vocals
Maria Geisbert – bass
Mike Tull – drums
http://www.facebook.com/yatradoom
https://yatradoom.bandcamp.com
http://www.grimoirerecords.com
http://grimoirerecords.bandcamp.com
http://www.facebook.com/GrimoireRecords
https://twitter.com/grimoiremetal