Extreme metal band YAOTL MICTLAN will perform on Saturday, September 4 at Bar Deluxe (666 S. State Street, Salt Lake City ) to celebrate the recent release of their latest album, Dentro Del Manto Gris de Chaac. The event will include a special showcase from Chicano artist Veronica Perez and feature traditional Aztec dancers.
YAOTL MICTLAN was recently honored by the Boston Phoenix as one of the Best New Bands From America. The highly regarded weekly newspaper said, "with an aesthetic that merges brutal death metal, Mayan imagery, and an over-the-top stage show, they have concocted an angry brew of metallic cultural warfare. In a conservative place like Salt Lake City it makes the band's heads-on-sticks live savagery all the more righteous and dangerous." Metal Maniacs adds, "Yaotl Mictlan are ferocious… a seriously fresh and sophisticated take on a solid sound."
Founded by brothers in 1998, Salt Lake City-based YAOTL MICTLAN (meaning "warriors from the land of the dead") unite metal and their native Mayan heritage. The band made its critical first impression on the ears of Brujeria vocalist Juan Brujo. So impressed Brujo later produced the band's first demo, A Batalla Vamos. The new full-length Dentro del Mantro Gris de Chaac is the band's first with new label Candlelight Records. It follows their 2006 debut, Guerreros de la Tierra de los Muertos (American Line Productions).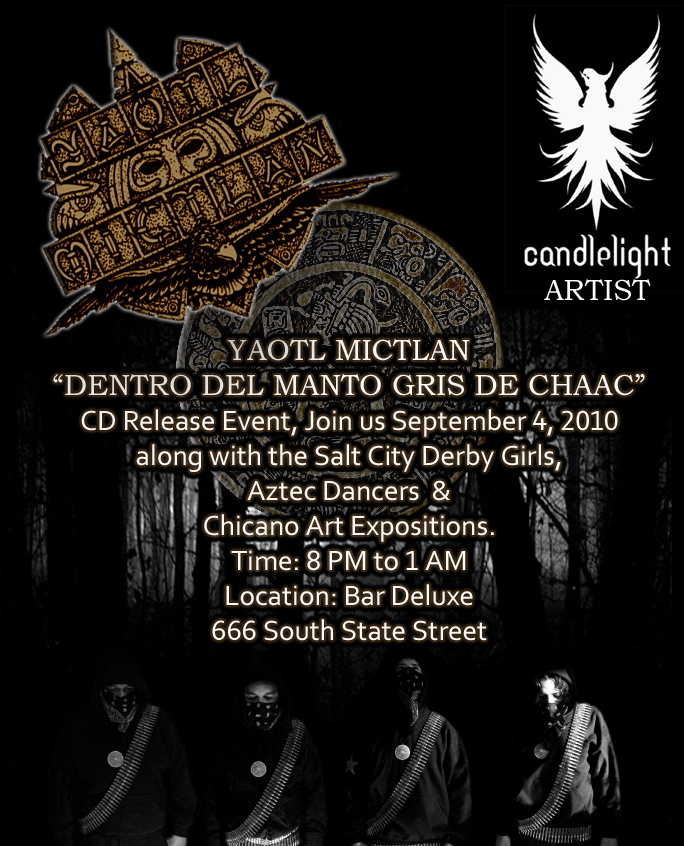 http://www.myspace.com/yaotlmictlan
http://www.candlelightrecordsusa.com
http://www.myspace.com/candlelightrecordsusa