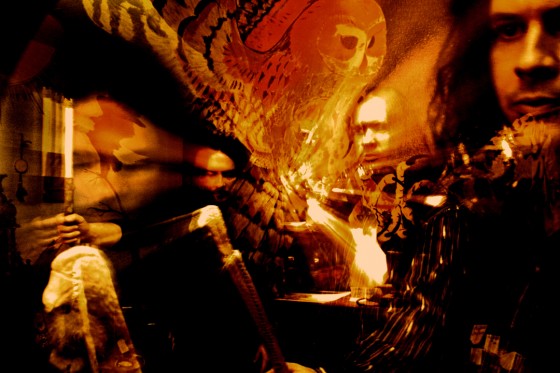 As Cascadian duo, WOLVES IN THE THRONE ROOM, prepares for the release of Celstite — the instrumental companion to their 2011 Celestial Lineage LP — Pitchfork offers the public a foretaste of the impending album with an exclusive stream of its magnum opus, "Celestite Mirror."
With over forty-five minutes of stunning, reworked versions of the powerful black metal anthems that surged on Celestial Lineage, on Celestite, the band takes a deeper excursion into the crystalline synthesizer-driven domains that have long intrigued them. With the aid of producer Randall Dunn, they unearthed a hidden soundscape that is only loosely tethered to their familiar sound, yet is still unmistakably the work of WOLVES IN THE THRONE ROOM. The scores of renowned sound-sculptors like Carpenter and Eno merge with the band's Pacific Northwestern inspirations and through a literal wall of vintage synth gear, the previous album is here fully re-imagined and delivered on a parallel existence to its predecessor. The cover art visually enhances these expansive passages with an otherworldly forest vision, a collaboration created by Rachel Carns and WITTR's Nathan Weaver.
"Celestite Mirror," the most extensive of Celestite's works, is a nearly fifteen-minute excursion into exploratory soundscapes as vast and beautiful as the band's surrounding woodlands, and is now playing at mega entertainment portal, Pitchfork, who issues, "WOLVES IN THE THRONE ROOM build from an eerie drift of synth glow and gentle bass-drum booms into a Vangelis-sized organ roar. Ahead of the halfway mark, they back into a Manuel Gottsching-like series of flickers and clicks, dispersing the darkness they once conjured. They manage a series of heavy-pawed doom riffs toward the end, but they offset the heaviness with airy synths and flutes, getting closer to Dark Side Of The Moon outtakes than Under A Funeral Moon."
Discover what lies in wait on Celestite with a glimpse into the "Celestite Mirror" via Pitchfork now at THIS LOCATION.
Celestite will see release in North America on July 8th through the band's own newly forged label, Artemisia Records, with digipak CD, gatefold LP and digital download editions pending. Preorders are now available RIGHT HERE.
While Celesite bears new "non-metal" and fully synth-based output, the album does not represent a "change in direction" for WOLVES IN THE THRONE ROOM as a whole. In fact, the duo will once again join forces with additional musical cohorts this Summer and bring their torrid and transcendental blackened whirlwind back to the masses this year, beginning with a West Coast tour this Summer. From July 11th through the 20th, WITTR will raid their hometown of Olympia Washington followed by Bellingham, Vancouver, Seattle, Portland, San Francisco, Santa Cruz, San Diego and Los Angeles. Additional tour dates will follow over the coming months.
WOLVES IN THE THRONE ROOM Tour Dates:
7/11/2014 Capital Theatre Backstage – Olympia, WA [tickets]
7/12/2014 Shakedown – Bellingham, WA [tickets]
7/13/2014 The Venue – Vancouver, BC [tickets]
7/14/2014 Crocodile – Seattle, WA [tickets]
7/15/2014 Star Theatre – Portland, OR [tickets]
7/17/2014 Slim's – San Francisco, CA [tickets]
7/18/2014 Catalyst Atrium – Santa Cruz, CA [tickets]
7/19/2014 Che Café – San Diego, CA [tickets]
7/20/2014 Echoplex – Los Angeles, CA [tickets]
http://wittr.com
https://www.facebook.com/wolvesinthethroneroom
http://artemisiarecords.bandcamp.com