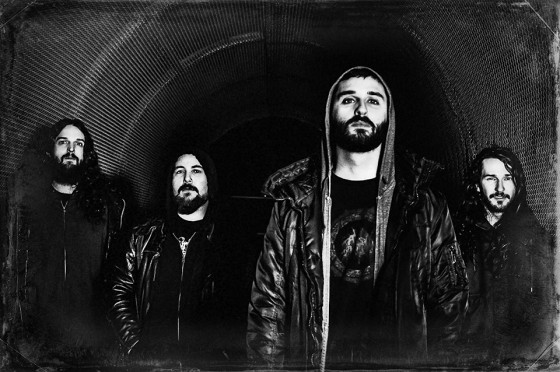 Stereogum is now streaming "Exhausted," the second song to premiere from WOE's forthcoming new album, Withdrawal. The premiere follows the earlier stream of "Carried By Waves to Remorseless Shores of the Truth" that received overwhelming response. As previously reported, Withdrawal, set for release April 23, was produced by vocalist/guitarist Chris Grigg and mastered by Colin Marston.
Discussing the track, Grigg says, "'Exhausted' is one of the most dynamic and diverse tracks on the album. It has the fastest, most aggressive moments of the album but also some of its most subtle. The lyrics are a straightforward statement about giving up, moving on, while the music — the first written collaboratively as a band — moves quickly and dramatically, representing life's abrupt twists."
To listen to "Exhausted," click HERE.
Recorded at studios in New York and New Jersey, Withdrawal is a robust and penetrating album. The album features seven new songs with a running time of 43 minutes. The first new material by the band since 2010's widely regarded Quietly, Undramatically finds them reunited with cover artist/illustrator and friend Justin Miller.
The Onion's A.V. Club calls WOE, "one of the best young American black metal bands willing to play around with the boundaries of the genre." MetalSucks says, "sincere and relentlessly creative, WOE put a new spin on an old method. This is the sound of black metal to come." Popdose adds, "WOE burns the black metal rule book to create something wholly unique and desirable."
Enthusiastic about the fast approaching release date, Grigg notes, "we are very excited to be getting closer to the release of Withdrawal. Early reviews have been exceptionally positive and confirm our suspicion that this is our strongest work to date. We will soon announce our first regional tour in support of the album with more pending and look forward to presenting this material live, as it was intended."
Originally launched as a one-man project, WOE released their debut, A Spell For the Death of Man, before teaming with England's Candlelight Records in 2009. Their label debut, Quietly, Undramatically, was released late October 2010 and immediately found praise. Decibel called the album "an intriguing, revolutionary blend of black metal and shoegaze-tinged post-rock sophistication." Terrorizer found it to be, "a raging slab of barely contained aggression, immeasurable parthos, and damn fine songwriting." Shortly after release,WOE was invited to perform at the March 2011 Scion Rock Fest in Pomona, California. The band would follow that up with a number of regional dates before heading out with Mayhem for their American tour later that year.
To preorder the CD or limited edition vinyl pressing of Withdrawal visit Candlelight Records US webstore HERE.
http://withdrawal.woeunholy.com
http://www.facebook.com/woeunholy
http:/www.candlelightrecordsusa.com