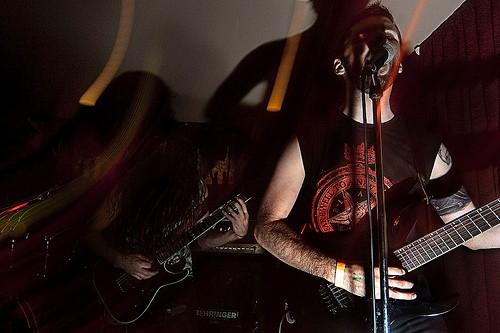 In part three of his ongoing Deciblog adventures, WOE frontman Chris Grigg talks about his latest gear purchases, the anticipation of the band's upcoming full-length, the importance of band rehearsal and the woes (pun absolutely intended) of being way too busy. To read through Grigg's latest installment, visit:
http://www.decibelmagazine.com/diary/a-day-in-the-life-of-chris-grigg-woe-part-drei/
WOE's Quietly, Undramatically full-length will be released in North America tomorrow, October 12. Recorded at Gradwell House in Haddon Heights, New Jersey with additional tracking completed at Grigg's BS1 in Philadelphia, the album is the first to feature a full band ensemble comprised of members from Absu, Woods Of Ypres, The Green Evening Requiem, Infernal Stronghold and Rumpelstiltskin Grinder.
Check out the Candlelight ecard here:
http://www.candlelightrecords.co.uk/digital/ecard/woe_ecard/woe_ecard.html
WOE will celebrate the release with a free performance, along with labelmates KRIEG, at Philadelphia's Kung Fu Necktie (1248 North Front Street) on October 28. Both bands will also hit Rhode Island and New York City that weekend:
10/28/2010 King Fu Necktie – Philadelphia, PA FREE SHOW w/ KRIEG, Infernal Stronghold
10/29/2010 Machines With Magnets – Pawtucket, RI w/ KRIEG, Sewer Goddess, Dead Times
10/30/2010 The Knitting Factory – Brooklyn, NY w/ KRIEG
For additional live performances visit the band's recently redesigned site at: http://quietly.WOEunholy.com
"The album has a huge amount of variation, and tacks on enough unforeseen twists to keep even the most jaded metal fan listening for the whole run time. Fans of U.S. black metal need to make a point of keeping up with Woe." — Metal Underground

"Woe's penchant for creating atypical black metal is truly unparalleled" — Metal Register
"It's really hard to pin down Quietly, Undramatically to one sub-sub-grenre of BM. At moments Woe is reminiscent of Emperor. At other times Carpathian Forest and Absu. Woe have created something truly unique and interesting. This album has a depressing, dark overtone but not in a way that makes me feel like a fag for liking it." — Stereokiller
"Melodic, catchy, stomping, pounding, melody, aggressive fusing black metal with crust and some sludge doom psychedelia, you won't be disappointed with Woe. " — Hellride
"Woe is a band that will take you of a journey to the pit of bleakness and back and for that I really want to hear more…" — AMZ
http://www.myspace.com/woeunholy
http://www.myspace.com/candlelightrecordsusa