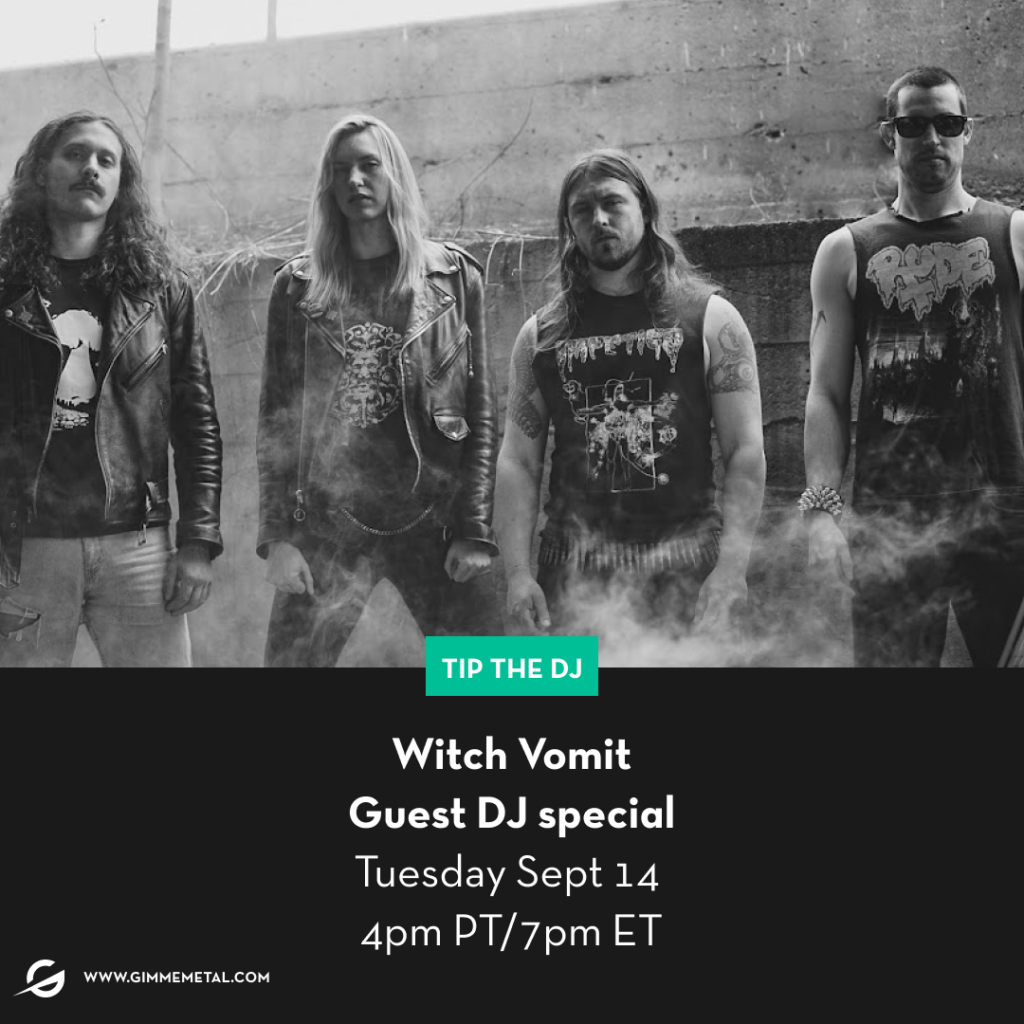 Portland, Oregon death metal outfit WITCH VOMIT will host a Gimme Metal guest DJ session, TODAY, Tuesday, September 14th! Tune in at 7:00pm Eastern/4:00pm Pacific at THIS LOCATION.
WITCH VOMIT surprise-released their latest studio offering, the Abhorrent Rapture EP, through 20 Buck Spin in June.Though bands tend to simmer down as they evolve, WITCH VOMIT reverses this tendency getting only more extreme with each release; this momentum continues on Abhorrent Rapture. Like 2017's Poisoned Blood, Abhorrent Rapture showcases WITCH VOMIT in the more immediate and intense MLP format: Four tracks in roughly eighteen minutes of pure savagery but always with that eerie mood, creeping melodic sense and grisly intimidation essential to proper death metal.
A new level of barbaric mastery was achieved on Buried Deep In A Bottomless Grave, WITCH VOMIT's second full length from 2019. It was now undeniable that the band was not merely another "OSDM" (stale terminology) band when they had evolved a maximal and rarely achieved synthesis of European and American death metal styles into a flawless mélange of horrific gore-soaked splendor. Recorded and mixed by Evan Mersky (Triumvir Foul, Warcry), mastered by Dan Randall (Ghoul, Impaled, Ruin) with artwork by Matt Stikker (Power Trip, Outer Heaven, Apraxic), Abhorrent Rapture delivers four freshly unburied tracks from the witch vomitorium.
Though not a full-length proper Abhorrent Rapture will sate, temporarily, the cannibalistic appetite of the many clamoring for the next WITCH VOMIT burial mound to come.
Stream WITCH VOMIT's Abhorrent Rapture at YouTube HERE and Bandcamp HERE
Abhorrent Rapture is available on vinyl, CD, cassette, and digital platforms via 20 Buck Spin through the label webshop HERE and Bandcamp HERE.
http://www.facebook.com/WebsOfHorror
http://www.20buckspin.com
http://www.facebook.com/20buckspin
http://www.twitter.com/20buckspinlabel
http://www.listen.20buckspin.com