"Songs To My Killer" is the brand new single from Pennsylvania-based punk/hardcore champions, WISDOM IN CHAINS. Hailing from the band's upcoming The God Rhythm LP, the track has been freshly delivered today via an exclusive premiere at Revolver Magazine, as Fast Break! Records advances the album's release date by two weeks.
Initially set for a June 30th street date, seemingly nothing can hold WISDOM IN CHAINS' fifth album from breaking free, which pressed the label to shift the street date for The God Rhythm forward to June 16th. With almost forty minutes of hook-laden punk/oi-inspired hardcore fueled with countless sing-along choruses and metallic breaks built for full-on live riots, The God Rhythm boasts the most victorious WISDOM IN CHAINS material yet. Revolver Magazine is now hosting an exclusive listen to the fifth of the LP's fourteen mighty tracks, "Songs To My Killer," which boasts some of the album's most inspiring lyrical output and one of the most infectious melodies on the entire album.
Raid Revolver Magazine to hear WISDOM IN CHAINS' new "Songs To My Killer" now at THIS LOCATION.
Also previously released from The God Rhythm is the track "Violent Americans" playing at Legends Arising RIGHT HERE, and an extensive interview trailer through New Noise Magazine HERE.
With The God Rhythm, WISDOM IN CHAINS has clearly has pushed the envelope of their previous works and thresholds, resulting in the band's most challenging album yet, recorded by Len Carmichael at Trax East and Carmichael Sound, with the vocals recorded at Mountainside Studios by Rich Rescigno. CD, LP and merch preorders for The God Rhythm are now available at Fast Break! Records, and all preorders will ship the week of June 1st so fans get their hands on the gear ahead of the new June 16th street date. The LP is pressed in a run of 500 copies on black vinyl, 100 on clear with maroon and yellow splatter, 100 on white wax with brown haze, and 20 test press copies with hand-numbered covers. All versions are available at THIS LOCATION.
In less than two weeks WISDOM IN CHAINS will storm the annual Black N' Blue Bowl in New York City, set to perform on May 17th with the likes of Burn, Crumbsuckers, Sick Of It All, The Rival Mob, labelmates Fury Of V and tons more. A record release show for The God Rhythm is set to take place in Reading, Pennsylvania on June 27th. The band will also return to Philadelphia's This Is Hardcore Festival, set to play on July 23rd.
WISDOM IN CHAINS Tour Dates:
5/17/2015 Webster Hall – New York, NY @ Black N' Blue Bowl [info]
6/27/2015 Club Reverb – Reading, PA * record release show
7/23/2015 The Electric Factory – Philadelphia, PA @ This Is Hardcore [info]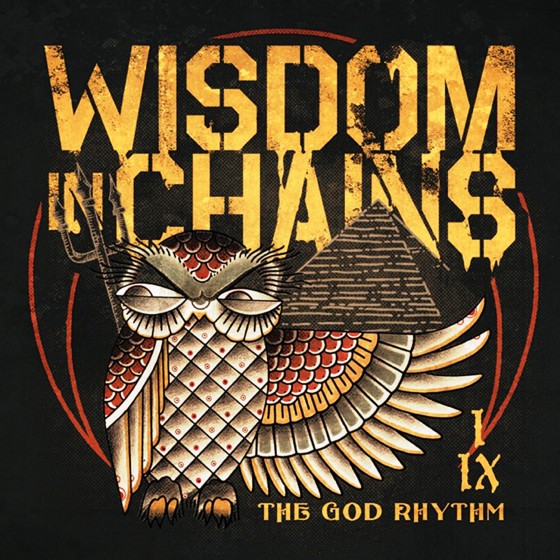 http://www.facebook.com/WisdomInChainsPAHC
http://www.oninstagram.com/wisdominchains
http://twitter.com/wisdominchains
http://www.fastbreakrecords.com
http://www.facebook.com/FastBreakEnt
http://twitter.com/fastbreakpa