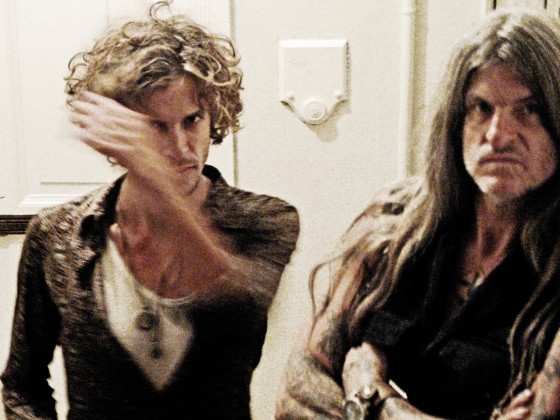 Today music fans across the globe can get their first listen to some of the anticipated forthcoming collaborative album from WINO & CONNY OCHS. Entitled Heavy Kingdom, the LP is confirmed for North American release via Exile On Mainstream Records on March 13th.
The folks at The Obelisk are hosting the title track to the Heavy Kingdom LP, as part of the site's weekly installment of "Wino Wednesday." The anthem perfectly displays the folk-inspired acoustic rock magic that takes place when these two seasoned musicians coalesce their talents. Get down with WINO & CONNY OCHS' "Heavy Kingdom" RIGHT HERE.
WINO & CONNY OCHS have also confirmed their first full tour in support of Heavy Kingdom, set tfor performances across Europe for all of March and through mid-April. More dates are still being confirmed; catch the confirmed itinerary and watch for more updates over the coming weeks at Exile on Mainstream's website.
The legacy of SCOTT "WINO" WEINRICH in the world of heavy music is indisputable and ever evolving, and here he teams up with CONNY OCHS, a songwriter so pure and honest in his output that he seems to be the perfect partner for the straightforward WEINRICH. The two met for the first time in 2010 when OCHS was supporting WINO on his acoustic solo tour promoting his acclaimed solo album, Adrift.
Through music they discovered a very similar approach to life and art, and a shared wisdom in creating music. It really seemed like two souls becoming one after they got to know each other. Together the two wrote, performed and recorded an incredible set of soulful tunes that speak for themselves, as well as a Townes Van Zandt cover. The artwork contains drawings by both WEINRICH and OCHS, and follows the dedicated and deeply personal approach of the whole album.
Heavy Kingdom Track Listing:
1. Somewhere Nowhere
2. Heavy Kingdom
3. Dust
4. Vultures By The Vines
5. Dark Ravine
6. Traces Of Blood
7. Heavy Kingdom Jam
8. Highway Kind
9. Dead Yesterday
10. Here Comes The Siren
11. Labour Of Love
http://www.scottweinrich.com
http://www.connyochs.com
http://www.mainstreamrecords.de
http://www.myspace.com/exileonmainstream