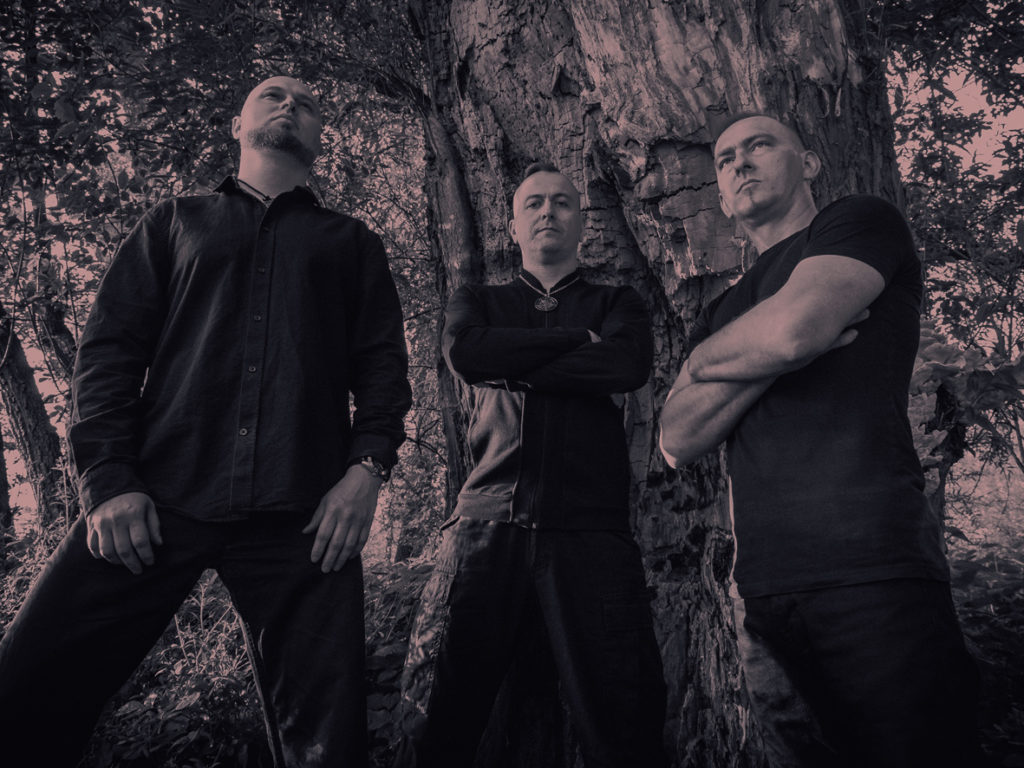 Krakow, Poland-based death metal outfit WINGLESS has premiered a new video for "Nyctophilia," a track found on the band's monstrous fourth album, Nonconform, released last year through Selfmadegod Records.
WINGLESS was formed at the beginning of 2012, by well-experienced musicians who have performed or are still performing with some other groups being part of the local metal scene. From the very beginning, the band has been fronted by its guitarist and leader Grzegorz Luzar. A recent shift saw longstanding vocalist Olaf Różański replaced by Michał "Xaay" Loranc of Redemptor. The lineup also includes drummer Piotr Wójcik, who has played with WINGLESS since 2018.
With nine tracks that merge passages of dread and doom into classic, old-school death metal devastation, Nonconform delivers over forty-two minutes of prime devastation fans of Morbid Angel, Death, Immolation, and old Paradise Lost should not miss. Nonconform was produced by Grzegorz Luzar and Dominik Burzym, mixed and mastered by Dominik Burzym, all at Studio67. The record was completed with cover artwork by Rafal Wechterowicz (Slayer, Mastodon, Nile), and logo, band photos, portraits, and packaging layout by WINGLESS vocalist Michal Loranc, also a well-known designer who has worked with Behemoth, Nile, Necrophagist, and many others.
A tremendous amount of time went into creating the new video for "Nyctophilia," which demanded a technique of photographic stills. All was shot only at nighttime, with the lowest amount of artificial light needed. Haunting imagery reflects the story of a man addicted to the night. Depression, misanthropy, and psychical sickness is just the surface of the story. Despite much commotion and turmoil that accidentally happened during the shooting of this picture, the satisfactory final effect was achieved in a few months.
Vocalist/guitarist Greg Luzar reveals, "We wanted our creative work to turn out into something far more meaningful than just a common video clip, something different from many of those things that you often see as a montage of a few backstory scenes combined with some nice camera shots of the band playing its track. Our idea was actually focused on presenting a solid story that would strongly correspond to the sinister aura of the song itself. 'Nyctophilia' is a special selection dedicated to all of those who love the nighttime, indulge themselves in it, and can best function during its dark period. It is my sincere hope that the black-and-white format of the whole video as well as its time-lapse shots will definitely emphasize the expressive character of this picture…"
Don't miss WINGLESS' spellbinding video for "Nyctophilia," now playing at Selfmadegod Records' YouTube channel RIGHT HERE.
Nonconform is available on CD and digital formats through Selfmadegod Records including merch and more at the label webshop HERE and Bandcamp HERE.
Having celebrated the band's tenth anniversary in the Spring of this year, WINGLESS is currently working on the follow-up LP to Nonconform, so watch for updates to post in the coming months.
https://www.facebook.com/winglessofficial
https://www.youtube.com/user/WinglessOfficial
https://wingless.bandcamp.com
https://www.instagram.com/winglessofficial
http://www.selfmadegod.com
http://www.facebook.com/selfmadegod
http://www.youtube.com/user/SelfmadegodRecords
https://selfmadegod.bandcamp.com
https://twitter.com/selfmadegodrec