Named after the archaic term for the Atlantic Ocean ("Mare Tenebrosum"), meaning "sea of darkness," Tenebrosum, the impending new studio offering from New Jersey-based folkloric black metal collective, WINDFAERER, casts off the edge of black metal and takes the listener on a spiritual journey of discovery, embarking into unknown, treacherous seas. Ornamented in commanding violins immersed in a tidal wave of dynamic metal riffing, the sounds on Tenebrosum can be used as a soundtrack to venerate Gaia or as a rousing heavy metal battle cry. Tracked at Frightbox Recording throughout 2014 and mixed and mastered by Rob Torres, with their latest manifestation, WINDFAERER have truly forged "a monument to the iron within our veins."
In advance of its final descent, SickDrummer offers up the official drum play-through accompaniment of the track "Celestial Supremacy." The number initially made its debut at No Clean Singing, the esteemed web portal noting, "With hammering riffs, thundering drums, and a squalling lead guitar, 'Celestial Supremacy' immediately conjures vivid images of storm-tossed seas. The music is accented by Ben Karas' violin performance, which is both beautiful and searing, while guitarist Michael Gonçalves' passionate, bleeding-edge howls and shrieks enhance the music's driving intensity. There is blood-pumping fury in the song, as well as captivating melody, as the band weave together elements of black metal and melodic death metal to produce a riveting, powerhouse piece of music that hits with the force of a gale."
Watch drummer JP Andrade navigate the rhythm of "Celestial Supremacy" at THIS LOCATION.
You can also sample "Finisterra," courtesy of Heavy Blog Is Heavy, at THIS LOCATION.
A portmanteau meaning, "one who travels with the wind," like a vessel lost at sea, the name WINDFAERER sets a melancholic atmosphere of longing for a return to a homeland, yet with hopeful eyes set toward the unknown. It is the animus of guitarist and frontman, M. Gonçalves as an epic black metal paean to his ancestral homeland of the Iberian Peninsula (Spain and Portugal). The band debuted their well-received demo, Glorybound, in 2009. According to Nocturnal Cult, "the carefree and laid-back rural countryside of hilly and forested European landscapes finds new life and breathes once again within the structure of WINDFAERER's songs." The demo set the pathway for their first full length, Tribus (2010), and hefty critically-acclaimed EP, Solar (2012), in which they artfully combined epic folk with the allure of Gothenburg-style death metal and the grit of Scandinavian black metal.
Tenebrosum will be released independently on September 22nd, 2015. Preorders are currently available at THIS LOCATION.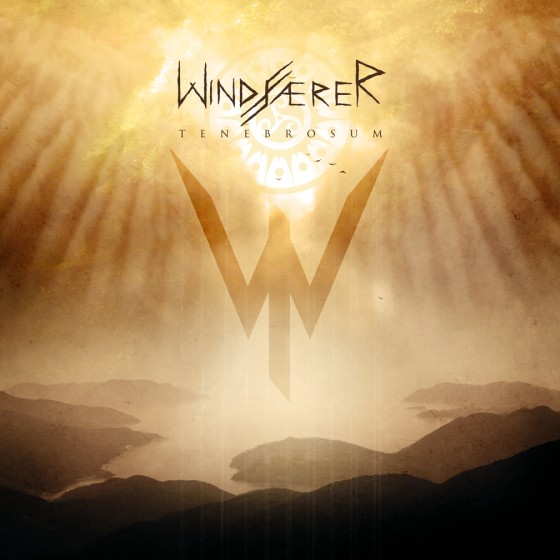 http://www.facebook.com/windfaerer
http://www.windfaerer.bandcamp.com/album/tenebrosum