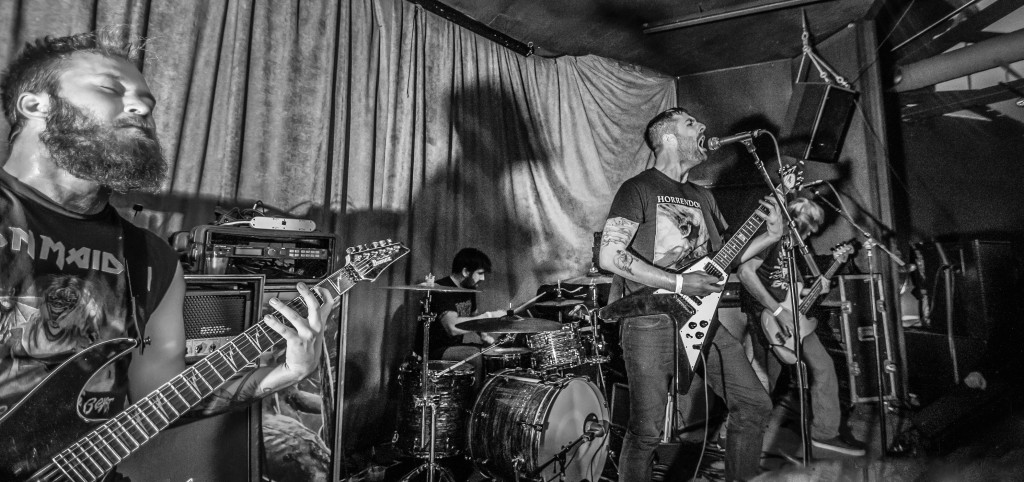 [photo by Joe Ellis]
The Bay Area's smoldering metal quartet WILDERNESS DREAM has put the final touches on the crushing Paralysis Rise EP, issuing the record's details ahead of its July release date.
with an unhinged vocal sincerity, blistering twin guitar assault, and undeniably crushing and thunderous rhythm section, WILDERNESS DREAM's sound and identity has naturally evolved into a more darkened realm of the heavy metal universe. Recorded in February-April of 2017 with Scott Goodrich at Nu-Tone Studios in Pittsburgh, California, Paralysis Rise pays homage to the death metal pioneers and legends of the '90s while injecting the band's own special vicious brand of intensity, creating a truly unique second release from one of the West Coast's most exciting up-and-coming heavy bands.
Paralysis Rise will wee release on 12″ vinyl and digital platforms on July 14th via Creator-Destructor Records, the label owned and operated by guitarist/vocalist Ben Murray. Stand by for audio samples, preorders, tour dates, and more from WILDERNESS DREAM in the days ahead.
Born in 2015 from the thrash metal epicenter of the San Francisco Bay Area comes WILDERNESS DREAM, a heavy metal unit of destruction combining the speed and fury of '80s thrash metal and '90s death metal into an explosive blast of blackened heaviness. The band released their debut self-titled 12″ EP on Creator-Destructor Records in October of 2015, to critical acclaim and response; a fifteen-minute-long slab of blistering fast, melody-infused, raw, unforgiving thrash metal, void of unnecessary technicality and frills. While supporting their debut EP along the West Coast over the past two years, the band managed to concoct another wave of deadly tracks, upping the ante of destruction even further on their upcoming sophomore EP release, Paralysis Rise.
Clocking in at just under twenty minutes, the seven new songs that comprise WILDERNESS DREAM's new assault retain the same intensity and urgency that characterized the band's debut, while boasting similar misanthropic, nihilistic lyrical content. However, the listener will quickly notice that the band has eliminated most remaining melodies and lingering punk influences and replaced them with a doubled-down violent dose of dissonant, razor-sharp riffs, and unpredictable, chaotic song structures. Tracks like "Spiritual Predator" and "The Observer" see the band at their most blistering speeds yet, thundering through every chainsaw-driven riff and tortured lyric without looking back, leaving the listener zero time to take a breath. At the same time, songs like "Venom," "Ghosts," and "No Light" see WILDERNESS DREAM bringing the tempos down to more stomping, punishing grooves, rounding out the EP with numerous unique and refreshing moments of sonic domination.
Paralysis Rise Track Listing:
1. Venom
2. Ghosts
3. The Awakening
4. Spiritual Predator
5. The Lie
6. No Light
7. The Observer
WILDERNESS DREAM:
Ben Murray – guitars/vocals
Ryan Hansen – guitars/vocals
Trey Derbes – drums
Bret Fontaine – bass
http://www.facebook.com/wildernessdream
http://www.wildernessdream.bandcamp.com
http://www.creator-destructor.com
https://www.facebook.com/creatordestructorrecords
http://www.twitter.com/CD_Records
http://www.creator-destructor.bandcamp.com