WHITECHAPEL will support Trivium on their upcoming North American Fall tour. The Deadmen And Dragons trek begins on October 2nd in Boise, Idaho and runs through November 10th in Los Angeles, California. Additional support will be provided by Between The Buried And Me and Khemmis.
Comments WHITECHAPEL, "We are excited to be included as part of Trivium's headliner the 'Deadmen And Dragons Tour' this fall. We have a lot of respect and appreciation for the other bands on the bill and are grateful to be a part of it."
Tickets are on sale now. See all confirmed dates now.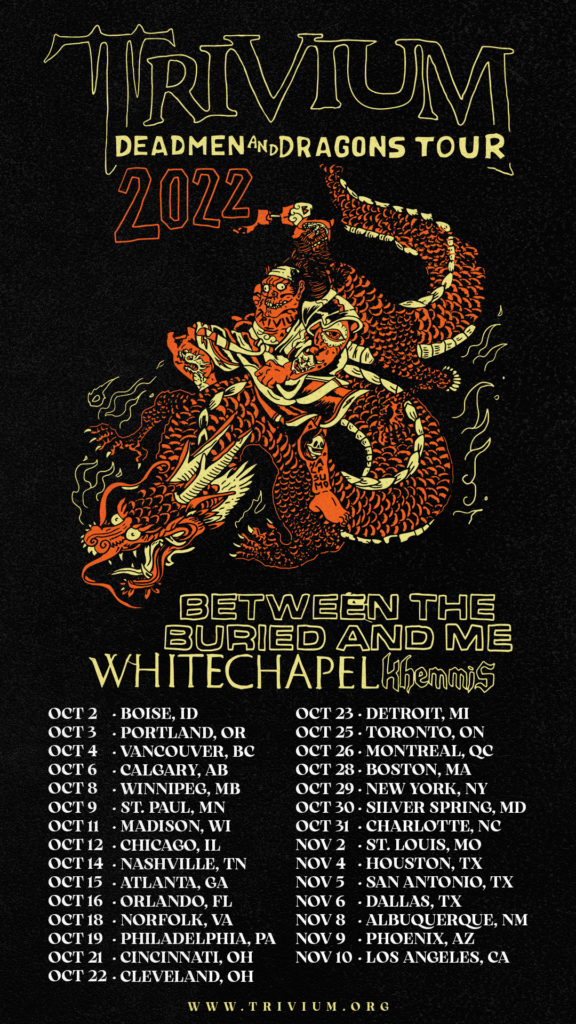 WHITECHAPEL w/ Trivium, Between The Buried And Me, Khemmis:
10/02/2022 Revolution Concert House + Event Center – Boise, ID
10/03/2022 Roseland – Portland, OR
10/04/2022 Vogue – Vancouver, BC
10/06/2022 MacHall – Calgary, AB
10/08/2022 Burton Cummings – Winnipeg, MB
10/09/2022 MYTH – St. Paul, MN
10/11/2022 The Sylvee – Madison, WI
10/12/2022 Radius – Chicago, IL
10/14/2022 Marathon Music Hall – Nashville, TN
10/15/2022 Buckhead Theatre – Atlanta, GA
10/16/2022 House Of Blues – Orlando, FL
10/18/2022 The Norva – Norfolk, VA
10/19/2022 Franklin Music Hall – Philadelphia, PA
10/21/2022 The Andrew J Brady Music Center – Cincinnati, OH
10/22/2022 House Of Blues – Cleveland, OH
10/23/2022 The Fillmore – Detroit, MI
10/25/2022 Rebel – Toronto, ON
10/26/2022 MTELUS – Montreal, QC
10/28/2022 House Of Blues – Boston, MA
10/29/2022 Palladium Times Square – New York, NY
10/30/2022 The Fillmore – Silver Spring, MD
10/31/2022 The Fillmore – Charlotte, NC
11/02/2022 The Pageant – St. Louis, MO
11/04/2022 House Of Blues – Houston, TX
11/05/2022 The Aztec Theatre – San Antonio, TX
11/06/2022 South Side Ballroom – Dallas, TX
11/08/2022 Sunshine Theater – Albuquerque, NM
11/09/2022 The Van Buren – Phoenix, AZ
11/10/2022 The Wiltern – Los Angeles, CA
WHITECHAPEL released their eighth studio album, Kin, last Fall via Metal Blade Records. Already sitting on one of the most enviable catalogs in contemporary metal, Kin, was produced once again by Mark Lewis with David Castillo at Ghostward Studios in Sweden handling the mixing, then Ted Jensen mastering it in Nashville, Tennessee. The resulting album is a dynamic and diverse collection, further advancing the band's sound into new territory without losing sight of what brought them to this point. Combined with the full-on death metal assault that kicks off both "Lost Boy" and "To The Wolves," which  is as brutal and serrated as extreme metal gets, vocalist Phil Bozeman also explores his wide-ranging singing voice more, while cutting loose with his trademark roar across Kin's eleven tracks which have stunned media worldwide.
Kin has gone on to hit #24 on the Current Albums Chart, peaking at #3 on Hard Music Albums, and #6 on the Independent Albums Chart.
 Preview and purchase Kin at THIS LOCATION.
"A confident, slick, and coherent album, Kin is a fine addition to the back-catalogue of one of metal's most cherished underdogs." – Kerrang
"WHITECHAPEL continue to invest in their own creative development in a way that clearly differentiates themselves from their contemporaries." – Knotfest</i
"…a masterclass in suspenseful songwriting…" – New Noise
"…the band's most multifaceted and mature record yet…" – Everything Is Noise
"Kin is WSOU's album of the month for its impeccable songwriting, profound, and mysterious lyrics, and perfect pacing, showcasing the band proving themselves as masters of their craft" – WSOU
http://www.whitechapelband.com
http://www.facebook.com/whitechapelband
http://www.twitter.com/whitechapelband
http://www.instagram.com/whitechapelband
http://www.metalblade.com
http://www.facebook.com/metalbladerecords
http://www.twitter.com/MetalBlade
http://www.instagram.com/metalbladerecords