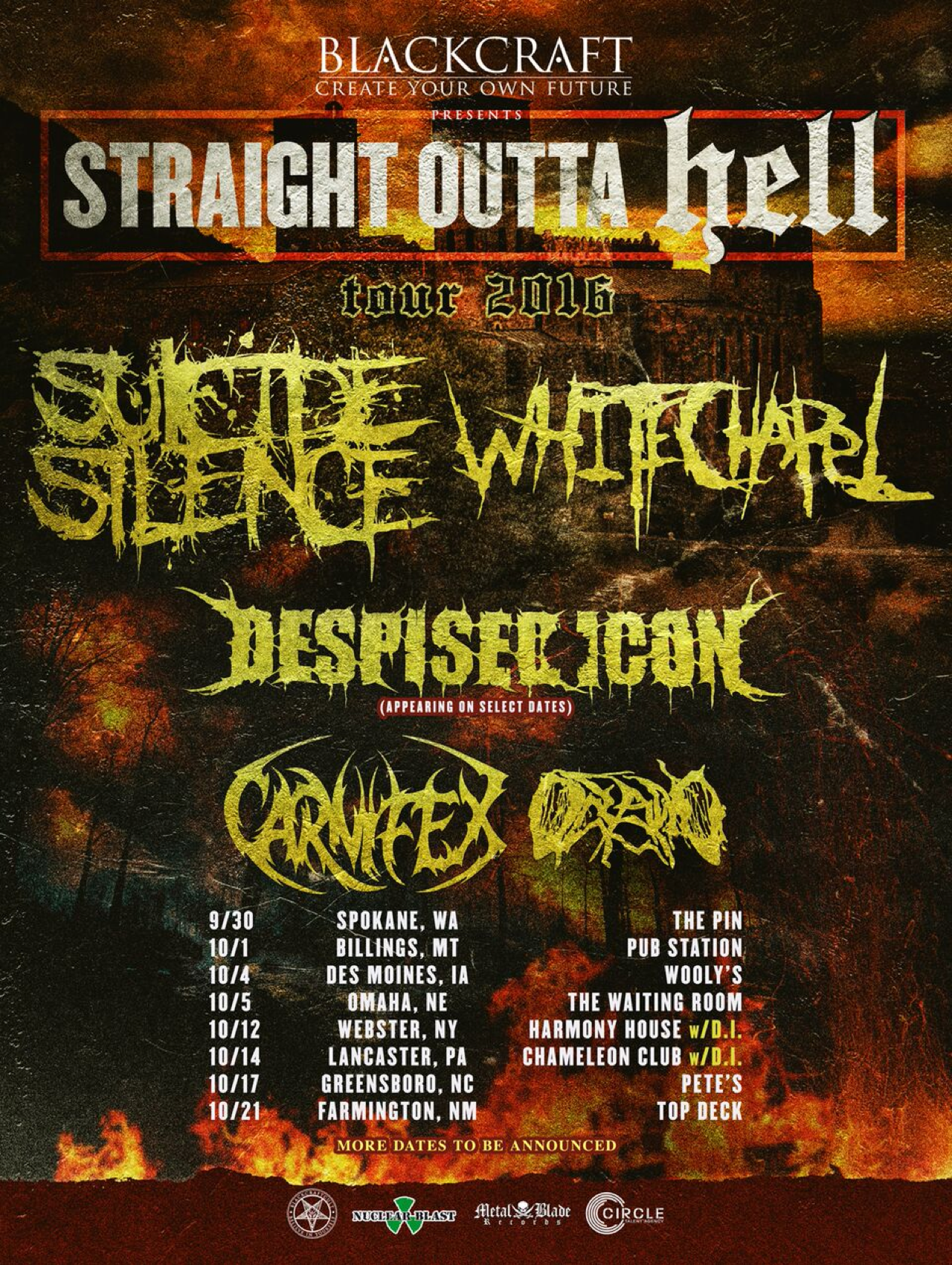 WHITECHAPEL will co-headline a US run with Suicide Silence this Fall. Sponsored by BlackCraft Cult Clothing (blackcraftcult.com), the Straight Outta Hell tour also features Carnifex and Oceano as support, with Despised Icon appearing on select shows. This must-see trek kicks off in late September and ends in late October – see below for the first round of confirmed dates, with more shows to be revealed next week.
Currently on the road as part of the annual Vans Warped Tour, WHITECHAPEL recently released their sixth full-length, Mark Of The Blade, worldwide via Metal Blade Records. Hailed as, "an exciting milestone," by Alternative Press, Mark Of The Blade was produced by Mark Lewis (The Black Dahlia Murder, Cannibal Corpse) and sees WHITECHAPEL redefine who they are and what they are capable of with the resulting eleven tracks. Kicking off with "The Void" — which has a Slayer-esque ferocity that is perfectly suited to the band's three-guitar attack — the songs that follow all leave a distinct impression, and by the time the rich, dark melodies on "Decennium" bring the record to a close, it's impossible to deny the emotional weight brought to bear. Guitarist Alex Wade explains, "At this point in our career and as we grow older, we are taking a more open-minded approach to creating our music, allowing what we think sounds good to evolve naturally, rather than to just write what is expected of us."
WHITECHAPEL Warped Tour Dates:
7/19/2016 Klipsch Music Center – Indianapolis, IN
7/20/2016 Blossom Music Center – Cuyahoga Falls, OH
7/21/2016 Riverbend Music Center – Cincinnati, OH
7/22/2016 The Palace Of Auburn Hills – Detroit, MI
7/23/2016 Hollywood Casino Amphitheatre – Chicago, IL
7/24/2016 Canterbury Park – Shakopee, MN
7/26/2016 Marcus Amphitheatre – Milwaukee, MI
7/27/2016 Hollywood Casino – St. Louis, MO
7/28/2016 Providence Medical Center Amphitheater – Bonners Spring, KS
7/30/2016 Utah State Fairpark – Salt Lake City, UT
7/31/2016 Pepsi Center Arena Lot – Denver, CO
8/01/2016 Balloon Fiesta Park – Albuquerque, NM
8/02/2016 Salt River Fields – Phoenix, AZ
8/05/2016 Qualcomm Stadium Lot – San Diego, CA
8/06/2016 Shoreline Amphitheatre – San Francisco, CA
8/07/2016 Pomona Fairplex – Pomona, CA
8/09/2016 Hard Rock Hotel & Casino – Las Vegas, NV
8/11/2016 Ford Idaho Center Amphitheater – Boise, ID
8/12/2016 White River – Auburn, WA
8/13/2016 Portland Expo Center – Portland, OR
End Tour
w/ Suicide Silence, Carnifex, Oceano:
9/30/2016 The Pin – Spokane, WA
10/01/2016 Pub Station – Billings, MT
10/04/2016 Wooly's – Des Moines, IA
10/05/2016 The Waiting Room – Omaha, NE
10/12/2016 Harmony House – Webster, NY *
10/14/2016 Chameleon Club – Lancaster, PA *
10/17/2016 Pete's – Greensboro, N
10/21/2016 Top Deck – Farmington, NM
* w/ Despised Icon
To purchase Mark Of The Blade in various formats, visit metalblade.com/whitechapel, where the video for the latest single "Elitist Ones" can also be viewed.
http://www.whitechapelband.com
http://www.metalblade.com/whitechapel
http://www.facebook.com/whitechapelmetal
http://www.twitter.com/whitechapelband
http://www.instagram.com/whitechapelband
http://www.youtube.com/WhitechapelTV