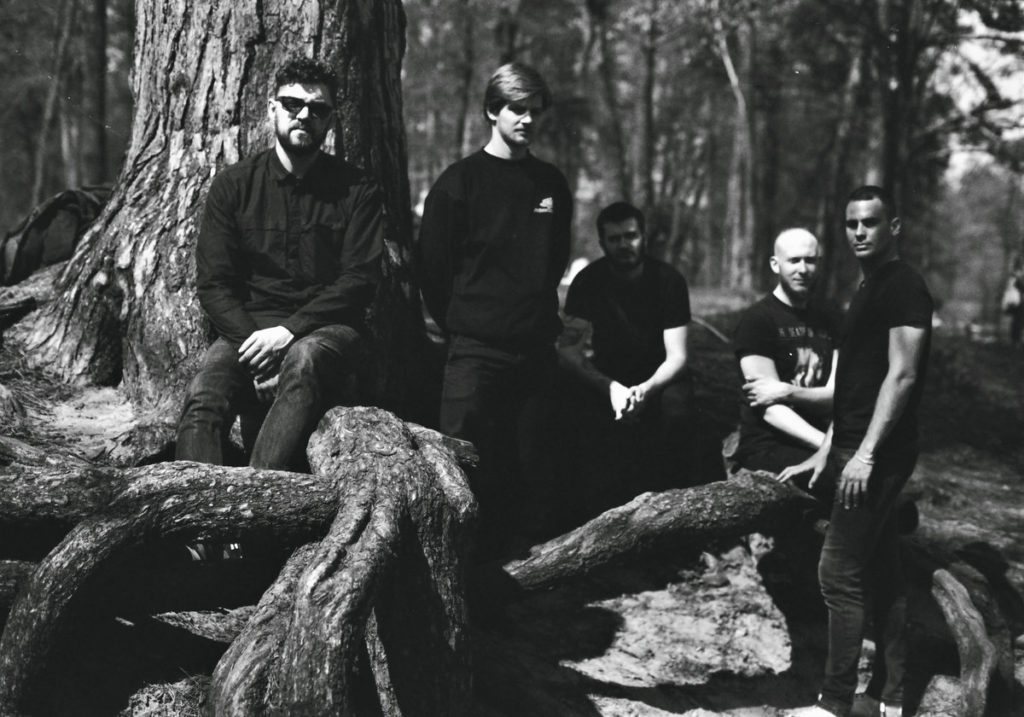 "The love exchange failure leads to an inevitable degradation and degeneration. The more hatred we push towards people around us, the deeper we fall. The blinder we are on our daily way to work, the more sufferings we leave behind…." — WHITE WARD
Stream / Share WHITE WARD's "Love Exchange Failure" At THIS LOCATION
Odessa, Ukraine-based post-black metal alchemists WHITE WARD will release their Love Exchange Failure full-length this fall via Debemur Morti Productions.
Following an avalanche of praise towards the "deviant black metal noir" of 2017 debut Futility Report, WHITE WARD presents the next step of their rapid evolution into an increasingly unique musical force. On second full-length Love Exchange Failure, the band channels Bohren And Der Club Of Gore, composer Angelo Badalamenti, and contemporary blackened majesty into an eclectic set of visionary hymns that fuse late-night metropolitan contemplation, psychological horror, intoxicating melodicism, and primeval, animal-state ferocity. Drenched in poise, creativity, and dynamism, Love Exchange Failure blends brushed drums, reverberant piano, a variety of guesting clean vocalists, and neo-noir saxophone within an architecture of first-rate contemporary misanthropic black metal.
Diverse movements and tonal shifts interlink as if to mirror what the band describes as humanity's existential struggle "caused by the inability to understand who we are and what our place on this planet is;" a clash between dreamworlds and harsh reality evocative as the urban landscapes of photographer Luke Pownall used throughout the packaging. A truly essential listen, Love Exchange Failure is a record that, on repeat plays, opens up like a streetscape sinkhole to drag you into the degenerate heart of the city.
Further elaborates WHITE WARD of the offering, "The idea behind this album is to illustrate the artificial conditions people created to contradistinguish themselves to nature. Being neither a separate phenomenon nor a sustainable part of the surrounding environment, we've pushed ourselves to a constant struggle caused by the inability to understand who we are and what our place on this planet is. Conditions we create lead to a continually rising level of fear in the minds of individuals and at the same time – the lack of love. Under the term 'love' we mean not a feeling in its primitive understanding but a feature that helps us to live in harmony with ourselves, other people, and the world around. The love exchange failure leads to an inevitable degradation and degeneration. The more hatred we push towards people around us, the deeper we fall. The blinder we are on our daily way to work, the more sufferings we leave behind. People don't have time to talk to each other. Furthermore, obsessed by desires, they don't even pay enough attention to their children, rising each new generation more exposed to mental problems. Blindness, indifference, and domestic abuse, bullying in schools, social rejection, and many other factors lead to many tragedies of mankind. Caused by individuals, they are our own crimes."
In advance of the release of WHITE WARD's Love Exchange Failure, Decibel Magazine is currently offering up an exclusive stream of the title track championing a, "fascinating ride."
Stream Love Exchange Failure's title track via Decibel Magazine at THIS LOCATION.
WHITE WARD's Love Exchange Failure will be released September 20th on CD, LP, and digital formats. For preorders in North America go HERE, for Europe go HERE, and for digital orders go HERE.
Love Exchange Failure Track Listing:
1. Love Exchange Failure
2. Poisonous Flowers Of Violence
3. Dead Heart Confession
4. Shelter
5. No Cure For Pain
6. Surfaces And Depths
7. Uncanny Delusions
http://www.facebook.com/whitewardofficial
http://www.instagram.com/whitewardofficial
http://www.debemur-morti.com
http://www.facebook.com/debemurmorti
http://dmp666.bandcamp.com
http://www.instagram.com/debemurmorti/