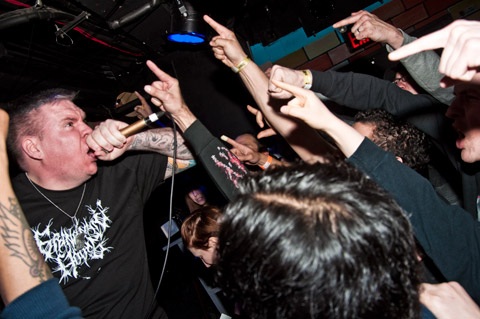 As Death Songs — the second LP from East Coast hardcore coalition WHEN TIGERS FIGHT nears release on May 1st — today Alternative Press Magazine is hosting a brand new track premiere. Get into the wicked groove of the third anthem from Death Songs, entitled "Temporary Fix," RIGHT HERE.
Stereokiller recently also posted the track "Kill Or Cure" from Death Songs which can be streamed HERE.
WHEN TIGERS FIGHT produce wholly energetic East Coast hardcore, utilizing elements of more melodic post-youth crew anthems as well as the angrier, metallic hardcore the 1990s produced, and with full credibility, as the band was formed by Mike McTernan of Damnation A.D. and Jonathan Dennison of Another Victim, Unholy, Santa Sangre, The Path Of Resistance and The Promise. Death Songs was recorded with Jocko at More Sound Studios in Syracuse, and bears cover art by Jon MacNair, known for his work on labelmates Harm's Way's last full length, Isolation.
Set for release on May 1st via upstate New York-based Closed Casket Activities — who co-released the vinyl version of the band's previous LP Ghost Story through Indecision Records — Death Songs is now available for preorders HERE.
https://www.facebook.com/whentigersfight
http://www.myspace.com/whentigersfight
http://www.closedcasketactivities.com
http://www.facebook.com/closedcasketactivities