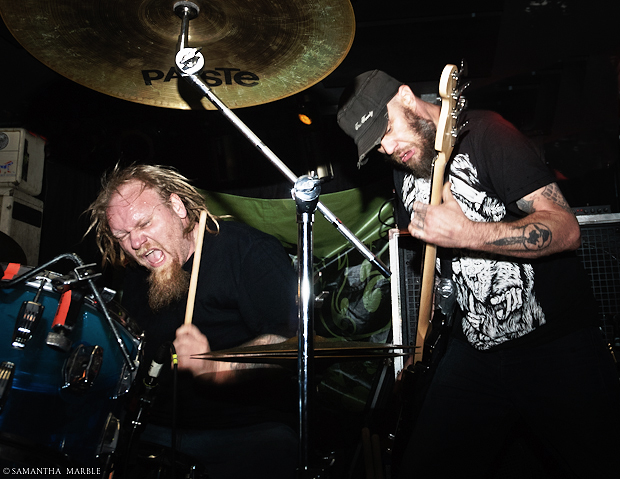 North Carolina henchmen WEEDEATER today confirm the details on their mammoth five-week American tour, set to begin one month from today. Sponsored by Brooklyn Vegan, the brutal tour will be fully in support of WEEDEATER's upcoming album Jason… The Dragon, due out on Southern Lord March 15th, 2011. WEEDEATER will be supported by ASG on the first eight gigs, then by Zoroaster for the majority of the tour. The trek also includes the band's invasion of SXSW in Austin; details on live activities for WEEDEATER and several Southern Lord artists will be announced in the coming days. Check out the full routing, tour poster and more below.
The band's second album for Southern Lord Recordings, Jason… The Dragon was mastered by the legendary John Golden at Golden Studios in southern California, unearthing the true grit that this band dumps forth. With no argument to be had, Jason… is by far WEEDEATER's most varied and organic recording to date, taking their caustic, resin-coated sludge to otherworldly new realms of delirium by the band simply taking it all closer to home, integrating acoustic bass, banjo, piano, and sporadic cleaner vocal tactics. This is still WEEDEATER. It's just WEEDEATER at their finest hour yet.
Promos of Jason… The Dragon and interviews with "Dixie" Dave Collins are available now to North American journalists now upon request. To schedule a chat with the notorious frontman please get in touch for details anytime!

WEEDEATER Jason… The Dragon U.S. Tour:
2/18/2011 Soapbox – Wilmington, NC w/ ASG
2/19/2011 Casbah @ Tremont – Charlotte, NC w/ ASG
2/20/2011 Casbah – Durham, NC w/ ASG
2/21/2011 Strange Matter – Richmond VA, w/ ASG
2/22/2011 Sonar – Baltimore, MD w/ ASG
2/23/2011 Kung Fu Necktie – Philadelphia, PA w/ ASG
2/24/2011 Santos Party House – New York, NY w/ ASG
2/25/2011 The Met – Pawtucket, RI w/ ASG
2/26/2011 Mohawk Place – Buffalo, NY
2/27/2011 Wreck Room – Toronto, ON
2/28/2011 Magic Stick – Detroit, MI w/ Zoroaster
3/01/2011 Abbey Pub – Chicago, IL w/ Zoroaster
3/02/2011 Triple Rock – Minneapolis, MN w/ Zoroaster
3/03/2011 Jackpot – Lawrence, KS w/ Zoroaster
3/04/2011 3 Kings Tavern – Denver, CO w/ Zoroaster
3/05/2011 Burt's Tiki Lounge – Salt Lake City, UT w/ Zoroaster
3/06/2011 Shredder – Boise, ID w/ Zoroaster
3/07/2011 Funhouse – Seattle, WA w/ Zoroaster
3/08/2011 Rotture – Portland, OR w/ Zoroaster
3/11/2011 Thee Parkside – San Francisco, CA w/ Zoroaster
3/12/2011 Ruby Room – San Diego, CA w/ Zoroaster
3/13/2011 Echoplex – Los Angeles, CA
3/15/2011 Launchpad – Albuquerque, NM w/ Zoroaster
3/18/2011 SXSW @ Dirty Dog – Austin, TX
3/19/2011 Korova – San Antonio, TX w/ Zoroaster
3/20/2011 Siberia – New Orleans, LA w/ Zoroaster
3/22/2011 Orpheum – Tampa, FL w/ Zoroaster
3/23/2011 Backbooth – Orlando, FL w/ Zoroaster
3/24/2011 The Earl – Atlanta, GA w/ Zoroaster
3/25/2011 Ground Zero – Spartanburg, SC w/ Zoroaster
3/26/2011 The Jinx – Savannah, GA w/ Zoroaster
"…if you're a longtime fan, you don't need me to tell you that this should be one of your most anticipated releases of 2011. I don't know whether or not it's high art, but it's the best record Weedeater have put together yet." – The Obelisk
"…all you fans of heavy tar lead foot redneck stompin' sludge better get on this one like stink on shit!" – Hellride Music
http://www.myspace.com/weedeater
http://www.tonedeaftouring.com
http://www.southernlord.com
http://blog.southernlord.com
http://www.myspace.com/southernlordrecordings
http://twitter.com/twatterlord