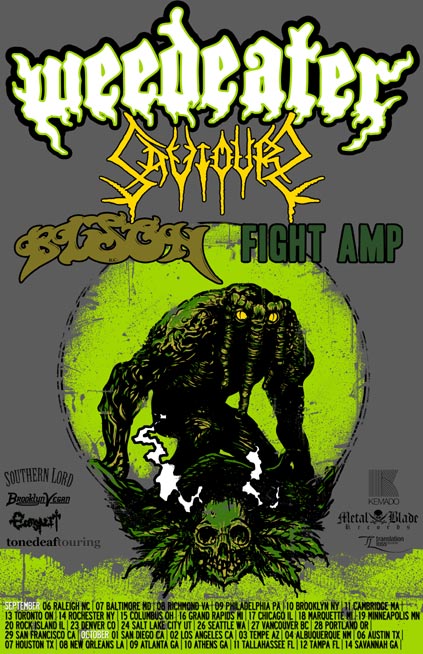 After a few months off the road, North Carolina sludge demons WEEDEATER have just announced another headlining North American tour for September/October, still in support of their recently-released latest full-length, Jason… The Dragon.
The mayhem shall begin in Raleigh, North Carolina on September 6 and rampage through thirty-two American cities before closing out in Savannah, Georgia on October 14. While WEEDEATER's caustic style of aggressive sludge is devastating on its own live, the trio have enlisted some help on this rampage from Saviours, Bison b.c. and Fight Amp supplying opening support for the duration the venture. Saviours will not play the Philly or Brooklyn shows, but Oxbow will be supplying direct support for WEEDEATER at the Brooklyn gig.
Check out WEEDEATER's freshly-baked "Mancoon/Turkey Warlock" video below, and also stop by the band's brand new website at http://www.weedmetal.com.
WEEDEATER North American Headlining Tour:
09/06/2011 King's Barcade – Raleigh, NC [tickets]
09/07/2011 Sonar – Baltimore, MD [tickets]
09/08/2011 Strange Matter – Richmond, VA
09/09/2011 North Star Bar – Philadelphia, PA (no Saviours) [tickets]
09/10/2011 Europa – Brooklyn, NY w/Oxbow (no Saviours) [tickets]
09/11/2011 Middle East – Cambridge, MA [tickets]
09/13/2011 Lee's Place – Toronto, ON
09/14/2011 Montage Music Hall – Rochester, NY [tickets]
09/15/2011 Outland Live – Columbus, OH
09/16/2011 The Pyramid Scheme – Grand Rapids, MI [tickets]
09/17/2011 Reggies Rock Club – Chicago, IL [tickets]
09/18/2011 Upfront & Company – Marquette, MI [tickets]
09/19/2011 Triple Rock Social Club – Minneapolis, MN [tickets]
09/20/2011 Rock Island Brewing Company – Rock Island, IL [tickets]
09/23/2011 Larimer Lounge – Denver, CO [tickets]
09/24/2011 Burt's Tiki Lounge – Salt Lake City, UT
09/26/2011 Highline – Seattle, WA [tickets]
09/27/2011 Rickshaw Theatre – Vancouver, BC [tickets]
09/28/2011 Branx – Portland, OR [tickets]
09/29/2011 The Independent – San Francisco, CA [tickets]
10/01/2011 Soda Bar – San Diego, CA [tickets]
10/02/2011 Key Club – West Hollywood, CA [tickets]
10/04/2011 Launchpad – Albuquerque, NM [tickets]
10/06/2011 Emo's – Austin, TX [tickets]
10/07/2011 Fitzgerald's – Houston, TX [tickets]
10/08/2011 Siberia – New Orleans, LA
10/09/2011 The Earl – Atlanta, GA [tickets]
10/10/2011 New Earth Music Hall – Athens, GA [tickets]
10/11/2011 Engine Room – Tallahassee, FL [tickets]
10/12/2011 The Orpheum – Tampa, FL [tickets]
10/14/2011 The Jinx – Savannah, GA
Scion A/V Presents: Weedeater – Mancoon…Turkey Warlock from Scion A/V on Vimeo.
http://www.weedmetal.com
http://www.facebook.com/weedmetal
http://www.myspace.com/weedeater
http://www.tonedeaftouring.com
http://www.southernlord.com
http://blog.southernlord.com
http://www.myspace.com/southernlordrecordings
http://twitter.com/twatterlord