This May, Corpse Flower Records will unleash We All Want Our Time In Hell, a limited edition, vinyl-only tribute to '80s goth punk icons Samhain! Curated by Child Bite frontman Shawn Knight and mastered by James Plotkin (OLD, Scorn, Khanate, Khlyst et al), the album features forty minutes of brand new recordings from the likes of Midnight, Ghoul, Acid Witch, Brain Tentacles, Joel Grind, Ringworm, and many more spanning Samhain's four studio releases.
"I've been a huge fan of Glenn Danzig's music ever since I was a 13-year-old kid, just a couple years after Samhain had dissolved," relays Knight. "MTV introduced me to Danzig, and a friend's older brother — along with Metallica's Garage Days Re-Revisited EP — got me into the Misfits. Discovering Samhain took a bit more digging, and always felt that much more mysterious because of it. All of the classic Danzigian elements are present; murky atmosphere, dark/taboo lyrics, catchy hooks and melodies, gritty DIY art and recordings, and of course that Evil Elvis voice. I've always felt that this less celebrated period of Danzig's output deserved more love, and I hope that our small tribute will introduce a few more kids to the music of Samhain."
We All Want Our Time In Hell will be limited to three-hundred copies in three color variants (black, white, and orange) and see release via Corpse Flower Records on May 4th. For preorders, go to THIS LOCATION.
View the We All Want Our Time In Hell teaser below.
We All Want Our Time In Hell Track Listing:
1. Night Chill – Joel Grind
2. Mother of Mercy – Midnight
3. In My Grip – Nil Eye
4. Black Dream – Ringworm
5. Macabre – Ghoul
6. Halloween II – Acid Witch
7. The Howl – Multicult
8. The Shift – Like Rats
9. Kiss Of Steel – Shed The Skin
10. I Am Misery – Immortal Bird
11. Unbridled – Child Bite
12. Human Pony Girl – Brain Tentacles
13. Archangel – Ritual Howls
"It's interesting to hear a different take on something you burned into your brain as a kid. Even with its modern edge, here on this comp, there is still the weird grit that Samhain embraced…" – Justin Pearson; Dead Cross, Retox, The Locust
"Never has a more proper collection of Samhain covers been assembled, so wrought with the visceral hate and unbridled passion that made the originals worthy of undying worship…" – Glenn Hetrick; Alchemy Studios, Face Off
"Samhain is quite possibly the only band of Danzig's trilogy that remains 'ours;' the feeling of ownership and pride in the esoteric being essential to we pretentious punks. It's still scary, still experimental, still enjoyable, still mysterious." – Ryan Patterson; Fotocrime, Coliseum
"Though I love all of Danzig's work, Samhain is my go to. The imagery, the darkness of the lyrics and that unmistakable voice create a macabre landscape filled with night-times drives, killers at the edge of town and werewolves lurking in the shadows on moonlit nights." – Mike Hill; Tombs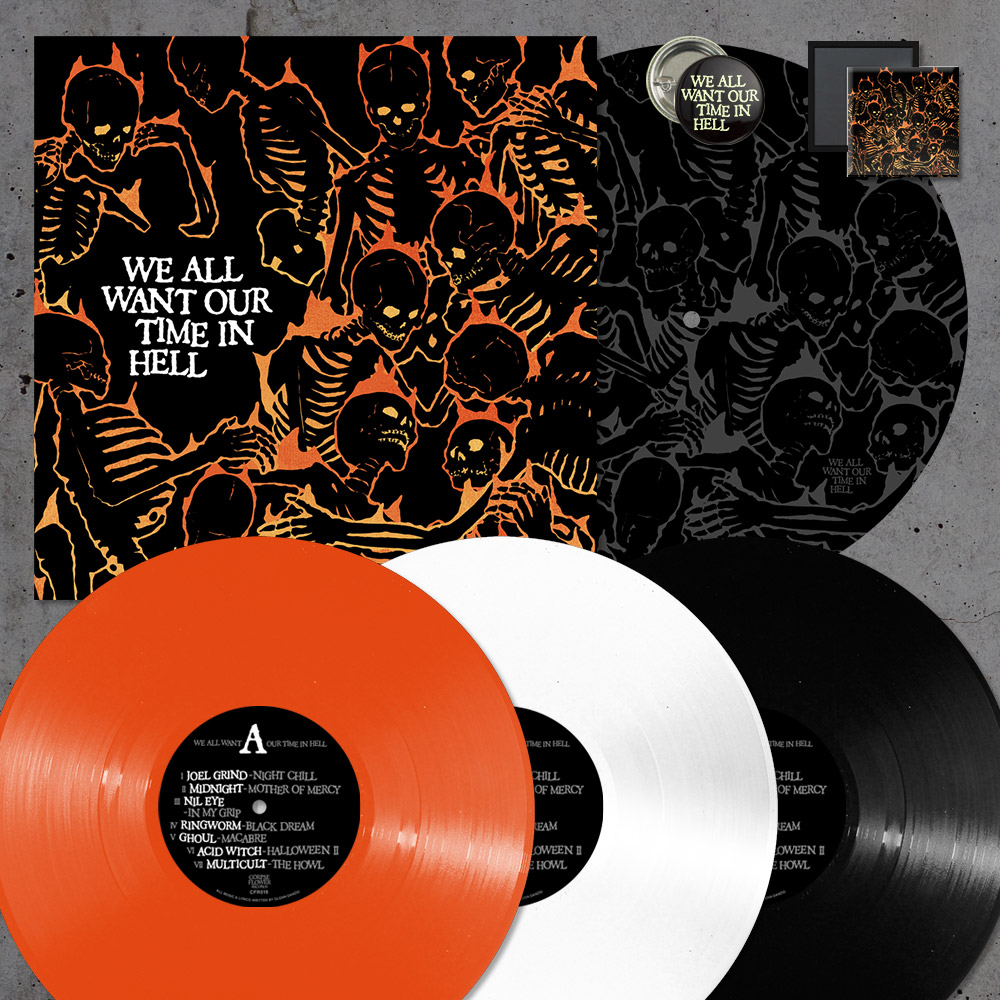 http://www.corpseflowerrecords.com
http://www.facebook.com/corpseflowerrecords
http://corpseflowerrecords.bandcamp.com
http://www.corpseflowerrecords.storenvy.com