Clermont-Ferrand, France-based Solar Flare Records has inducted a new act into their realms of auditory dementia, bringing Nantes-based WATERTANK on board for the impending release of their sophomore LP, Destination Unknown.
Two years after their first release, WATERTANK returns with their nine-track full-length, Destination Unknown, bringing forth nearly thirty-five minutes of brand new material. While the album came together quickly, being composed and recorded with unusually short notice, the LP cohesively reveals a more confident band through this new batch of strongly crafted songs. The Nantes ­based band is still in love with melodic hooks, and down­tuned heavy riffing, as heard especially in cuts like "Dcvr" and "Doomed Drifters," yet sees them evolving from their post­-hardcore background in tracks like "Contrails" and exploring new territories completely within "Scheme" and the title track, as always aiming to deliver lasting listening enjoyment. Once again recorded by Patrice Guillerme (Papier Tigre, Patriotic Sunday) and mastered by Carl Saff (Coliseum, Pilot To Gunner), Destination Unknown marks a step forwards for the renewed line­up. If you're into the likes of Torche, Quicksand, Jawbox, Sense Field and Failure, WATERTANK will be for you.
Solar Flare Records has revealed the cover art, track listing, preorders and more in advance of Destination Unknown's June 29th street date, the record due on CD, LP and digital formats. View the preorder options and bundles RIGHT HERE.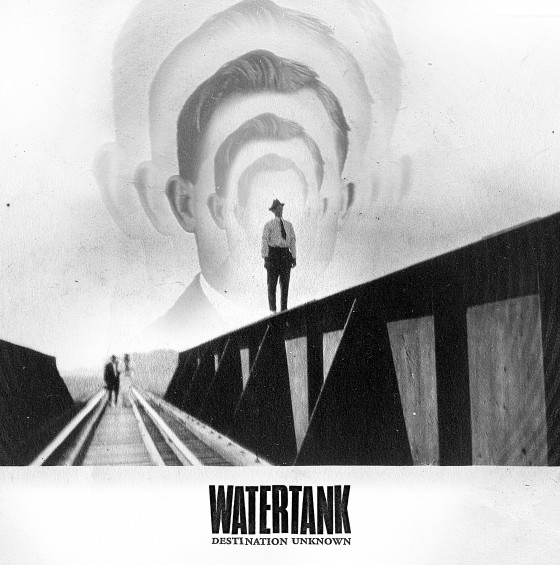 Destination Unknown Track Listing:
1. Automatic Reset
2. Fever
3. Contrails
4. DCVR
5. Last/Lost Hope
6. Surrender
7. Doomed Drifters
8. Scheme
9. Destination Unknown
WATERTANK, having taken part in last year's edition of Hellfest and more, is now gearing up for a run of Spring live dates throughout France. With the final details still falling into place, the outfit will be out from May 13th through June 1st, with eight dates currently locked, including shows with the likes of Torche, Membrane and others. Additional tour dates are to be announced throughout the coming weeks as Destination Unknown nears release, and a larger tour coming together for after its street date.
WATERTANK Tour Dates:
5/13/2015 Emporium Galorium – Rouen, FR
5/15/2015 Black Out – Montpellier, FR w/ Lahius
5/16/2015 Heretic – Bordeaux, FR w/ Aguirre
5/20/2015 Glazart – Paris, FR w/ Torche, Your Highness
5/21/2015 TBA
5/22/2015 Molodoi – Strasbourg, FR w/ Kurt
5/23/2015 Le Café Français – Vesoul, FR w/ Membrane
6/01/2015 Le Ferrailleur – Nantes, FR w/ Torche
http://www.facebook.com/wtrtnk
http://www.solarflarerds.com
http://facebook.com/solarflarerecords
http://solarflarerds.bigcartel.com