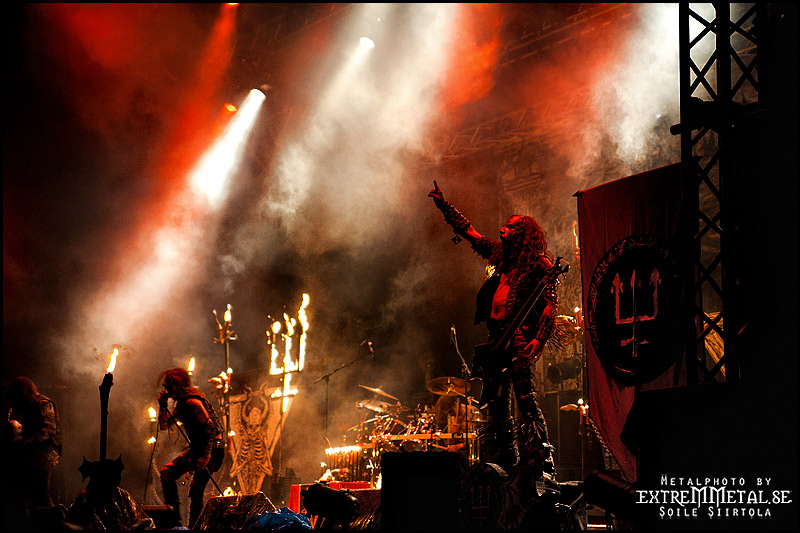 In a message from Swedish black metallers WATAIN:
"WATAIN have just returned from a mad and fiery celebration of Satan at Hole in the Sky, Norway. This show marked the end of the Summer Holocaust festival tour. The band would hereby like to salute those who have made it worthwhile; Rock the Nation, The Devil's Blood, Repugnant, Triptykon, Autopsy, the S.O.M crew and of course all ye wolfhearts and WATAINiacs who attended the ceremonies and showed your support. To all you infidels who dared to stand in our way, we laugh triumphantly at you know, worms. Victory is again ours!
As the darkness of the harvest season sets in, Watain are to embark on three tours;
03 Sep – 11 Sep: Scandinavia
24 Oct – 31 Oct: Europe
07 Nov – 04 Dec: USA
More is to be announced in due time.
The new USA dates for November are now confirmed:

It is with great pride that we can show the cover of the final issue of legendary Slayer Magazine, the undisputed king of all metal magazines, where WATAIN has been chosen to adorn the front.

WATAIN raise their bloodfilled cups to Metalion for his great support of WATAIN and admirable devotion to the true ideals of black metal. Your work has been of great inspiration to each and every wildhearted metal warrior!
This final issue of Slayer Mag "Blood Fire Death" will be out in a month.
Finally, the last copies of the much sought-after Bathory tribute shirts from the Sweden Rock concert earlier this year have now been made available from the merch store, along with other new items. Visit http://www.watainmerch.com to get a copy."
http://www.myspace.com/watainofficial
http://www.season-of-mist.com