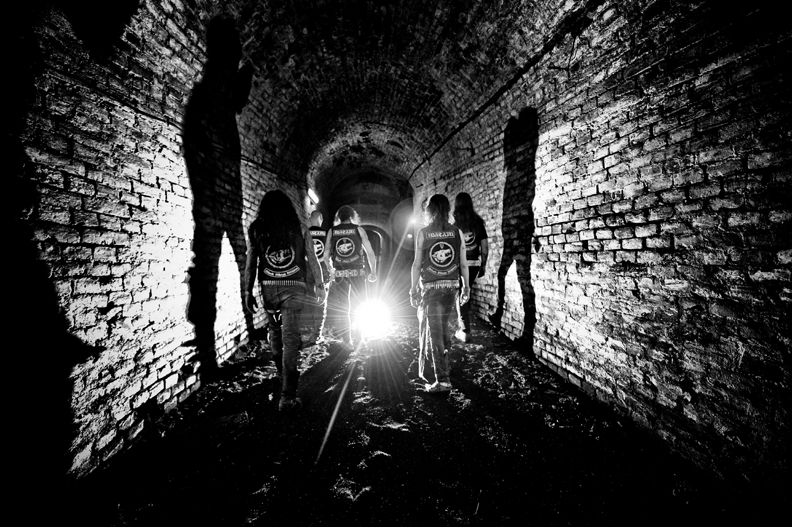 After having stormed through Europe for five weeks leaving their cursed mark on many a sold-out hall, WATAIN now have their sights set on North America. The wild ride will begin in Pittsburgh, on Saturday, November 6, and sweep through 24 cities before drawing to a close on December 4 in Toronto. Support will come from Goatwhore and Black Anvil. Confirmed dates below.
This will mark WATAIN's first time touring North America as a five-piece. Commented vocalist E: "Getting the whole band into the U.S. has always been a somewhat problematic issue, due to criminal records and related nonsense. This time we've at least managed to get five people in, although we had to find a temporary replacement for our brother Set, who is still denied entrance into the 'Land of the Free.' Instead we've invited SL from The Devil's Blood to handle the second guitar on this tour. The past month in Europe has nourished the fires of our Temple indeed, and it is with increased power and victory in our hearts that we leave the European shores in flames and set our sails towards the west. Beware…"
Added Set on being denied Stateside entry: "It is with great disappointment — but with little surprise — that I am once again denied entry into the States. That's one of the small prices to pay being a sworn enemy of their world. It feels wrong to not be able to join this tour, even more so after just returning from the most intense five weeks of our Reaping Death tour with Destroyer 666. On the other hand, I honestly couldn't ask for a better replacement in this (or any other) situation than SL, whose talent and vision within the sinister musical Craft is undeniable. America, I'll see you soon enough…FTW!"
WATAIN: Lawless Darkness North American Tour 2010
w/ Goatwhore, Black Anvil:
11/06/2010 Mr. Smalls – Pittsburgh, PA
11/07/2010 Reggie's – Chicago, IL
11/08/2010 Station 4 – St. Paul, MN
11/10/2010 Marquis Theatre – Denver, CO
11/11/2010 Club Vegas – Salt Lake City, UT
11/12/2010 Branx (Loveland) – Portland, OR
11/13/2010 Studio Seven – Seattle, WA
11/16/2010 Boardwalk – Orangevale, CA
11/17/2010 DNA Lounge – San Francisco, CA
11/18/2010 The Ruby Room – San Diego, CA
11/19/2010 The Whiskey – Hollywood, CA
11/20/2010 Clubhouse – Tempe, AZ
11/22/2010 The Loft – Dallas, TX
11/23/2010 Emo's – Austin, TX
11/24/2010 Numbers – Houston, TX
11/27/2010 Back Booth – Orlando, FL
11/29/2010 Masquerade – Atlanta, GA
11/30/2010 Sonar – Baltimore, MD
12/01/2010 Peabody's – Cleveland, OH
12/02/2010 Santo's New York, NY
12/03/2010 Le Fou Founes – Montreal, QC
12/04/2010 Opera House – Toronto, ON
The official lineup for the Lawless Darkness Tour will thus be: E – Vocals, P – Guitar, H – Drums, A – Bass and SL – Guitar.
Check out a video of WATAIN performing "Sworn To The Dark" on Halloween night in Stockholm: