In support of their latest full-length, Iconic Nightmare, Appleton, Wisconsin crust brigade WARTORN this week announces an upcoming Spring tour with legendary Italian hardcore/punk outfit Raw Power! Running from April 26th through May 4th the two acts will invade nine Midwestern American cities on a high-paced warpath, including a show at the two-day Forward Ohio Fest alongside Masakari, Coke Bust, Violent Restitution, Backslider, Nukehammer and others, a show in Pittsburgh with drunkpunk masters Submachine, and more.
Blow The Scene is now hosting a stream of the entire Iconic Nightmare album now RIGHT HERE.
WARTORN Midwest U.S. Tour w/ Raw Power:
4/26/2013 Korktown Tavern – Detroit, MI w/ Heresy, The State
4/27/2013 Carabar – Columbus, OH @ Forward Ohio Fest [info]
4/28/2013 Belvedere's – Pittsburgh, PA w/ Submachine
4/29/2013 Ihop – Indianapolis, IN w/ We Must Dismantle All This
4/30/2013 Reggie's – Chicago, IL
5/01/2013 Hattrix Bar – Kenosha, WI w/ Pistofficer
5/02/2013 Subterranean – Appleton WI w/ Rat Sack
5/03/2013 UW Memorial Union – Madision WI w/ Pyroklast, Panther
5/04/2013 Medusa – Minneapolis, MN w/ Kontrasekt
WARTORN has protested political tyranny and societal injustices with a devastating brew of metallic crustpunk since 2004. The band has assaulted live audiences across thirteen countries across North America and Europe in support of releases on renowned crust/punk labels including Profane Existence and Crimes Against Humanity, while its members also take part in other active and notable acts like Dresden, Remission, and Words That Burn. The band's latest album Iconic Nightmare, released via Southern Lord in late January, takes their powerful songwriting and execution to new levels, surging with nine crushing anthems in barely twenty-five minutes. Diehards of Wolfbrigade, From Ashes Rise, Tragedy and the like should not pass this one by.
Stay tuned for more WARTORN tour updates in the weeks ahead.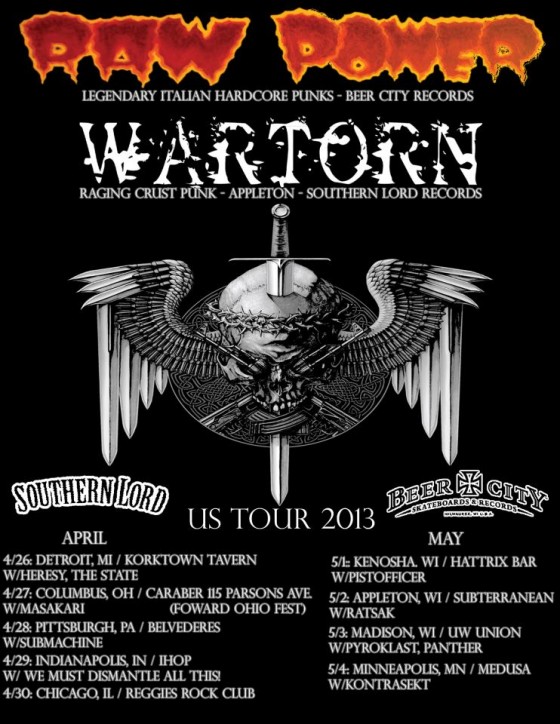 https://www.facebook.com/pages/Wartorn/272404432793464?ref=ts&fref=ts
http://us.myspace.com/wartornwisconsin
http://www.southernlord.com
http://twitter.com/twatterlord
http://www.facebook.com/SLadmin