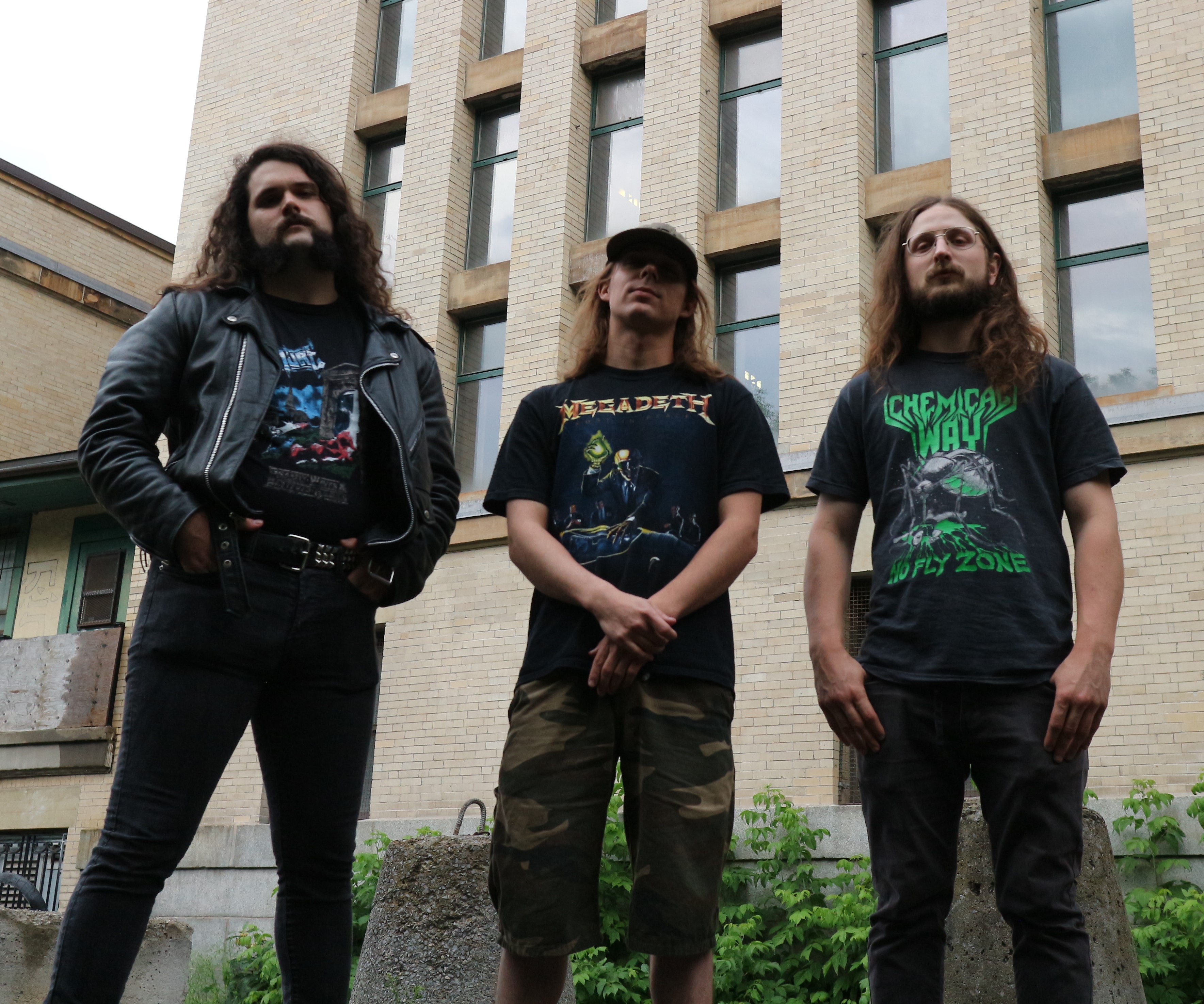 Canadian speed metal merchants WARSENAL are pleased to unveil the official lyric video for "Doomed From Birth." Currently playing at Decibel Magazine, the track comes by way of the band's impending new full-length, Feast Your Eyes, set for worldwide release November 15th on Svart Records.
Comments guitarist/vocalist Mathieu Rondeau of the track, "This one is a really energetic and in-your-face type of song with riffs flying left and right. It has the WARSENAL madness written all over it. It was one of the first songs I wrote after Barn Burner. Even the main riff was composed before our first album was done, so you can really feel that this song is some kind of a 'bridge' between the two. It's perfect for fans old and new.
On the lyrics side, this song is a very personal one, but I know it will connect with most people. It is about genetic diseases and conditions. My father had cancer a few years ago and luckily, he's okay now, but, once the fear of anything bad or fatal happening to him passed, the thought that I might have it sleeping in me as well stayed. Not that I'm extremely afraid; it's life, but the really frightening part is to think that I could pass it on to my own children, eventually, and that it can keep going on and on. The fear of contracting this disease is nothing compared to the fear of giving it to someone you love especially when you have absolutely no control over that matter. So, there you go. For those who say that thrash and Speed metal lyrics are stupid or meaningless, we're here to prove you otherwise, not only on this track, but on the whole album."
View "Doomed From Birth," now playing at Decibel Magazine, RIGHT HERE.
View the band's previously-released video for "Forever Lost" below.

The anticipated follow-up to 2015's debut Barn Burner, Feast Your Eyes boasts the band's most forward-thinking assortment of speed/thrash metal rippers to date and is sure to snap the necks of younger fans and disciples of the old-school alike.
Feast Your Eyes will be released on CD, LP, and digital formats. For physical orders in the US go to THIS LOCATION and in Europe go to THIS LOCATION.
WARSENAL released a three-song demo in 2012 and immediately started performing live that same year. The demo quickly grasped the attention of a Japanese festival organizer who invited the band to perform on the True Thrash Fest in February 2013 alongside the likes of legends Exciter, Violator, and Sabbat. The band gained further notoriety upon their return home where they played shows incessantly throughout Canada. Since the release of their 2015 debut Barn Burner, WARSENAL has remained an active live act having toured the US, Canada, and Mexico and appearing at various metal fests including Full Terror Assault with Overkill, Venom Inc., Crowbar, Goatwhore, Toxic Holocaust, and more. Stay tuned for further WARSENAL live invasions to be announced soon.
"This is a fun, powerful and stripped-down thrash metal record that wants nothing to do with your pizza thrash. Instead, WARSENAL deal in vicious riffs and hard-hitting vocals that take just as much from Possessed as they do Voivod. It makes for a fun listen that goes consistently and unrepentantly straight for the throat." — Two Guys Metal Reviews
http://www.warsenalband.com/
http://www.facebook.com/WarsenalOfficial
http://warsenal.bandcamp.com/releases
http://www.instagram.com/warsenalband/
http://twitter.com/Warsenalband
http://www.svartrecords.com
http://www.facebook.com/svartrecords
http://www.twitter.com/svartrecords