"He's a warrior, a fighter, and best of all, for the better of the genre, one of the most recognized voices in all of heavy metal. Well done, Big Brother." – Philip H. Anselmo on WARBEAST vocalist Bruce Corbitt
Enter The Arena is the impending new full-length from Texas thrash metal behemoths WARBEAST. Set for release on August 4th via Philip H. Anselmo's Housecore Records, the punishing, ten-track production was captured at Anselmo's famed Nodferatu's Lair, mixed by Mike Thompson at the Riff Factory, and mastered by Lee Russell. The record features newest WARBEAST recruits, guitarist Drew Shoup and bassist Lyric Ferchaud, and stands among band's most potent, volatile, and unrepentantly powerful offering yet.
In anticipation of its release, today, Decibel Magazine is offering up "Maze Of The Minotaur" for communal feasting at THIS LOCATION.
"I wanted write in a different mode than we normally do; some more mid-paced and slower breakdowns mixed with thrash," relays guitarist Scott Shelby of the track. "So this happened to really stand out as a notable song. I'm also proud to break out my version of Tony Iommi leads from the Born Again era on this track. Then of course I gave it to [vocalist] Bruce [Corbitt] and he roped it off with the crazy story of the 'Maze Of The Minotaur.'"
"My favorite subjects to write about are obviously about horror, psychos, medieval times, and Greek mythology," Corbitt adds. "I've wanted to write a song about the Minotaur for years [In Greek mythology, the Minotaur was a creature with the head of a bull and the body of a man]. As soon as I heard the music Shelby came up with, I knew this was the one to capture the atmosphere. The chorus part of the music pretty much spoke to me and I could hear it actually saying the lyrics. That's when you know it's going to be a special song."
Enter The Arena preorder bundles are currently available. Nab a CD bundle at THIS LOCATION or vinyl bundle at THIS LOCATION.
The release of WARBEAST's Enter The Arena follows Corbitt's recent esophageal cancer diagnosis. A treatable though rarely curable disease, Corbitt faces the likelihood that he will never be able to sing again. The singer, who is currently undergoing an intensive schedule of radiation treatments, played his final show on Saturday, May 27th at the Rail Club in Fort Worth, Texas. View the farewell footage below.
The band's previously-scheduled CD release party will be taking place on Friday, July 14th at The Rail Club in Ft. Worth, Texas. Vocals will be handled by Anselmo, Edwin Neal (Texas Chain Saw Massacre), and Wayne Abney (Hammer Witch).
Comments Anselmo, "In light of the complicated situations surrounding Bruce Corbitt, lead vocalist for Rigor Mortis and WARBEAST, respectively, most of us sisters and brothers in the heavy metal community are very aware of, I'd like to extend an enormous amount of just-praise upon him. Since the late 1980s to the present, Bruce has always been a person to count on as a friend, and an excellent man to work closely with. Our love of music brought us together and created an unbreakable bond, and that is a priceless cornerstone that can't be ignored when examining one's life in hindsight. Bruce has always shot me straight, given me life-advice, and from my perspective, has always been there for anyone and everyone in need, for a myriad of unselfish reasons. I thank all that's good out there I had the chance to be a part of the four WARBEAST releases, and I feel Bruce's best is on their latest record, Enter The Arena. He's a damned warrior, a fighter, and best of all, for the better of the genre, one of the most recognized voices in all of heavy metal. Well done, Big Brother."
WARBEAST:
7/14/2017 The Rail Club – Ft. Worth, TX * CD Release Party [info]
A special fund to help with the Corbitt family's escalating medical expenses has been set up. To donate visit THIS LOCATION. Additionally, several special benefit shows have been organized with more to be announced in the coming weeks.
Bruce Corbitt Benefit Shows:
7/08/2017 Jake's Sports Café And Backroom – Lubbock, TX [info]
7/21/2017 Bonds Rock Bar – San Antonio, TX [info]
7/22/2017 Texas Mist – Austin TX [info]
7/29/2017 BEF Rock Club – Houston, TX [info]
With the "retro-thrash" trend in full-swing, and hordes of bands trying to re-create "old school metal," Texas monsters WARBEAST offer the real thing. Their music is not the result of careful study of '80s thrash or classic metal; it just comes naturally because that is who they are.
The roots of WARBEAST are firmly entrenched in the legendary '80s Texas underground metal scene. Vocalist Bruce Corbitt was the voice of speed metal splatter kings Rigor Mortis, who achieved major label success on Capitol Records in 1988. Guitarist Scott Shelby was part of the riff machine behind Gammacide, one of Texas' most furious thrash exports. Drum tornado Joey Gonzalez now also provides blasts and mayhem for Philip H. Anselmo & The Illegals and Superjoint.
The band's Krush The Enemy debut was released in 2010 on Housecore Records. It featured ten tracks covering a wide range of metal terrain aimed squarely at the neck-snapping headbanger in the front row. For WARBEAST, "metal" signifies high speed riffing, thunderous double bass, roaring vocals, and plenty of blazing guitar solos. By the spring of 2012, WARBEAST hunkered down to record Destroy with legendary Pantera and Down frontman and label founder Philip H. Anselmo behind the board at his own Nodferatu's Lair. The result was an uncompromising and unbridled thrash assault. Living up to its moniker, the collection saw the Texas outfit sharpen their claws and bare their teeth even more than before. "I want people to feel like they've been hit with a sledgehammer ten times in a row when they hear this," said Corbitt of the release. "As long as they feel strongly about, we've accomplished our mission." Five years later, it's time to unleash the sonic battery of Enter The Arena.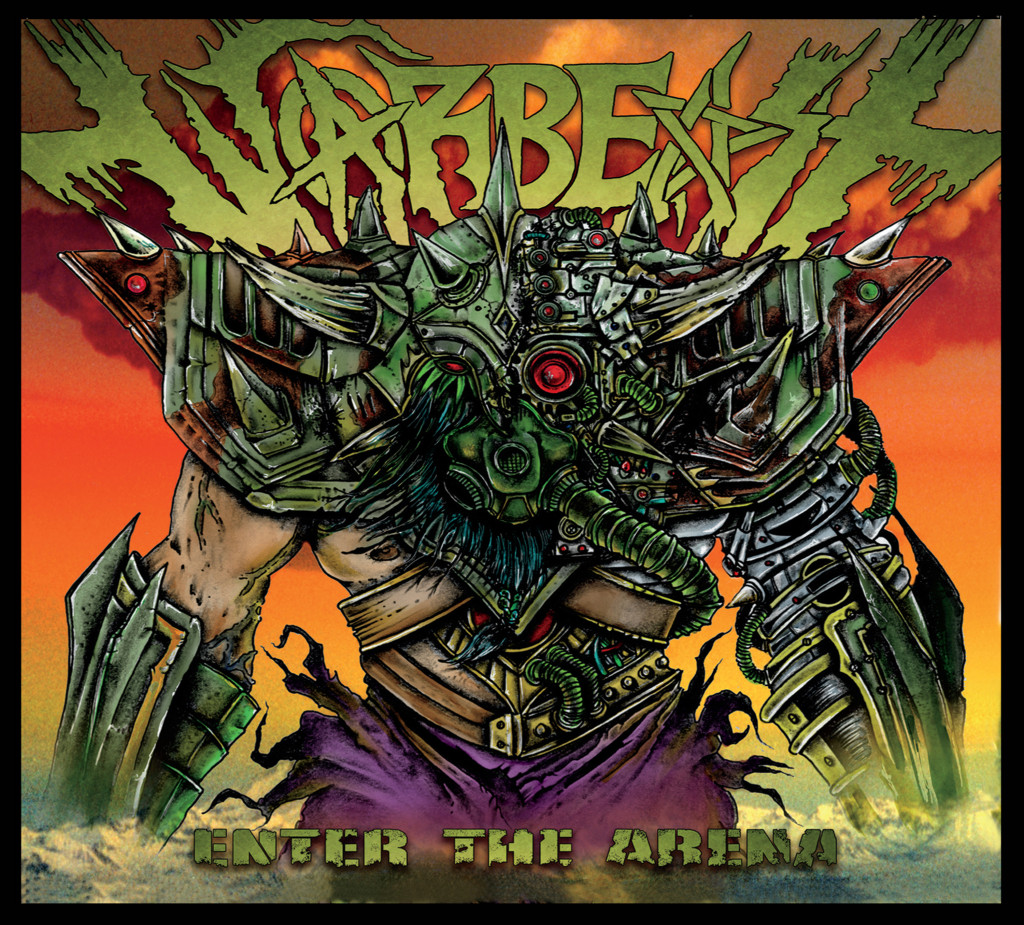 http://www.facebook.com/warbeast1
http://www.thehousecorerecords.com
http://www.thehousecorestore.com
http://www.facebook.com/housecorerecords