Nefarious Industries this week releases Suicide By Citizenship, the collaborative musical experiment by New York solo outfits WALKING BOMBS and GRIDFAILURE. BrooklynVegan is now streaming the entire record via an exclusive video playlist.
Suicide By Citizenship was conceived by WALKING BOMBS' Morgan Y. Evans and GRIDFAILURE's David Brenner who created the album with producer Jay Andersen (Surmiser). In addition, guest contributions from to Mike Score (All Out War, Below The Frost), Thomas Andrew Doyle (Tad, Brothers Of The Sonic Cloth), Laura Pleasants (Kylesa, The Discussion), Brett Netson (Built To Spill, Snakes), Elizabeth Le Fey (Globelamp), BJ Allen (Full Scale Riot), Benjamin Levitt (Megalophobe), and more are featured throughout the album, which was recorded and mastered by Andersen, who also plays on the entire album, with additional recording by Brenner who created the cover art.
A video playlist for Suicide By Citizenship has been created by Brenner, featuring unique visualizers/abstract videos for most of the tracks, as well as the previously-released official video for "Bare Shores Bleed" and unveiling a new official video for the album's title track. The entire album playlist is now streaming exclusively at BrooklynVegan, who offers, "As you'd probably expect from a diverse cast like that, the album is all over the place in a good way. It's got everything from abrasive, noisy industrial parts to atmospheric dream pop, and it's a real trip."
Stream/view the entire WALKING BOMBS & GRIDFAILURE Suicide By Citizenship video playlist at BrooklynVegan RIGHT HERE.
Nefarious Industries will release Suicide By Citizenship on eco-wallet CD and all digital platforms this Friday, April 26th. Find preorders at the label webshop HERE and via Bandcamp HERE and HERE.
GRIDFAILURE embarks on a four-day Northeastern US tour next week, including stops in Manchester, Kingston, Harrisburg, and Washington DC. Brenner will be joined by core live members Benjamin Levitt (Megalophobe) and Richard Muller (The Third Kind, Vise Massacre) for the first two shows including Kingston where Evans will join part of the performance as well. Brenner will perform the last two shows solo.
GRIDFAILURE – Springtime In The Abyss Pt. 2 w/ Zud:
5/01/2019 The Bungalow Bar & Grill – Manchester, NH w/ Anxiety, Wkeah [info]
5/02/2019 Tubby's – Kingston, NY w/ Parkbench Messiah [info]
5/03/2019 J. B. Lovedraft's Micropub – Harrisburg, PA w/ Voarm [info]
5/04/2019 Atlas Brew Works – Washington, DC w/ Voarm, Radamanthys [info]
Suicide By Citizenship is an album created to challenge its own creators with the intent of combining sounds from two outfits located on polar opposite ends of the underground music spectrum. The record blends a wealth of genres into a dystopian alloy of improvised jams, rife with discontent for the contemporary state of American politics, and more specifically, the current administration's actions and policies.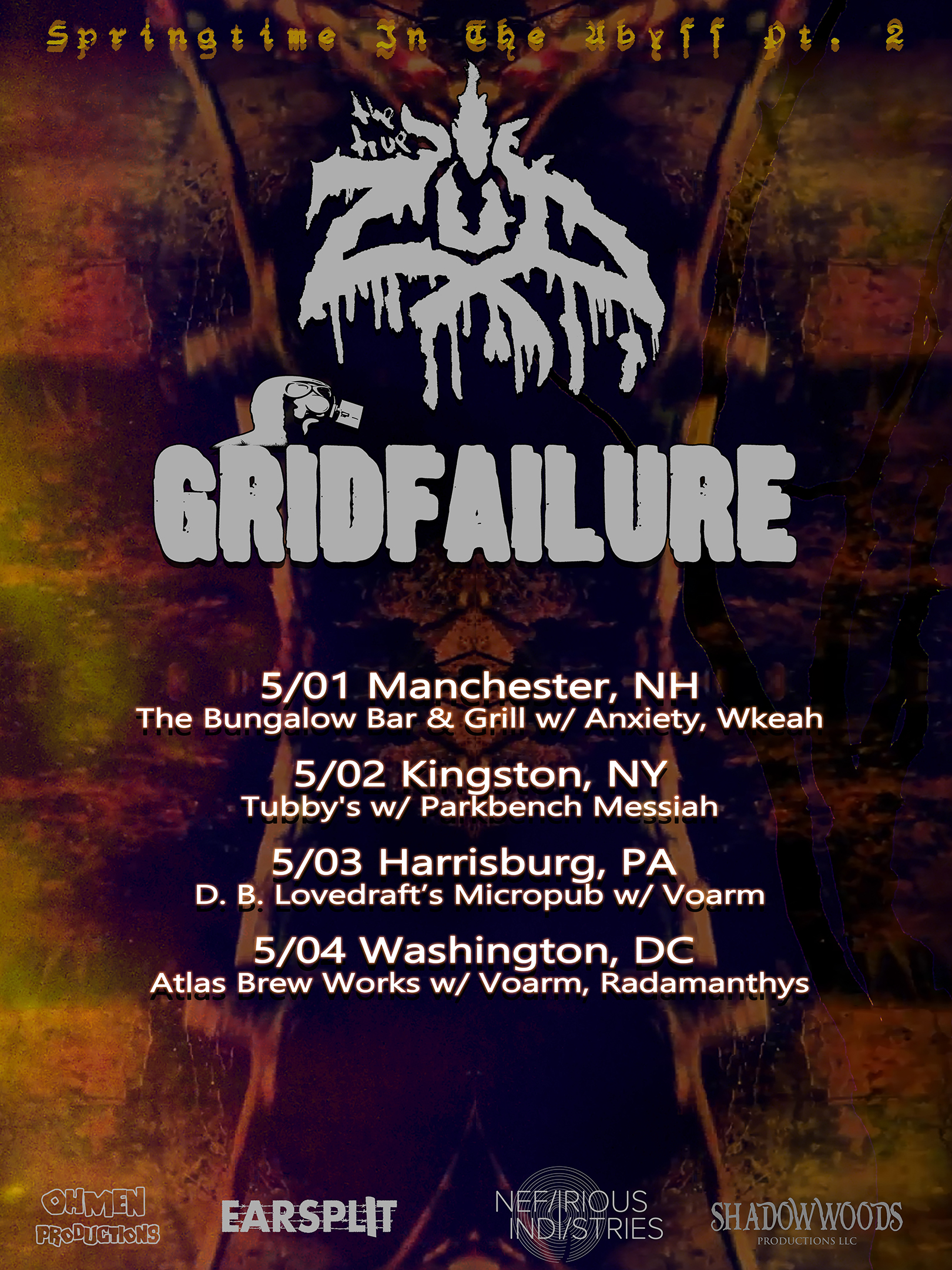 https://walkingbombs.bandcamp.com
https://www.facebook.com/walkingbombsmusic
http://www.facebook.com/gridfailure
http://www.gridfailure.bandcamp.com
http://nefariousindustries.com
http://www.facebook.com/nefariousIndustries
http://www.twitter.com/nefariousInd
https://nefariousindustries.bandcamp.com