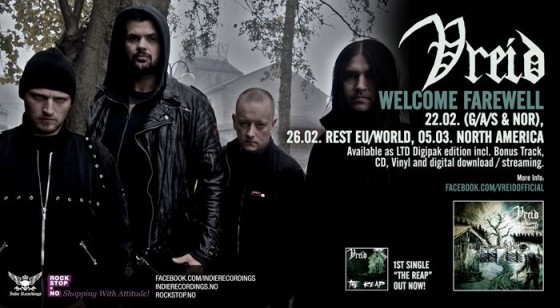 Norwegian black 'n' roll assassins VREID recently completed work on their latest long player. Titled Welcome Farewell, the follow-up to 2011's V, which Decibel called, "…VREID's finest hour," and Metal Army America commended for its "integrity and sheer electrical power," was recorded at bassist Hváll's own Studio 1184 and is set for North American release via Indie Recordings March 5, 2013.
View their video blog from the studio below:

Comments bassist Hváll of the new material, "two years after we started writing new riffs, our new beast is now complete. It's been a lot of work, but we are utterly pleased with the result. 'Dark,' 'heavy' and 'VREID' are the three keywords to describe it. The artwork takes us in a new direction this time, and is done by the wizard Kim Holm. His work is spectacular and has captured the music and lyrics beyond words. In February the new album will see the light of day, and we can't wait to unleash it, and come out and play for you again."
Additionally, you can sample latest VREID single "The Reap" as well as the Welcome Farewell cover art courtesy of esteemed metal rag Terrorizer HERE! Further details on Welcome Farewell to be revealed in the coming weeks.