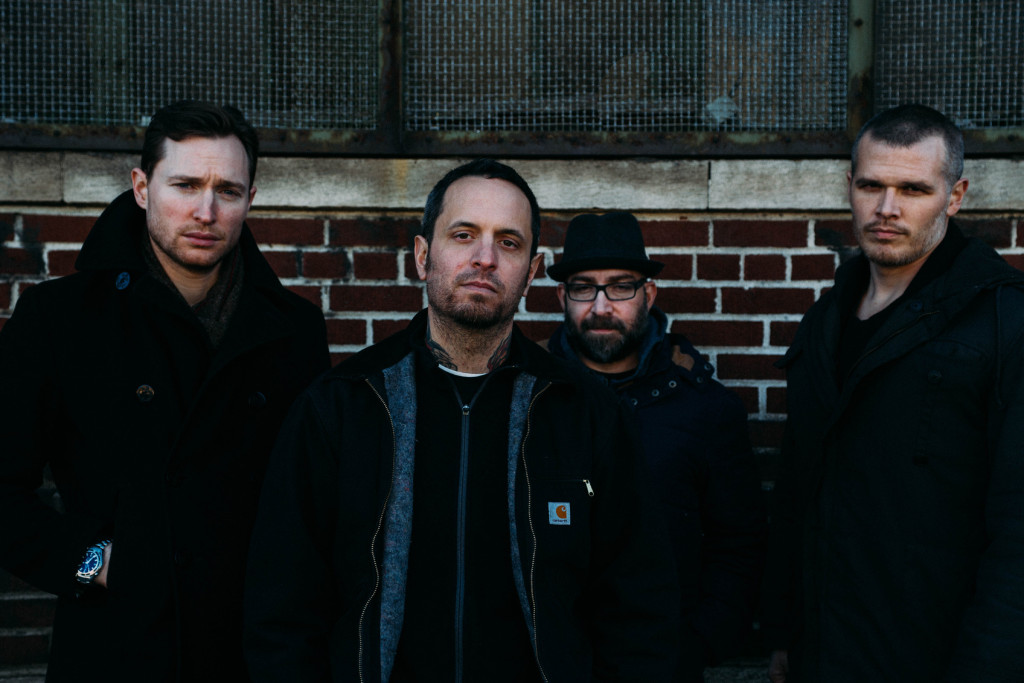 Razed To The Ground is the imminent new full-length from New York City hardcore icons, VISION OF DISORDER. Set to drop via Candlelight Records on the new street date of November 27th, 2015, Razed To The Ground was captured by Chris "Zeuss" Harris (Hatebreed, Madball, Terror etc), and displays a more refined and matured approach to their sound while musically retaining their signature tension, release and paralyzing grooves, punctuated by a nonstop barrage of dynamic vocal devastation.
As a precursor to its release, today Decibel Magazine strikes with "Electric Sky" at THIS LOCATION.
You can also sample the record's title track, still playing at Revolver Magazine at THIS LOCATION as well as "Hours In Chaos" at Lambgoat RIGHT HERE.
Razed To The Ground has been reaping critical adulation from critics globally. "The new VISION OF DISORDER song is riffs on riffs on riffs," proclaimed Metal Injection upon hearing first single, "Hours In Chaos." "In Razed To The Ground they have delivered a masterclass in no-nonsense, deftly controlled packets of nervous, furious energy, trimmed of fat and patiently waiting to rip your face off, given half a chance…outstanding," issues The Monolith. In a near-perfect 4/5 rating, Skulls 'N' Bones gushes, "VISION OF DISORDER have created their masterpiece …an awesome album, front to back." In an 8/10 review, The Metal Observer concurs, "Razed To The Ground is not only the best VISION OF DISORDER album since Imprint, but it's the comeback the fans wanted, and it's the comeback the band deserved." Adds Wonderbox Metal of vocalist Tim Williams in particular, "His screaming snarls sound like anger personified and his cleans always have a certain edge to them that make them stand out from most of the more commercial/weak sounding cleans used by a lot of their peers. He's on top form again on this release and it seems he will never run out of steam… a strong new album from these hardcore stalwarts."
Forged in 1992, VISION OF DISORDER recorded three demos and an EP before releasing their self-titled Roadrunner Records debut in 1996. Between 1994 and 1999, the band would see eight additional and now rare recordings as their fan base grew, including a split 7-inch with Loyal To None (Hearsay Records), a split 7-inch with Nanchaku (Dea Records), and the Resurrecting Reality EP (Crisis/Revelation Records) featuring their cover of the Bad Brains classic "Soul Craft." The band would record a second album for Roadrunner, Imprint (1998), and two additional albums, For The Bleeders (1999, Go Kart Records) and From Bliss To Devastation (2001, TVT Records) before disbanding. By 2008, VOD reunited and began writing new material for the first time in over a decade. They announced their signing with England's Candlelight Records on February 23rd, 2012. The Cursed Remain Cursed was released six months later.
Razed To The Ground preorders are currently available at THIS LOCATION.
http://www.facebook.com/VisionOfDisorder
http://www.candlelightrecordsusa.com
http://www.facebook.com/candlelightrecords