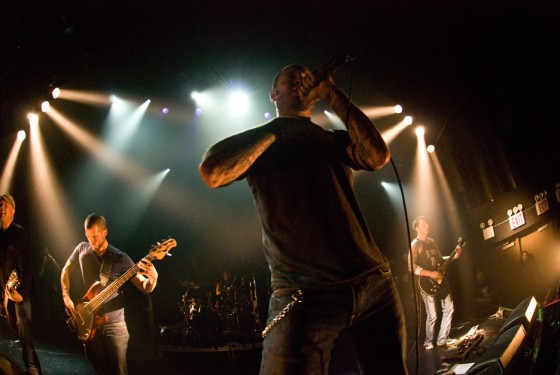 The Cursed Remain Cursed, the first album from Long Island hardcore innovators VISION OF DISORDER to be released in over a decade, will hit North American streets in just one week via Candlelight Records.
An album three years in the making, and one of the most dynamic and cleverly destructive releases in VOD's twenty year history, The Cursed Remain Cursed surges with over forty minutes of brand new material, produced by Will Putney (Shadows Fall, Suicide Silence) and mixed by Cameron Webb (Motörhead, Social Distortion). With the album receiving massive praise from international media outlets, longtime fans await the chance to finally get their hands on the record, arguably one of the most anticipated hardcore/metal albums of the year.
Following the public release of the opening track "Loveless" online via Lambgoat and to radio stations everywhere in June, and the recent video for the second track "Set To Fail" via Metal Injection, today Metal Hammer Magazine is currently streaming all eleven tracks from The Cursed Remain Cursed for a limited time AT THIS LOCATION.
In conjunction with the release of The Cursed Remain Cursed, the band will storm into the UK for two exclusive concerts this week, set to perform at The Underworld in London on Friday, where they'll film the next video for the new album, followed by a performance at Moho Live in Manchester on Saturday. Upon their return VISION OF DISORDER will join Biohazard, the Cro-Mags, One Life Crew, Madball, D.R.I., Sick Of It All, Agnostic Front and more at the massive two-day East Coast Tsunami Fest in Reading, Pennsylvania during the last weekend of September, followed by more one-off NYC-area appearances with more touring actions to be announced in the coming weeks.
VISION OF DISORDER live dates:
9/14/2012 The Underworld – London, UK
9/15/2012 Mojo Live – Manchester, UK
9/29/2012 Club Reverb – Reading, PA @ East Coast Tsunami Fest [info]
10/19/2012 Club Revolution – Long Island, NY
11/24/2012 Music Hall of Williamsburg – Brooklyn, NY w/ Primitive Weapons, Yuppicide
"…they still do it so fucking well… they've now figured how to meld hulking hooks with their blistering, angular riffs. And Tim Williams' long-revered vocal innovations are as impressive as ever." – Decibel
"…a welcome return… 4/5" – Revolver
"…with some proper attention, the effort more than lives up to the high bar the band have previously set. Truly Vision Of Disorder's long-awaited return sees them emerging even more fearsome. Older, wiser and unrelentingly caustic. 4/5" – The PRP
"Vision of Disorder has a lot to answer for – sparking modern metalcore as a genre for starters. Now a decade since their last album, From Bliss To Devastation, VOD sound more ornery than where they left off." – Noisecreep
"…a criminally undervalued band… their first studio album since 2001, is the latest evidence of how great the band is. They are a vitally powerful group today and not merely a metalhead memory of a gauzy Clintonian past. 4.5/5" – About.com
"…these guys are truly one of a kind and easily one of the most unique 'core' based bands in the universe. From their high-energy, razor-sharp sound to their brazen, callous, and lung-shredding frontman, VOD completely embody what metalcore is all about, yet totally redefine it as well. 4.5/5" – The New Review
https://www.facebook.com/VisionOfDisorder
http://www.myspace.com/vodhardcore
http:/www.candlelightrecordsusa.com
https://www.facebook.com/CandlelightRecordsUSA