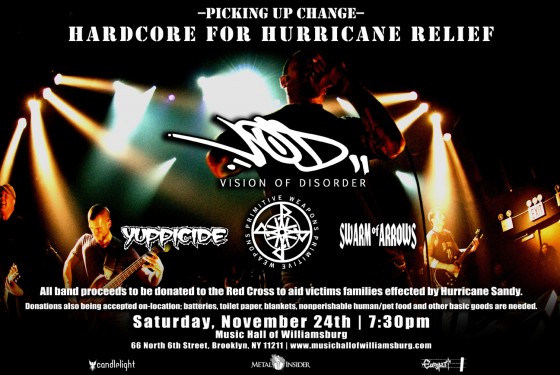 Today VISION OF DISORDER confirms that all the proceeds from their upcoming headlining concert in Brooklyn later this month will be donated to the Red Cross, in the wake of Hurricane Sandy.
What was simply a headlining show for the band has now been dubbed "Picking Up Change: Hardcore For Hurricane Relief." VISION OF DISORDER initiated this act of support to their community after witnessing the catastrophic demolition across the New York metropolitan area and beyond as Sandy surged through our region on October 29th. VOD, as well as the other bands performing at the Music Hall of Williamsburg on November 24th, will contribute donations to the Red Cross to help aid the decimated areas and many displaced local residents throughout the Northeast as the season grows colder.
In a collective statement the members of VOD had this to say: "Our hearts go out to those severely affected by this tragic incident. Being from Long Island, Hurricane Sandy has (quite literally) hit home for us. The music scene in Long Island, The New York metro area and New Jersey have been so supportive to VOD over the years that we felt donating the proceeds from the Brooklyn show was a no-brainer. We are proud to announce that the opening acts (Primitive Weapons, Yuppicide, Swarm of Arrows) have also agreed to donate their proceeds. We hope that this small gesture can add to the ongoing efforts and help rebuild these traumatized areas. We look forward to seeing you all on Nov 24th to support this cause."
In addition to the funds generated by VISION OF DISORDER, Yuppicide, Primitive Weapons and Swarm of Arrows at "Picking Up Change: Hardcore For Hurricane Relief" going directly to the Red Cross, show attendees are invited to bring supplies – canned/nonperishable food, batteries, toilet paper, etc. — for area shelters and food banks, as donation bins will be posted outside of the venue. Supplies to aid pets and animals displaced by the storm are also acceptable and will be donated to Last Resort Animal Rescue in New Jersey.
The members of VISION OF DISORDER, in an alliance with Candlelight Records, Earsplit PR, Metal Insider, The Music Hall of Williamsburg and all parties involved with this event, are reaching out to all area hardcore and metal fans to join them on November 24th, not only to take part in what is sure to be a high-action live show, but more importantly to help contribute to this imperative objective of getting the displaced families and businesses back on their feet. Doors open at 7:30pm.
Full ticket info for this event can be found RIGHT HERE.
Picking Up Change: Hardcore For Hurricane Relief
11/24/2012 Music Hall of Williamsburg – Brooklyn, NY
w/ VISION OF DISORDER, Primitive Weapons, Yuppicide, Swarm of Arrows
Those not in the area for this event who wish to help can make donations directly to the Red Cross via the Picking Up Change Firstgiving link.
NYC-based icons VISION OF DISORDER released The Cursed Remain Cursed – their first album in over a decade — via Candlelight Records in September. Inarguably one of the most dynamic and cleverly destructive releases in VOD's twenty year history, the critically-acclaimed album surges with over forty minutes of brand new material, produced by Will Putney (Shadows Fall, Suicide Silence) and mixed by Cameron Webb (Motörhead, Social Distortion).
https://www.facebook.com/VisionOfDisorder
http://www.candlelightrecordsusa.com/
https://www.facebook.com/CandlelightRecordsUSA