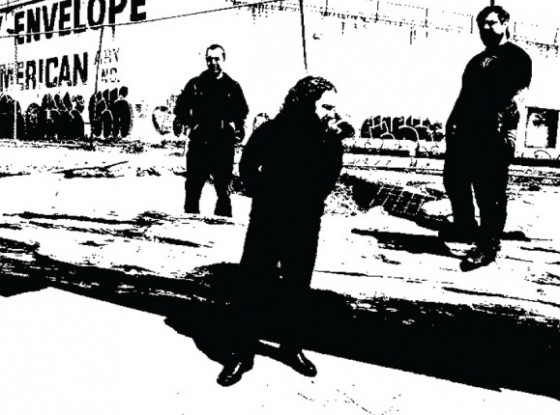 Brooklyn-based hardcore noise metal trio VISE MASSACRE have put the final touches on their official first full-length recorded assault, appropriately dubbed Expendable Humans, and are preparing to start off the supposed last year of mankind's existence with a bang by self-releasing the album in early January.
In celebration of the forthcoming onslaught, hometown independent music faction BrooklynVegan is streaming "Rising Tide" from Expendable Humans now. Kill a few brain cells and tattoo your face to VISE MASSACRE's mayhem RIGHT HERE.
Following a plethora of scathing demos, the ever-morphing VISE MASSACRE's current lineup fully completed every element of this filthy opus, and will now self-release the beast on LP and digital download for last year on the Mayan calendar. Recorded at Studio 65 and The Warehouse Recording Studio in Hicksville, New York by bassist Chris Vezza (who also mixed the tracks), self-produced by the band, and mastered at Bonati Mastering in Brooklyn by Josh Bonati (ZU, AIDS Wolf, Julie Christmas, Racebannon), Expendable Humans boasts 14 tracks in 31 minutes, broadcasting the band's unhinged 'core style of some unclassified sort at its most aggressive and honed to date.
VISE MASSACRE will release the album in early January on their own Gorilla The Horse Records imprint, with massive direct cooperation from Earsplit PR and various other channels of underworld propaganda. More info will be released in the coming weeks, but for now the full track listing, album art and more can be found here.
Following sporadic regional touring and gnarly notable live assaults throughout the band's native NYC-area wasteland and even a brutal tour of Japan in 2010, VISE MASSACRE's new full-time lineup is preparing for live rampages throughout the lands throughout the coming year. Founded by guitarist/vocalist Rich Muller (ex-The Last Crime, with Kevin Egan of Beyond/1.6 Band) the mob is rounded out by bassist Chris Vezza (ex-Awkward Thought) and drummer Jerry Carbone (ex-Science Diet, ex-Dawn of Bathos).
Your desire for review copies of Expendable Humans, interrogations with the creators of this cacophony and all other VISE MASSACRE yearnings can be satisfied by Earsplit PR right now. Let's get nuts.
Expendable Humans Track Listing:
1. Paralyzer
2. Bloodsucker
3. Eyes Of Fire
4. Hail to the Wicked
5. Something Like Silence
6. MTA
7. Pushed Down
8. Internal War
9. Shark Intentions
10. Stranger
11. Winter Kills
12. Kill to Survive
13. Brain Decay
14. Rising Tide
http://www.facebook.com/ViseMassacre
http://www.reverbnation.com/visemassacre
http://myspace.com/visemassacre
http://www.youtube.com/user/ViseMassacre