photo by Justin Driscoll
"If you dig Converge and Integrity at their darkest, you should definitely not be sleeping on this band." – BrooklynVegan
Innerstrength Record confirms the impending release of The Color Of Bone, the devastating new EP from Charlotte, North Carolina-based metallic hardcore outfit, VIOLENT LIFE VIOLENT DEATH. Set to see release on October 30th, the label posts preorders and other details on the record this week, and a lyric video for the first single, "Roseblade," makes its debut through a premiere at BrooklynVegan.
VIOLENT LIFE VIOLENT DEATH's upcoming The Color Of Bone continues to explore the darker and more eerie sounds the band started experimenting with in their previous release, 2019's Sadness Rains. With five new tracks recorded, mixed, and mastered by Kyle Dameron at Rareform Recordings in Hickory, North Carolina, the record was completed with photos by Justin Driscoll, art by Justin Campbell, and layout by Mark De Gruchy.
BrooklynVegan is hosting the premiere of The Color Of Bone's first single, "Roseblade," about which VLVD's vocalist Scott Cowan offers, "'Roseblade' is about the duality of so many things we experience in life, wittingly and unwittingly. On one end of a rose you have beautiful and delicate pedals, while painful and ensnaring thorns reside on the other. A rose can cement love and unity but can also provoke war and chaos."
Writes BrooklynVegan, "You can definitely hear that darkness coming through on lead single 'Roseblade,' which is metalcore at its most haunting. If you dig Converge and Integrity at their darkest, you should definitely not be sleeping on this band."
Check out VIOLENT LIFE VIOLENT DEATH's "Roseblade" lyric video and more only at BrooklynVegan RIGHT HERE.
Innerstrength Records will release The Color Of Bone on CD and through all digital providers on October 30th. Find preorders HERE.
Watch for new audio, official videos, and more from VIOLENT LIFE VIOLENT DEATH as The Color Of Bone nears release in the weeks ahead.
Since their formation in 2016, VIOLENT LIFE VIOLENT DEATH has delivered a blistering, damaging brand of brutal metallic hardcore, having been on a constant mission to deliver the most aggressive, hardest-hitting, yet straightforward music the genre has to offer, drawing comparisons and influence from the likes of Zao, Converge, Hatebreed, Dillinger Escape Plan, and Everytime I Die. The band's unique and evolving blend of metal and hardcore has been described by Metal Hammer as, "a relentless adrenaline blast," and Lambgoat describes VIOLENT LIFE VIOLENT DEATH as, "having solidified themselves as one the most promising up and coming hardcore bands out there."
As much as VIOLENT LIFE VIOLENT DEATH loves writing music, playing live is what they live for, and the band has shared shows with Lamb of God, Whitechapel, SeeYouSpaceCowboy, Madball, Chamber, Unearth, and many others, touring as much as possible.
The band offers of their new record, "In The Color Of Bone we wanted to expand on the darker elements we experimented with from our previous album, Sadness Rains, with a bit more of a punch. Lyrically, the content shares this same sentiment, largely inspired by the psychological depths of being in quarantine and the state of the world around us at the time. The album title The Color Of Bone is representative of humanity being made of all the same materials in the end. We feel this is our most accomplished work to date, finally capturing the sound we've been subconsciously striving for throughout the evolution of the band over the last four years."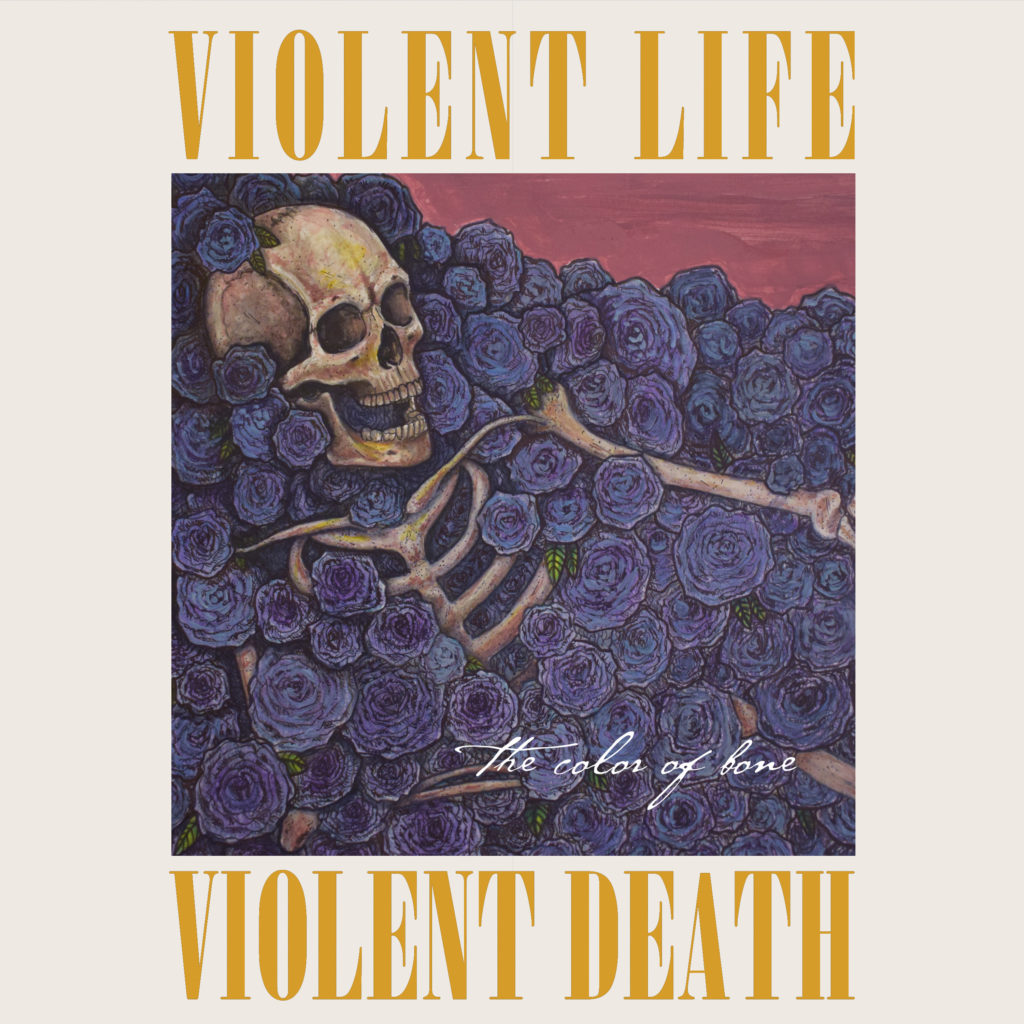 The Color Of Bone Track Listing:
1. Grave Walk
2. Dead With Me
3. Roseblade
4. Linger
5. The Color Of Bone
VIOLENT LIFE VIOLENT DEATH:
David Holquin – drums
Joe Benham – guitar
Scott Cowan – vocals
Joey Park – guitar
Justin Campbell – bass
https://twitter.com/vlvdofficial
https://www.instagram.com/violentlifeviolentdeath
https://www.facebook.com/violentlifeviolentdeath
https://violentlifeviolentdeath.bandcamp.com
https://www.innerstrengthmusic.com
https://innerstrengthrecords.bandcamp.com
https://twitter.com/innerstrengthhc
https://www.facebook.com/innerstrengthrecords
https://www.instagram.com/innerstrengthrecords