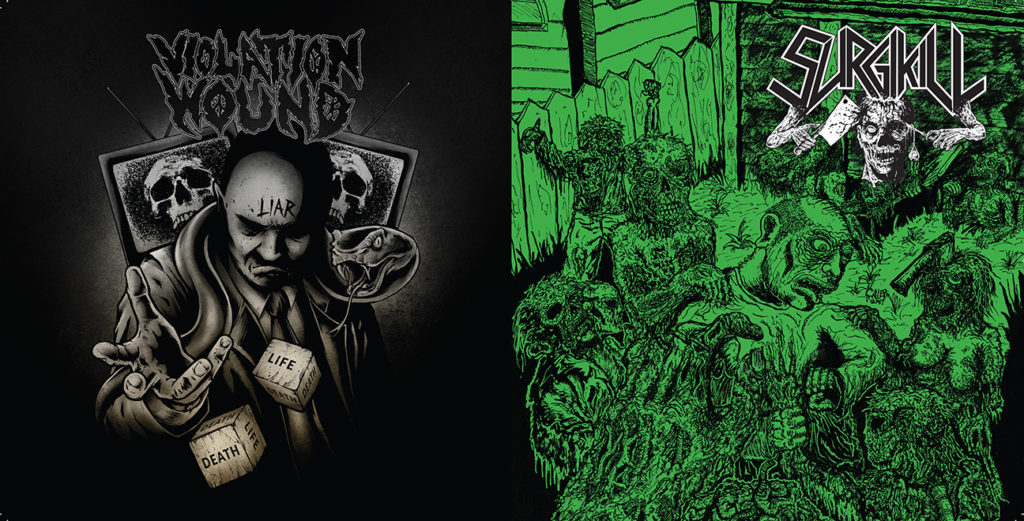 Selfmadegod Records presents a gory new split EP between two brutal American outfits, VIOLATION WOUND and SURGIKILL. The record is out now on 7″ vinyl and all digital platforms and is streaming in its entirety.
Oakland, California-based VIOLATION WOUND is violent punk band fronted by guitarist/vocalist Chris Reifert (Autopsy, Abscess, Death) alongside bassist Joe Orterry and drummer Matt O'Connell. Forged in a beer and whiskey-soaked basement in June of 2013, the band honors the raw, dirty, and pissed off ways of the genre's original innovators, while carving out a path to call their own. Following releases through Horror Pain Gore Death, Peaceville, Tankcrimes and more, and a long line of splits with the likes of Blizzard, Fleshreaper, Deathgrave, Ruin, Cliterati through Tankcrimes, for this split, VIOLATION WOUND cranks out a singular intense track, "Resist! Deny! Defy!," which was recorded and mixed at Earhammer Studios in Oakland by Greg Wilkinson. Driven to manufacture 100% real punk rock, fueled only by aggression and punishing riffs, fans of Toxic Narcotic, Zeke, and Fear pay heed.
With members strewn throughout Ohio and Kentucky, SURGIKILL features vocalist Stevo do Caixao of the legendary Impetigo alongside vocalist Vanessa Nocera (Cauldron Burial, Vaultwraith, Wooden Stake), bassist Zdenka Prado (Estuary), guitarist/drummer Ash Thomas (Crusicied Mortals, Estuary, ex-Acheron), vocalist William Sievers, and vocalist/guitarist Billy Nocera (Vaultwraith, ex-Scaremaker). Following releases through F.D.A. Records, No One Records, and others including prior splits on Selfmadegod Records, SURGIKILL here surges forth with another slab of heavy and dark old-school death metal influenced by Impetigo, Autopsy, Incantation, Terrorizer, and the like. The song "Post-Carnage Mishap" was recorded at Frequenscream Studios, engineered by Ash Thomas.
The EP is bound in cover art by Caleb Dickenson conceptualized by Stevo do Caixao, insert artwork by Putrid, layout and design by Justin Stubbs (Enfcoffination), and comes in two 7″ vinyl variants, with 100 pressed on green wax and 400 on black.
The VIOLATION WOUND/SURGIKILL split 7″ is available in the US via Earsplit Distro HERE and internationally via Selfmadegod Records' webshop HERE, and digitally via Bandcamp HERE.
VIOLATION WOUND/SURGIKILL Split 7″ Track Listing:
A. "Resist! Deny! Defy!" (VIOLATION WOUND)
B. "Post-Carnage Mishap" (SURGIKILL)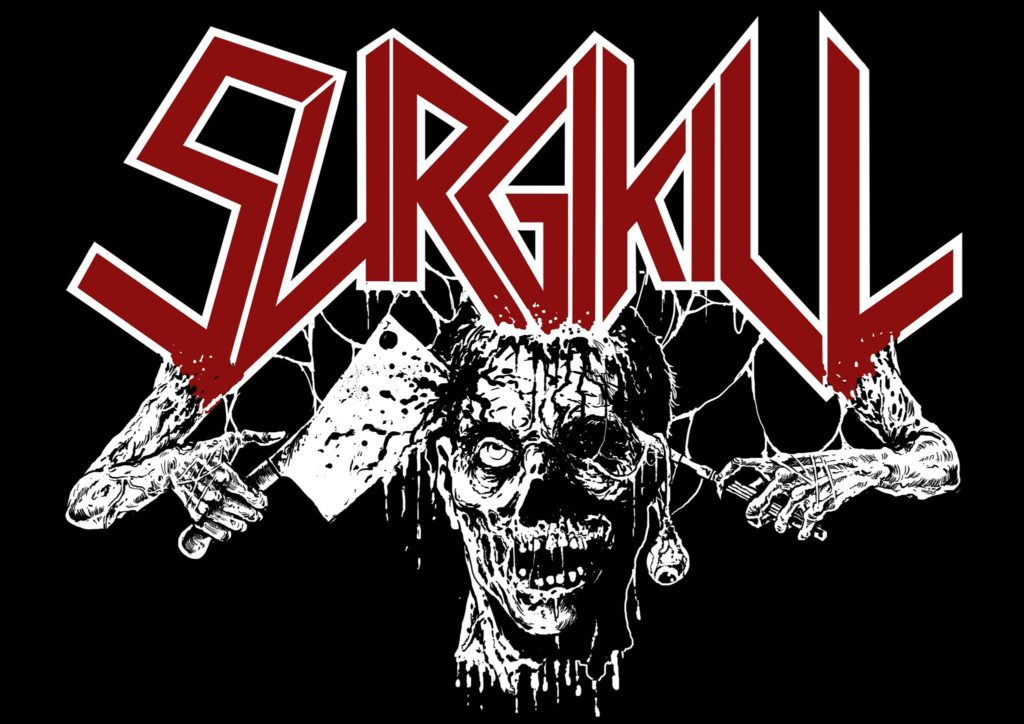 http://www.facebook.com/Violationwound
http://www.violationwound.com
https://surgikill.bandcamp.com
https://www.facebook.com/surgikill
http://www.selfmadegod.com
http://www.facebook.com/selfmadegod
http://www.youtube.com/user/SelfmadegodRecords
https://selfmadegod.bandcamp.com
https://twitter.com/selfmadegodrec