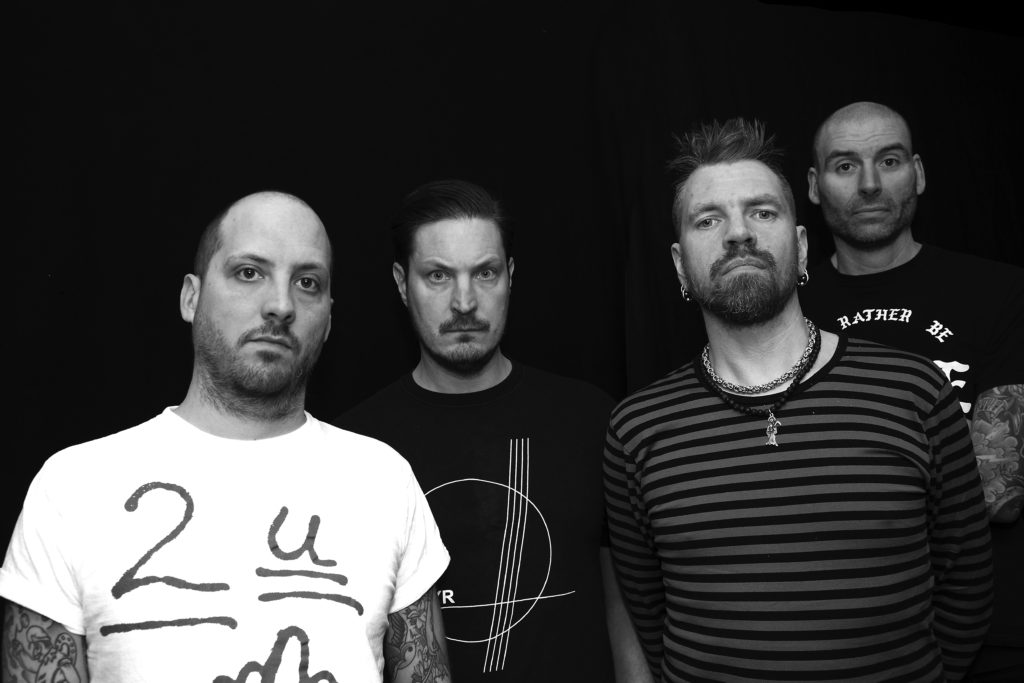 "…a ripping journey into the bowels of crust punk, d-beat and hardcore, recalling their contemporaries like His Hero Is Gone and Tragedy." — Decibel
Stream / Share The Horse And Sparrow Theory At THIS LOCATION
Decibel Magazine is currently streaming The Horse And Sparrow Theory, the impending full-lengthfrom Stockholm hardcore crust punk veterans VICTIMS, in its battering entirety. The stream comes in advance of the record's worldwide release Friday June 28th via Relapse Records.
Issues Decibel of the release, "The Horse And The Sparrow, is a ripping journey into the bowels of crust punk, d-beat and hardcore, recalling their contemporaries like His Hero is Gone and Tragedy. With a clear-but-dirty production job from Karl Daniel Lidén, The Horse And The Sparrow Theory takes aim at the fucked state of the world with vitriol. A dreary tone surrounds The Horse And The Sparrow Theory, reflecting its subject matter. Even the melodies are dark and the layers of feedback and distortion are suffocating, but songs like 'Fires Below' and 'The Birth Of Tragedy' are also anthemic and catchy like the best punk tunes are."
Stream The Horse And Sparrow Theory exclusively at Decibel at THIS LOCATION.
If you missed it, view the band's previously released video "The Sea And Poison" below.
Recorded by producer Karl Daniel Lidén (Bloodbath, Katatonia, Craft), The Horse And Sparrow Theory clocks in with twenty-eight minutes of relentless insurrection. VICTIMS' uncompromising take on d-beat and hardcore is a definitive statement of intent, as the band is set to deconstruct the current socio-political climate, mass class division, industrialization, and the self-absorbed pursuit of greed and corruption.
The Horse And Sparrow Theory will see release on CD, LP, and digital formats. Physical packages are available for preorder via Relapse.com HERE. For digital downloads/streaming services go HERE.
VICTIMS will celebrate the release of The Horse And Sparrow Theory with a record release weekend June 28th-30th in Poland and Germany respectively before embarking on a European headlining tour this fall from October 25th through November 2nd. See all confirmed dates below.
VICTIMS:
6/28/2019 Ultrachaos Picnic – Zelebsko, PL
6/29/2019 CRK – Wroclaw, PL
10/25/2019 Die Yoko – Hamburg, DE
10/26/2019 Zukunft Am Ostkreuz – Berlin, DE
10/27/2019 Chemiefabrik – Dresden, DE
10/28/2019 007 Strahov – Prague, CZ
10/29/2019 Durer Kert – Budapest, HU
10/30/2019 Arena – Vienna, AT
10/31/2019 Feierwerk – Sunny Red – Munich, DE
11/01/2019 AJZ Bahndamm – Wermelskirchen, DE
11/02/2019 Klokgebouw – Sound Of Revolution Festival – Eindhoven, NL
VICTIMS was forged in 1997 in Nyköping, Sweden. The original lineup consisted of Johan Eriksson on vocals, Andy Henriksson on drums, Andy Söderström on bass and Marcus Strandberg on guitar. The lineup recorded a seven-track demo, reissued as an EP titled Harder Than It Was Meant To Be, a split EP with Acursed in 1999, and their debut album Neverendinglasting in 2001 on German label Yellow Dog Records.
Shortly after the release of Neverendinglasting, guitarist Strandberg left the band and was replaced by Acursed guitarist Jon Lindqvist. In 2003, they released a split LP with American crust punks From Ashes Rise and in 2004, their second full-length, …In Blood, dropped via Havoc Records before ebarking on their first-ever US tour.
VICTIMS' third album, Divide And Conquer, released in 2006 on Havoc Records, is described by the band as rougher and trashier. By then, Söderström had fled the band. Eriksson took over bass duties and in 2008, the band released their fourth offering, Killer. VICTIMS toured extensively throughout the world in support of the record, sharing stages with the likes of Municipal Waste, Rotten Sound, and Trap Them, and appearing at notable festivals across Europe. This era marked the addition of second guitarist Gareth Smith, formerly of Raging Speedhorn and longtime acquaintance of Eriksson. VICTIMS released their subsequent albums A Dissident in 2011 with Deathwish and Sirens in 2016 with Tankcrimes.
"Ripping strand of d-beat, tipping the hat to Motörhead and Discharge and riding alongside like-minded heroes like Tragedy and From Ashes Rise" – Revolver
"A band criminally underappreciated outside of their native land, VICTIMS still have the juice to load a record with hook-filled ragers and pop-locking, string chewing beats, seven LPs in." — Heavy Blog Is Heavy
"…a record whose unforgiving rhythms are only counterbalanced by the looming sense of dread that defines their work." — Two Guys Metal Reviews
"…empowering and cathartic. Crust punk riffs and angry gang vocals aren't going to deliver us from our demise, but they make a damn fine soundtrack for fighting back… At just under 30 minutes, the album is a potent B-12 shot and a satisfying dose of righteous fury. It won't change the world, but it's enough to inspire some listeners to fuck shit up." — Treble
http://www.victimsinblood.com/
http://www.facebook.com/victimsinblood/
http://www.instagram.com/victimsinblood/
http://twitter.com/victimsinblood
http://victims.bandcamp.com/
http://www.relapse.com
http://www.relapserecords.bandcamp.com
http://www.facebook.com/RelapseRecords
http://www.twitter.com/RelapseRecords
http://www.instagram.com/relapserecords