While production has been seemly at a standstill over recent months, the gears driving avant/extreme metallurgists Vendlus Records have simply slowed for retooling. The label has recently acquired some recent releases of extreme potency and is ready to reintroduce itself to the world with a vengeance into the start of 2011. Several new releases are in production for distribution to the masses in January right now; with several others lining up for release later in the year.
At press time, Vendlus is proud to announce the following titles, lined up for infiltration into the public in January 2011: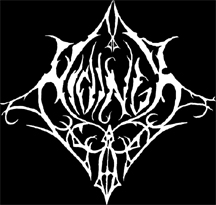 NIDINGR :: Wolf Father | When the assassins in NIDINGR culminate their dark arts and aggression on their sophomore full-length Wolf Father, hell is unleashed. The uncompromising album will numb listeners with fear as they're subjected to the infectious, blackened battery this Norwegian unit unleashes. Comprised of bassist/guitarist Teloch (1349, Gorgoroth, Ov Hell, Orcustus, Umoral, Konsortium), bassist/guitarist Blargh (Gravferd, Dødheimsgard), vocalist Cpt. Estrella Grasa (Kort Prosess), and drummer Hellhammer (Immortal, Shining, Thorns, Umoral, Mayhem, Emperor), and even featuring a guest appearance from Ulver's mastermind, Garm, this is a release sure to start your year off with a brutal slap in the face of unholy, scathing filth. [www.nidingr.no]
NEKROMANTHEON :: Divinity Of Death | While continually being subjected to countless generic thrash re-hash clones these days, when a band like this comes along, true thrash metal devotees listen up! Producing breakneck, creepy, old-school, thrashing brutality is second nature to the trio known as NEKROMANTHEON, as they readily prove on their Divinity Of Death debut full-length. The stripped-down but potent lineup — guitarist/vocalist Arild "Arse" Myren Torp and bassist/vocalist Sindre Solem, both from Norway's infamous Obliteration, as well as Audiopain drummer Christian "Kick" Holm — unleash a hellstorm of no-frills metal, dropping 11 furious tracks in just over 30 minutes on this bruiser, disposing of all weaklings in their path. [www.myspace.com/nekromantheon]
ARKHUM :: Anno Universum | Oregon death metal horde ARKHUM explore multiple facets of the genre, simultaneously utilizing classic patterns and integrating their own technical flair and Sci-Fi imagery on their crushing debut full-length Anno Universum. Vocalist Kenneth Parker, guitarist/vocalist Stephen Parker, guitarist Kyle Jendrisak and bassist Matt Edwards' brutal brew of death metal tells tales of despair and war not simply here on Earth, but from vast, unexplored realms of the cosmos, all through a torrential flood of unique, technically-proficient and utterly corrosive death metal over the course of the eight punishing tracks Anno Universum beholds. [www.myspace.com/arkhumofficial]
More info on all three upcoming releases will be announced shortly, and promos of all will be available to journalists worldwide via Earsplit in the coming weeks. Stay tuned for more updates on other new Vendlus Records signings as well.
http://www.vendlus.com
http://www.myspace.com/vendlusrecords