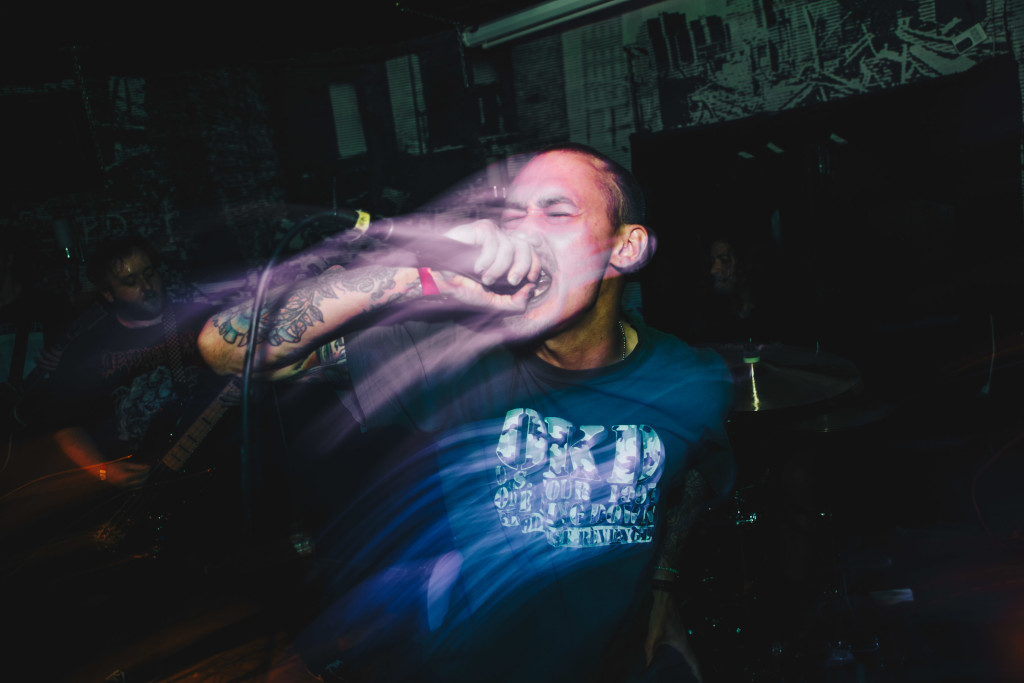 [photo by Mike Moynihan]
Savanna, Georgia-based VATICAN announces more upcoming tour dates supporting their Ache Of Eternity EP, which was issued through Sorrow Carrier Records at the end of August.
The vicious straight edge outfit will take their crushing metallic hardcore wrath into the southernmost regions of the country on a week-long massacre surrounding their performance at Hope For Shelter Fest in San Antonio alongside Homewrecker, Sworn Vengeance, Die Young, Greg Bennick (Trial), and many others. The first four shows, including the festival see VATICAN touring alongside Purity, Trust Issues, and Dwell, the final two shows with Strengthen What Remains and Dwell. Expect additional tour dates to be posted in the coming weeks.
Stream Ache Of Eternity at Bandcamp HERE and see the video for VATICAN's anti-suicide anthem "Slit Of Creation" HERE.
VATICAN Tour Dates:
9/27/2017 Studio 524 – Baton Rouge, LA *
9/28/2017 The White Swan – Houston, TX *
9/29/2017 Boozers – Corpus Christi, TX *
9/30/2017 The Korova – San Antonio, TX @ Hope For Shelter Fest [info] *
10/03/2017 Killers Tacos – Denton, TX #
10/04/2017 house show – Nashville, TN #
* w/ Purity, Trust Issues, Dwell
# w/ Strengthen What Remains, Dwell
Ache Of Eternity is available through Sorrow Carrier Records on three color variants – black with screen-printed b-side, red with black smoke, and purple; find order options HERE.
Melding elements fans of Zao, Carcass, Converge, Poison The Well, Martyr A.D., One King Down, and similar brutalizing acts, VATICAN's Ache Of Eternity was recorded by Kris Hilbert at Legitimate Business (Advent, Torch Runner, Red Death, Joy), mastered by Brad Boatright at Audiosiege (Integrity, Nails, Xibalba) and bears art by Spencer Guerrero and photography by Nathan Fitzgerald. Decibel Magazine offers, "There are a lot of influences at play on Ache Of Eternity–from the chaotic nature of Converge to the bulldozing heaviness of Zao, Martyr A.D. or Hatebreed–making the EP a satisfying listen from the rising hardcore band." Metal Injection calls the EP, "a doozy for anyone that worships Zao, Poison the Well, It Dies Today, etc. Can't deny there is a huge Swedish death metal influence in there, somewhere, either."
Svbterranean reports that the EP, "delivers five tracks of flesh-ripping riffs, bashing grooves and breakdowns galore… Ache Of Eternity sits at the apex of this evolution, offering something that is no doubt familiar, but also dynamic and destructive. If Trustkill and Ferret Music were still operating today, VATICAN would be the type of band they would have bred." Two Guys Metal Reviews states, "Ache Of Eternity is the sort of metallic hardcore record that cracks skulls with its punchy accuracy, tight songwriting and bone breaking breakdowns."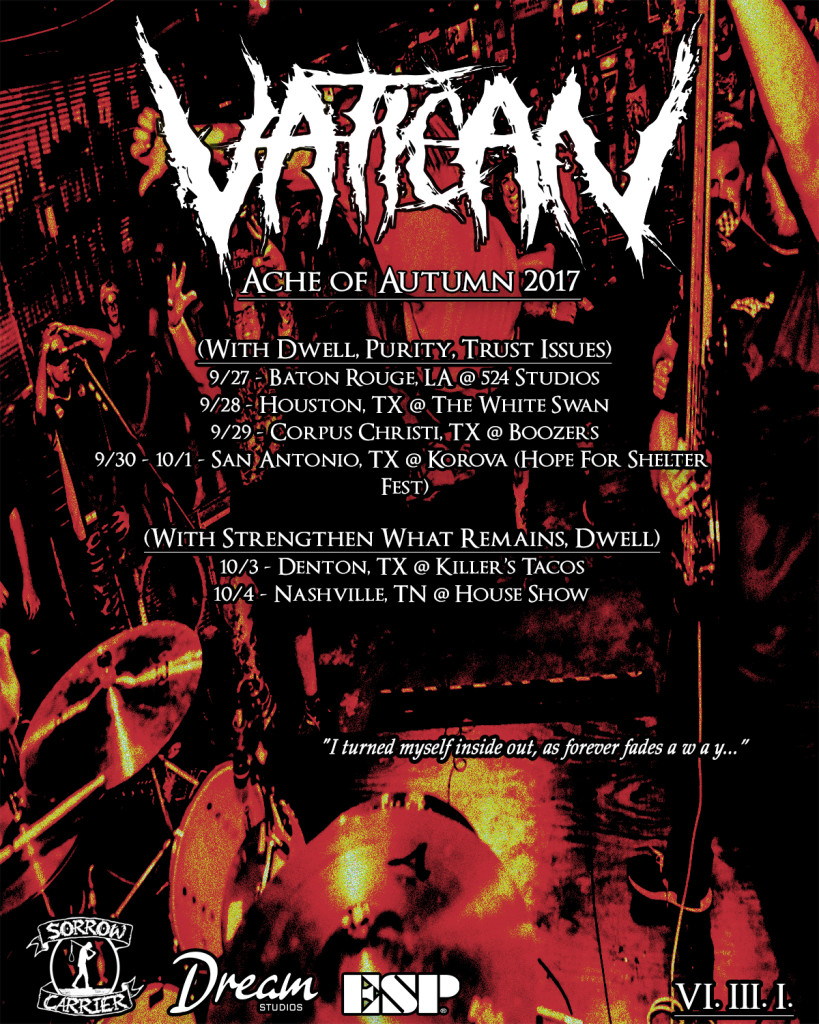 https://vaticanga.bandcamp.com
https://www.facebook.com/vaticanhc
http://sorrowcarrier.bigcartel.com
https://www.facebook.com/SorrowCarrierRecords