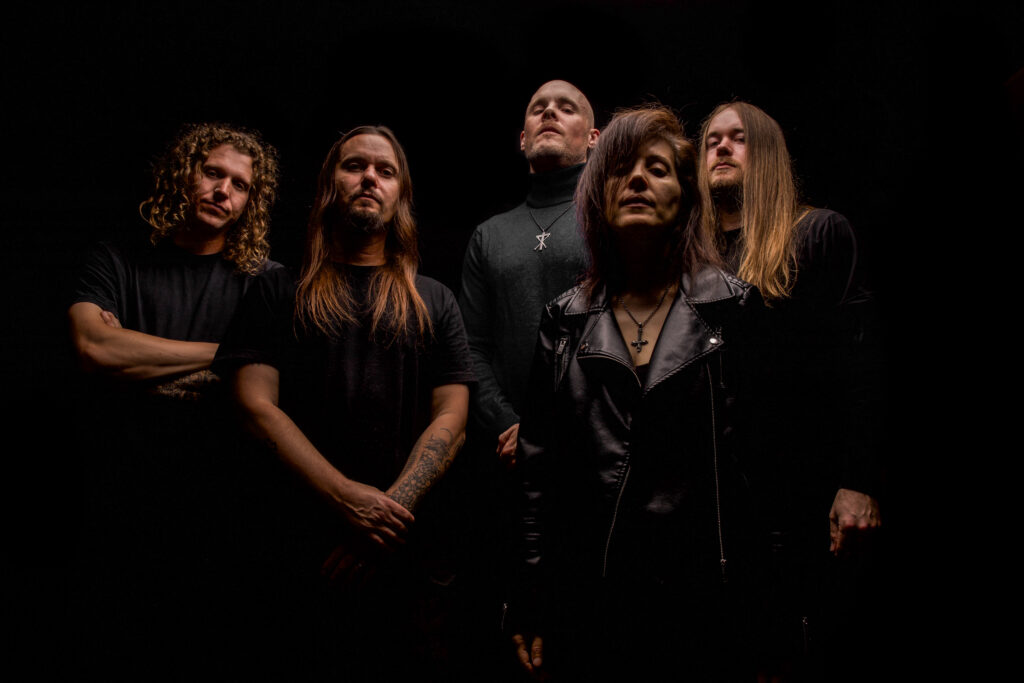 photos by Chris Johnson
"Corpus Fractum" is the monstrous new single from Oakland death metal quintet VASTUM. The song erupts into the public domain today as 20 Buck Spin prepares for the November release of the band's brutalizing fifth album, Inward To Gethsemane.
Four years and one pandemic on from Orificial Purge, VASTUM, the longest running band on the 20 Buck Spin roster, offers up its fifth bludgeoning document of psychic malaise and lost faith with Inward To Gethsemane. As before, the abject disgust unsparingly captured in VASTUM's unique approach continues to drape the music with an aura of discomfiting unease.
The cavernous density that VASTUM has made a core element of its discography remains as inhuman as ever, continuing to delve into darker atmospheres, yet never devolving into ambient murk; on the contrary it's always punishing and with a fearsome momentum. The distinctively harrowing dual lyrical/vocal attack of Daniel Butler and Leila Abdul-Rauf appears throughout Inward To Gethsemane; the possessed narrators of VASTUM's hellish underworld. Eight-minute album closer "Corpus Fractum" manifests a transformative and even experimental side of VASTUM musically and vocally, while sustaining the characteristic merciless power the band is revered for across its five albums.
Between the sporadic but legendary live performances and a worshiped discography of modern era true death metal with five albums in twelve years all released through 20 Buck Spin, VASTUM has become a torchbearer of the grisly and grotesque underground, both within its native Bay Area and well beyond. Inward To Gethsemane carves another notch in VASTUM's totem of deviance.
VASTUM's Inward To Gethsemane was mixed and recorded by Greg Wilkinson at Earhammer Studios (Acephalix, Ulthar, Necrot), mastered by Brad Boatright at Audiosiege (Obituary, Mournful Congregation, Creeping Death), with artwork once again by vocalist Daniel Butler, photography by Chris Johnston, and layout by Dan Fried. All who endure the hammering ways of Bolt Thrower, Undergang, Autopsy, Necrot, Phrenelith, Mortuous, Coffins, Dead Congregation, Grave, and Demigod, do not miss Inward To Gethsemane.
With Inward To Gethsemane's second single, "Corpus Fractum," Abdul-Rauf reveals, "I feel this song sums up the album's message both lyrically and musically, as well as marking an evolution in the band's overall sound and aesthetic. When writing the music, I intentionally left it structurally open to improvisation when it came time to record it, which was a first for VASTUM; every single note and repetition of a riff is usually completely set by the time we're ready to record a song. I felt a change in process for this song gave breathing room to allow for spontaneity in the studio for all sorts of interesting layering with different kinds of vocals, synths, and some sample ideas that Dan contributed. The end result far exceeded my expectations – it was the most challenging song for me to write, but it's the one I'm most proud of on the album."
Butler states, "I was thinking about places like the Tenderloin and Skid Row, which are basically modern-day Gethsemanes where a lot of people find themselves abandoned to worlds of abuse, despair, addiction, violence, salvation, suicide, homicide, etc. – all themes that track with the betrayal and murder of a crucified God. The lyrics, samples, and vocals reference bands like Dystopia and Deicide, anti-theologians like Thomas Altizer, and the Russian philosopher, Lev Shestov."
VASTUM's "Corpus Fractum" can now be streamed everywhere including YouTube HERE and Bandcamp HERE.
20 Buck Spin will issue Inward To Gethsemane on LP, CD, MC, and digital formats on November 10th. Find preorder options and merch at the label webshop HERE and Bandcamp where first single "Indwelling Archon" is also streaming HERE.
Stand by for additional updates from the VASTUM sect as the release of Inward To Gethsemane draws near.
https://www.facebook.com/vastumofficial
https://vastum.bandcamp.com
https://vastum.storenvy.com
https://www.20buckspin.com
https://listen.20buckspin.com
https://www.facebook.com/20buckspin
https://twitter.com/20buckspinlabel
https://www.instagram.com/20buckspinlabel