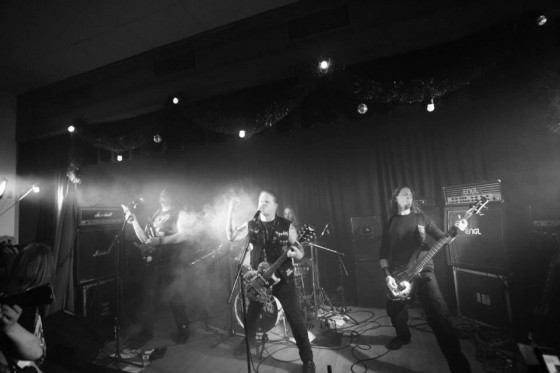 Swedish death horde, VANHELGD, makes their 20 Buck Spin debut next week with the release of their triumphant third LP, Relics Of Sulphur Salvation, hitting the streets of North America on Tuesday, May 27th.
Booming with disparaging and vicious Swedish death in the vein of Morbus Chron and Bastard Priest with the blackened gnaw ala Ondskapt and Watain, VANHELGD delivers over forty minutes of true, bruising metal with a callous, calculated delivery on Relics Of Sulphur Salvation. A pessimistic album unapologetically awash in punishing tones courtesy of producer Joona Hassinen who produced the album at Studio Underjord, the final mastering was handled by Tore Stjerna at the infamous Necromorbus (Funeral Mist, Watain, Tribulation).
Invisible Oranges is now streaming the eight intense passages of Relics Of Sulphur Salvation RIGHT HERE.
North American orders for the CD version of Relics Of Sulphur Salvation can be placed at 20 Buck Spin HERE, and internationally via Pulverised Records. 20 Buck Spin is handling the LP worldwide, including a 150-run of white vinyl for mailorder customers; preorders are available HERE
Stay tuned as VANHELGD announces live performances in support of Relics Of Sulphur Salvation and more in the coming weeks.
"…Relics Of Sulphur Salvation, it's pretty much about three things: tragedy, ecstasy and doom… They wrote a monster…" – Decibel
"Vanhelgd does a great job of representing old school Swedish Death Metal while making a point of not sounding like everybody else in the genre. They took small steps in making their sound noticeably different from the norm. The band clearly spent a great deal of time thinking outside the box. 9/10" – Metal Temple
"This is dense, serious, and sinister death metal that, despite moving with the same fleet motions of countless bands both before and after, still feels fresh and vital. That energy is critical, because while there's no bold new innovation to be had, there's nothing wasted – no fat, nothing phoned in, nothing drags, and everything is played with bone-deep conviction. For lack of a more scientific description, then: it really sounds like the dudes in Vanhelgd are feeling it." – Last Rites
"There are plenty of bands out there continuing to utilize the familiar old-school Swedish death metal sound, but few have the songwriting chops that Vanhelgd has displayed on Relics of Sulphur Salvation. This album not only has zero filler but each of its eight tracks has plenty to offer, making it one of this year's highlights." – Cosmos Gaming
"What separates Vanhelgd from the vast majority is that they 'get it' in terms of what it means to pay homage instead of plagiarizing the past. 8/10" – Dead Rhetoric
http://www.mattiasfrisk.com/vanhelgd.html
https://www.facebook.com/vanhelgd
http://www.20buckspin.com
http://www.facebook.com/20buckspin
http://twitter.com/20buckspinlabel