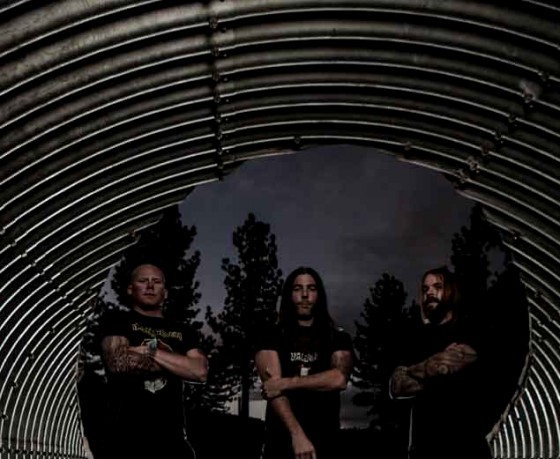 Alpine black/death occultists VALDUR recently unveiled a teaser track from their upcoming new full-length. Titled "Blast Beast," the tune was recorded at the infamous Bloody Mountain Bunker and is currently streaming for all your unholy enjoyment courtesy of Decibel Magazine, who notes: "The guitars swirl like a wicked blizzard at night, the drums blaaast! an unheard of brutality, and the vocals sound like they come from the blackest depths of the Mammoth Mountain. And then there's that ominous horn-like sound permeating the soundscape. The end of the world or the beginning of an evil era, VALDUR certainly understand black metal's key dynamics without making them sound tired."
Comments guitarist/vocalist Samuel of the track: "As VALDUR continues to make it a priority to create our music for ourselves first and foremost, we decided this 'Blast Beast' should be heard. For us, it is an exciting stepping stone into what will soon unfold into a very aggressive new full length."
The recording of their as-yet, untitled long player will be completed later this month Earhammer Studio in Oakland. The offering will feature nine tracks in total. Further details to be announced in the coming weeks.
In related news, the band will be performing a rare live ritual alongside Genocide Coven, Ritual Combat and more at the Nihilistic Death Fest V in Salt Lake City, Utah January 19. The gathering is being held at The Shred Shed. Tickets are $10 advance/$12 day of show. For more info, point your browser HERE.
If you missed it, VALDUR recently unleashed an ultra limited two-song EP entitled The Hammer Pit containing a rough version of two new songs. Taste the blood of track one, "Conjuring The Fire Plagues," at the band's Official BandCamp Page.
Hailing from Mammoth Lakes, California, VALDUR unleashed Raven God Amongst Us in 2010 via Blood Mountain Records. The record proved to be an infernal masterpiece among the underground masses.
"…this is a band that remembers what is good about black metal, and does it very well indeed. Not an album to overlook."– The Metal Crypt
"…the best black metal band in the United States that you've probably never heard of." – About.com
"…a shimmering brand of black metal which pierces hearts rather than suffocates lungs." – Thrash Pit
VALDUR:
Samuel: Guitars/Vocals
William: Bass
Sxuperion: Drums