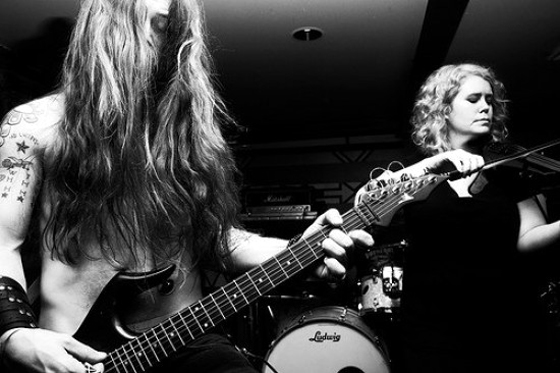 Appalachian masters of dark psychedelia, USX, will take to the road this week for a run of shows through the Southeastern US states alongside local brethren Generation Of Vipers. The five-city run begins on Wednesdaay, July 17th in Asheville followed by Athens, Atlanta, Savannah and Columbia through next weekend, the two acts to share the stage with Sons of Tonatiuh, Across Tundras and more throughout the trek.
Stated USX founder Nate Hall of the trek: "We are anticipating some good hot and sweaty shows with our good friends Generation of Vipers, Sons of Tonatiuh, and some cool new southern bands. We are hitting some of our favorite cities and it would be cool to see a ton of people come out. As always, we will play as loud and hard as we can. And we are LOADED with merch."
USX Tour w/ Generation Of Vipers:
7/17/2013 The Boiler Room – Asheville, NC
7/18/2013 Flicker – Athens, GA
7/19/2013 529 – Altanta, GA w/ Sons of Tonatiuh, Across Tundras
7/20/2013 The Jinx – Savannah, GA
7/21/2013 Jakes – Columbia, SC
A six-pack of talented musicians, USX, having converted the name from their initial moniker U.S. Christmas, is a long-running and major element to the Neurot Recordings roster, with a plethora of LPs and other releases as well as Nate Hall's maiden solo effort on the label's roster. The latest USX studio effort, the epic The Valley Path, was released via Neurot in mid-2011, the expansive album consisting of one mammoth, nearly forty-minute track of esoteric beauty, showcasing the sextet's uneasily-classified folk and psyche-driven rock at its most expansive yet.
"Nate Hall is a plain-faced general calling his troops to a doomed battle, but then jerking awake occasionally to find that it was all a moonshine hallucination." — Decibel
"At times this is heavy, heavy psych that possesses the power to blow yer mind to little bits, but it's when the band let their psych out to play with a Laurel Canyon acoustic strum that things really take off. Headphones and a bong are mandatory packing items for this trip." — Montreal Mirror
"U.S. Christmas provide an album that challenges listeners instead of directly handing them emotions." — Slug Magazine
"USX weave a psychedelic spell as potent as that by any other mystic. Open your third eye and get that nail ready." — Sleazegrinder
http://www.myspace.com/uschristmas
https://www.facebook.com/?ref=home#!/USX.APPALACHIA
http://www.neurotrecordings.com
https://www.facebook.com/neurotrecordings