Stereokiller is remorselessly decimating anything with an internet connection via a full stream of the entire split release between USURPRESS and BENT SEA, out next week via Selfmadegod Records.
Three new tracks of brutally-charged death crust full of odd, dissonant death metal riffs and primitive d-beatings from Swedish death metal division, USURPRESS, lead off the massacre. The new material comes behind their In Permanent Twilight EP and following 2012 debut full-length, Trenches Of The Netherworld, in addition to splits with Bombs Of Hades and Pyramido. The members hail from a diverse array of musical backgrounds, but their common ground is the love and understanding for all kinds of dark and aggressive underground music, merging the bestiality of old death metal and the undying hate of true hardcore/punk. The band also features renowned death metal-expert Daniel Ekeroth within its ranks; a surefire indication that this act is fucking legit.
The latter half is overrun by BENT SEA, a project forged by multi-instrumentalist Dirk Verbeuren (Aborted, Scarve, Soilwork) who enlisted fellow Aborted bandmate Sven De Caluwe and legendary Napalm Death bassist Shane Embury to help fulfill his masterfully destructive vision. While in some ways an homage to the founding fathers of grindcore, BENT SEA is also a tribute to today's vibrant scene and countless amazing bands that push the envelope and/or keep the tradition alive, while lyrically addressing human and social issues with the utmost urgency.
Be inundated by the entire USURPRESS / BENT SEA split via the album's Stereokiller profile RIGHT HERE.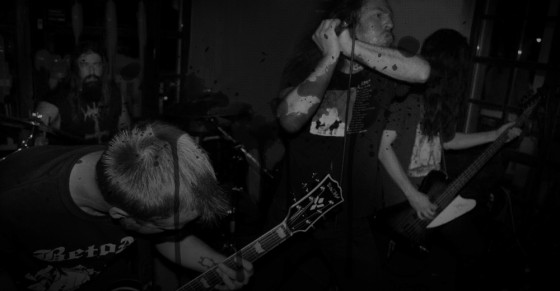 http://www.facebook.com/Usurpress
http://www.bentsea.com
http://www.selfmadegod.com
http://www.youtube.com/user/SelfmadegodRecords
http://www.facebook.com/selfmadegod