The impact of Random Cosmic Violence, the second album from Portland, Oregon's USNEA, and first of the band's releases for Relapse Records, will be felt worldwide in less than three weeks, and this week another precursory strike has been made, as No Clean Singing unveils the LP's devastating title track.
Pulsating with tribal intensity, Random Cosmic Violence is one of those rare records which elevates itself above the boundaries that its genre typically self-imposes, its musicality and songcraft exhibited placing USNEA not just at the forefront of the American doom scene and extreme music realms as a whole. "The album as a whole is desolate and devastating, an avalanche of multi-ton boulders in slow motion, with riffs that carve deep canyons of despair in a blasted post-apocalyptic wasteland and percussion that's so pulverizing and so well-produced that you feel like your head is right inside the bass drum," No Clean Singing issues of Random Cosmic Violence as a whole in the massive review of the LP posted alongside the song premiere. It goes on to discuss the band as a whole, reporting, "And perhaps what really vaults the album high above the average, apart from USNEA's knack for generating titanic power and morbid, minor-key melodies, is the band's skill in creating dynamic changes and salting this heartless sonic landscape with ingenious touches, which come like breaths of air in an atmosphere that's being rapidly sucked into space, or poisoned with the smoke of burning tires in an urban dead zone."
Get the entire, grim forecast No Clean Singing has issued with "Random Cosmic Violence" now at THIS LOCATION.
Also pay heed to the track "Healing Through Death" via Relapse HERE.
Through their ruthlessly overwhelming style of black/occult metal-influenced funeral doom, USNEA has created a classic of the new millennium with Random Cosmic Violence. Recorded and mixed by Jared "Fester" See at Haywire Studios (Stoneburner, Rabbits, Drunk Dad) who supplies additional guitars to the title track, and mastered by Brad Boatright at Audiosiege (Yob, High On Fire, Integrity), the artwork and design was handled by Justin Cory and Orion Landau. Relapse will release the album on CD, digital download and both colored/limited and standard black 2xLP in Germany/Benelux/Finland on November 7th and in North America and the rest of the world November 10th; preorders for the physical versions are posted HERE and the digital HERE.
On the day of their new album's North American release, USNEA will perform in their hometown at the official record release show for labelmates and allies in Atriarch, with additional live and tour actions to be announced in the near future as Random Cosmic Violence sees release.
USNEA Live:
11/10/2014 Tonic Lounge – Portland, OR w/ Atriarch, Muscle and Marrow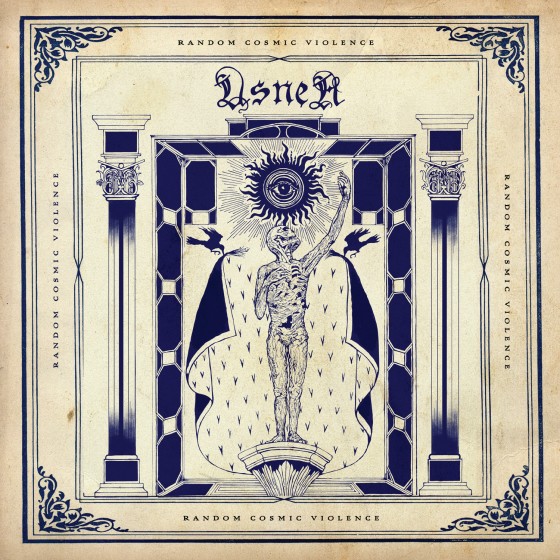 http://www.usneadoom.com
https://www.facebook.com/usneadoom
https://usneadoom.bandcamp.com
http://www.relapse.com
http://relapserecords.bandcamp.com
http://www.facebook.com/RelapseRecords