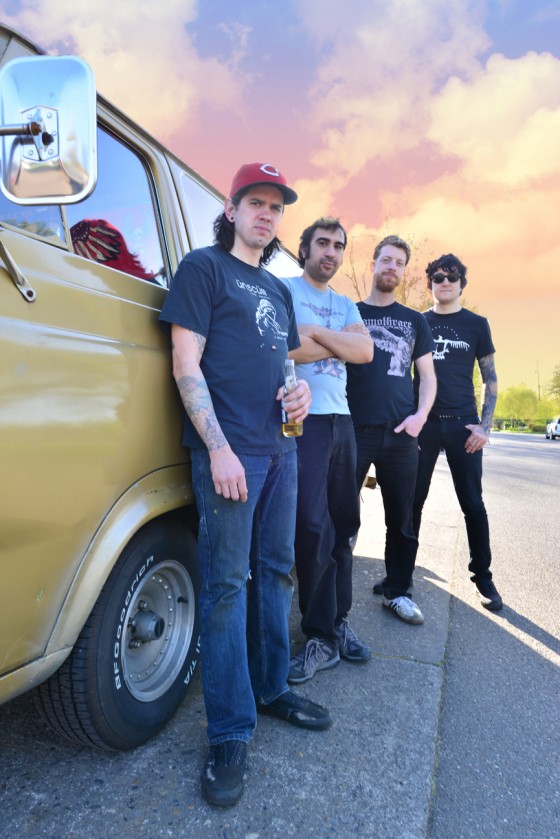 The sophomore full-length release from Portland, Oregon's USNEA, Random Cosmic Violence, is now playing at Steregum in its entirety a week ahead of its worldwide street date through Relapse Records. Not only an album which more than satisfies the urge diehard cult fans of the band since previous outings, Random Cosmic Violence packs a monumentally damaging and contagious dose of some of 2014's finest metal of the slow-motion doom/death/sludge-influenced variety sucking endless new fans into its fathomless expanses.
Stereogum now lets the impact of USNEA's Random Cosmic Violence be felt several days preceding its worldwide release, with a pummeling write-up of the powerful album, including, "In a year that has already delivered amazing new records from Yob, Pallbearer, Triptykon, Thou, Eyehategod, and Indian (among others), it's pretty close to impossible to show up in mid-November with an album of sludge/funeral doom and make any sort of impact. But Random Cosmic Violence… arrives with the force of an asteroid, and leaves behind a fucking crater." Later in the review the praise continues: "Random Cosmic Violence has a Floydian vastness that both balances and amplifies the overwhelming, crushing heaviness. Like the night sky itself, Random Cosmic Violence is full of terror and awe and ice and fire. It is a massive, monumental thing."
Stream Random Cosmic Violence's damaging ways RIGHT HERE.
Through their ruthlessly overwhelming style of black/occult metal-influenced funeral doom, USNEA has created a classic of the new millennium with Random Cosmic Violence. Recorded and mixed by Jared "Fester" See at Haywire Studios (Stoneburner, Rabbits, Drunk Dad) who supplies additional guitars to the title track, and mastered by Brad Boatright at Audiosiege (Yob, High On Fire, Integrity), the artwork and design was handled by Justin Cory and Orion Landau. Relapse will release the album on CD, digital download and both colored/limited and standard black 2xLP; preorders for the physical versions are posted HERE and the digital HERE.
On the day of their new album's North American release, Next Monday, November 10th, USNEA will perform in their hometown at the official record release show for labelmates and allies in Atriarch, with additional live and tour actions to be announced in the near future as Random Cosmic Violence sees release.
USNEA Live:
11/10/2014 Tonic Lounge – Portland, OR w/ Atriarch, Muscle and Marrow
Pulsating with tribal intensity, Random Cosmic Violence is one of those rare records which elevates itself above the boundaries that its genre typically self-imposes, its musicality and songcraft exhibited placing USNEA not just at the forefront of the American doom scene and extreme music realms as a whole. Metal Insider came in thunderous praise of Random Cosmic Violence, issuing, "USNEA push doom metal boundaries while never loosing the essence of brutality upon which their sound hinges. Make no mistake that it will be fans of outfits past and present like Pallbearer, Lycus, Morgion, and Mindrot that will find the most to fall in love with on this album. But the unique way in which USNEA package their brand of deathly doom metal on Random Cosmic Violence may very well separate them from the pack moving forward." In an advance track premiere, No Clean Singing praised the new material, stating in part, "perhaps what really vaults the album high above the average, apart from USNEA's knack for generating titanic power and morbid, minor-key melodies, is the band's skill in creating dynamic changes and salting this heartless sonic landscape with ingenious touches, which come like breaths of air in an atmosphere that's being rapidly sucked into space, or poisoned with the smoke of burning tires in an urban dead zone," and Sound Colour Vibration's review states, "Random Cosmic Violence is an explosive ride into the deepest dynamics and tones metal has to offer, resonating into expansive ranges of new territory in the genre with angularity, feedback, odd prolonged time signatures, subdued break downs, sludge like atmospheres, crashing waves of energy and many other progressive additives to the doom foundation. The foundations of past doom eras are intact but a much richer voyage into unknowns becomes a focal point. It's brilliant music and we are excited to see where this sound travels into the world."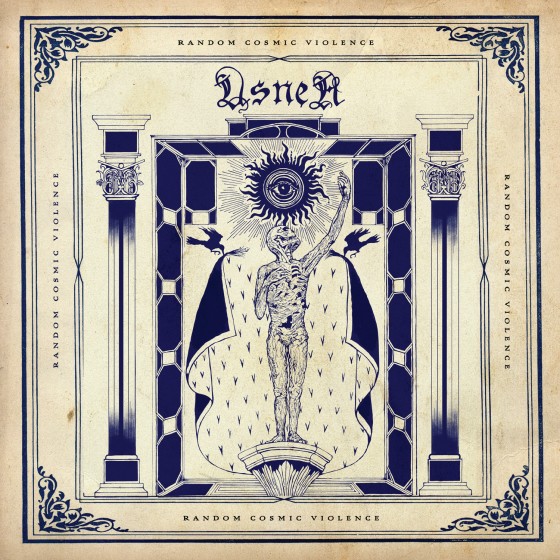 http://www.usneadoom.com
http://www.facebook.com/usneadoom
http://usneadoom.bandcamp.com
http://www.relapse.com
http://relapserecords.bandcamp.com
http://www.facebook.com/RelapseRecords