"'Eidolons And The Increate' ebbs from a murkiness in the future where humanity has fallen from a technological grace, the sun is dying, and callous brutality is the way of the land." — USNEA
Portland doom quartet USNEA has unveiled "Eidolons And The Increate" off their impending Portals Into Futility full-length.
Now playing at Decibel Magazine, watch the Frank Huang/Maximum Volume Silence-directed visualizer RIGHT HERE.
"'Eidolons And The Increate' ebbs from a murkiness in the future where humanity has fallen from a technological grace, the sun is dying, and callous brutality is the way of the land," issues the band of the track. "Mirroring the dark psychedelia of its source of inspiration – Gene Wolfe's Shadow Of The Torturer – it is a meditation on the self-destructive conceits of humanity."
Additionally, watch USNEA's previously released video for "Pyrrhic Victory" as well as first single "Lathe In Heaven" below.
Inspired by dystopian science-fiction and the painful intersection of today's crushing reality, Portals Into Futility offers five songs and fifty-six minutes of expertly crafted and elegantly depressive doom/sludge. With an evolved sound of strength and dynamism, USNEA delves more into the worlds of dissonant death metal, varied vocal structures, and cinematic composition, all while maintaining the monumental heaviness, brutality, discord, anger, and mournful melodicism of their previous work. Across dark and brooding peaks and valleys, USNEA reminds us that no matter how many doors are opened to the human species, our self-aggrandizement and hubris all lead to futility.
Portals Into Futility is due out September 8th on CD, 2xLP, and digital formats via Relapse Records. Physical preorders and exclusive bundles are currently available via Relapse,com at THIS LOCATION and digital preorders are available via Bandcamp HERE.
USNEA will tour throughout Europe this fall as direct support for Ufomammut. The tour — which commences on September 30th in Paris, France and concludes October 22nd in Munich, Germany — includes appearances at multiple festivals including Up In Smoke, Soulcrusher Festival, and Keep It Doom.
USNEA w/ Ufomammut:
9/30/2017 La Boule Noire – Paris, FR
10/01/2017 Le Ferrailleur – Nantes, FR
10/03/2017 Borderline – London, UK
10/04/2017 Magasin 4 – Brussels, BE
10/05/2017 Schlachthof – Wiesbaden, DE
10/06/2017 Up In Smoke Festival – Pratteln, CH
10/07/2017 Doornroosje @ Soulcrusher Festival – Nijmegen, NL
10/08/2017 Forum – Bielefeld, DE
10/10/2017 Blitz – Oslo, NO
10/11/2017 Klub Undergangen – Stockholm, SE
10/13/2017 Korjaamo @ Blowup Vol. 3 Festival – Helsinki, FI
10/14/2017 Olympia-Kortelli – Tampere, FI
10/16/2017 KB 18 – Copenhagen, DK
10/17/2017 Lido – Berlin, DE
10/18/2017 Markthalle – Hamburg, DE
10/19/2017 Werk 2 – Leipzig, DE
10/20/2017 Firley – Wroclaw, PL
10/21/2017 007 – Prague, CZ
10/22/2017 Keep It Doom Festival – Munich, DE
USNEA was spawned in late 2011 from the cerebral minds of guitarist/vocalist Justin Cory, guitarist Johnny Lovingood, drummer Zeke Rogers, and bassist/vocalist Joel Williams. The quartet has proven to be a seismic level force of destructive creativity with a massive yet meditative sound, masterfully crafted songwriting, and a clear yet non-derivative influence from doom legends such as Disembowelment, My Dying Bride, Neurosis, and YOB.
USNEA released their self-titled debut album in February 2013 on Rogers' own label Orca Wolf Records. Following a 7″ EP split with Ruins, USNEA signed to Relapse Records and released Random Cosmic Violence in November 2014. Random Cosmic Violence's immense presence instantly elevated USNEA to the forefront of the blossoming American doom scene. Stereogum referred to Random Cosmic Violence as having a "Floydian vastness that both balances and amplifies the overwhelming, crushing heaviness. Like the night sky itself, it's full of terror and awe and ice and fire. It is a massive, monumental thing." USNEA spent the next couple years touring in support of the record alongside veteran acts such as Ufomammut and Inverloch plus appearances at notable festivals including Maryland Deathfest, Roadburn Festival, and Modified Ghost Festival. Now in 2017, USNEA returns with their third full-length album, Portals Into Futility. An array of sci-fi novels that are becoming more and more of a reality in these volatile times informed the band's writing throughout the album, including Shadow Of The Torturer by Gene Wolfe, Lathe Of Heaven by Ursula K. Le Guin, Valis by Philip K. Dick, Valis by Philip K Dick, Demon Haunted World by Carl Sagan, and Dune by Frank Herbert. Portals Into Futility was recorded with Fester and assistant Andrew Grosse at Caravan Recordings and Haywire Studios in Portland, Oregon and mastered by Adam Gonsalvez at Telegraph Audio.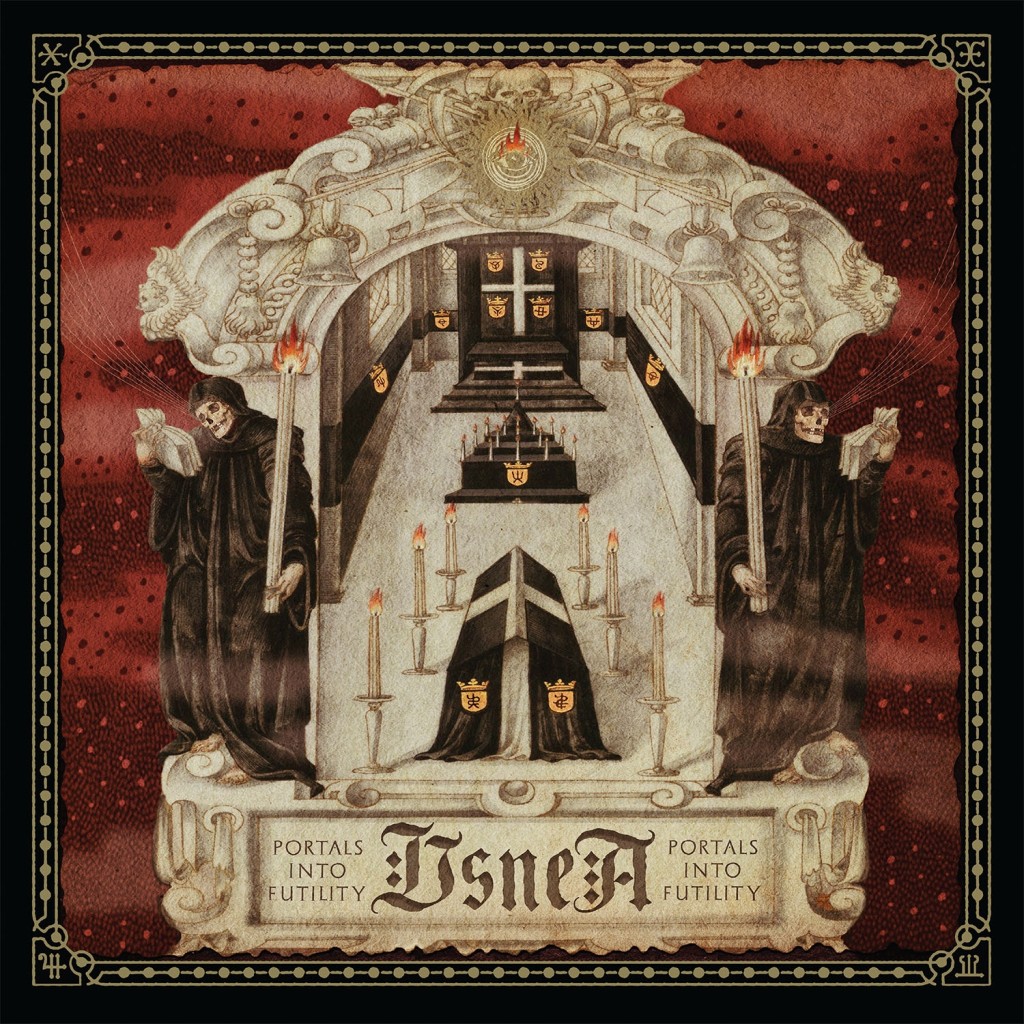 http://www.facebook.com/usneadoom
http://www.relapse.com
http://www.facebook.com/RelapseRecords