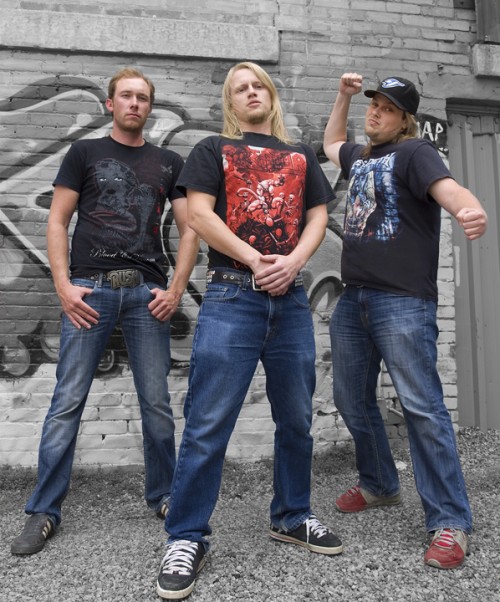 Saskatchewan-based thrash unit UNTIMELY DEMISE is preparing for the re-release of their debut full-length, City Of Steel. The hard working trio initially self-released the album late last year, but after hearing the band's powerful anthems, Sonic Unyon Metal signed the young outfit for a multi-album deal early this Summer, and will officially re-release City Of Steel in North America on September 13th, with European release dates to be announced shortly.
As the release date approaches, the members of UNTIMELY DEMISE are readily available anytime for phone, Skype and email interviews from writers and outlets across the globe. Send your promo and coverage requests to Earsplit and we'll hook you up!
UNTIMELY DEMISE are also hard at work booking local and regional shows as heavily as possible, and are exploring tour options for the months ahead. Expect to see the band touring the United States and beyond, heavily, well into next year in support of City Of Steel.
Confirmed UNTIMELY DEMISE live actions:
9/09/2011 The Fez On Broadway – Saskatoon, SK w/ DFA, Alphakill, Cease and Desist
10/07/2011 The Zoo – Winnipeg, MB w/ Alphakill, more TBA
10/29/2011 Hard Luck Bar – Toronto, ON @ Bloodbucket Metalfest [info]
11/03/2011 Bar Le Trash – St. Hyacinthe, QC
11/04/2011 Scanner Bistro – Quebec City, QB
Formed in 2006, UNTIMELY DEMISE continually draw comparisons to some of the most respected acts in their genre, including Megadeth, Arch Enemy and Death. The battle-tested group continues to work with the finest acts in metal, playing numerous shows with 3 Inches Of Blood, Into Eternity, Toxic Holocaust, Evile, Gama Bomb and Bonded By Blood.
"Untimely Demise have pulled off the impressive trick of making their complex music sound easy." – Metal Hammer UK
"… these guys are diehard enthusiasts with impeccable agility." – Exclaim! Magazine
"Saskatoon's Untimely Demise are destined to be the next to take their name global." – Absolute Underground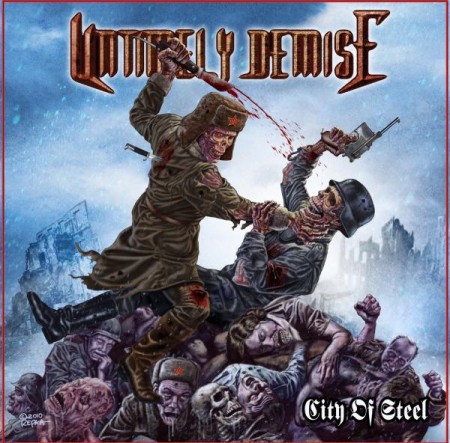 http://www.myspace.com/untimelydemisemusic
http://twitter.com/#!/UntimelyDemise1
http://www.facebook.com/pages/Untimely-Demise/118300404870359
http://www.sonicunyon.com/metal
https://www.facebook.com/SonicUnyonMetal