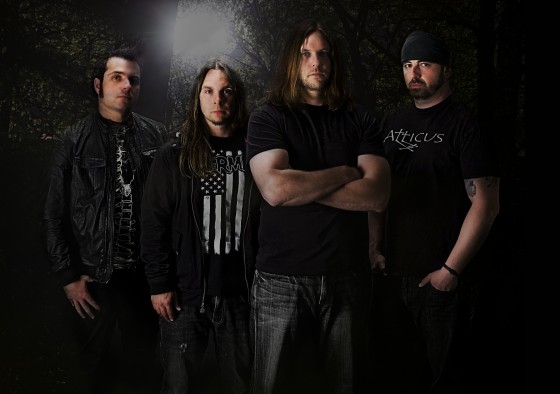 Today, Alternative Press hosts a worldwide album premiere of UNEARTH's upcoming Darkness In The Light full-length, scheduled to hit North American record shelves on July 5, 2011, via Metal Blade Records. The 11-track long player was recorded at Zing Studios in Westfield, Massachusetts with producer (and Killswitch Engage guitarist) Adam Dutkiewicz and mixed at Audiohammer Studios in Sanford, Florida by Mark Lewis (The Black Dahlia Murder, Whitechapel, Trivium, et al). Sitting in on drums during the recording was Justin Foley (Killswitch Engage/Blood Has Been Shed).
Comments vocalist Trevor Phipps of the record: "This album is without a doubt some of the heaviest, most dynamic and memorable tunes we've ever written. The disc is littered with the shred 'n' stomp-filled songs our fans would expect from us, as well as some added vocal hooks, guitar melodies, guitar solos and some different paths taken in style and structure. We knew we had to continue to separate ourselves from the pack and to cement our place in the heavy metal world as one of the leaders and not as one of the many followers that seem to hop on the trend wagon and give up so easily when the going gets hard. We are here to stay and collectively we couldn't be any more fired up to play these songs around the world for our fans new and old. So check it out, spread the word of underground metal and leave some feedback. See you on the road!"
To check out Darkness In The Light in its entirety, point your browser HERE. The stream will run from June 20 to July 5, the day the record hits streets.
With Darkness In The Light, the quintet have delivered their most honest and powerful statement to date, setting a new standard when it comes to marrying precision brute force and exhilarating melody. Fangoria.com commended the band in an advance review noting: "Tight riffing, varying from technical pedal-style patternsto twin-harmony Maiden/At The Gates worship, plus all the brutally chugging breakdowns, will surely serve to inspire many a karate kick in the pits come tour time. This is definitely music to move by… " Pit Riff said Darkness In The Light is, "powerful, has the right amount of grab to it, and definitely has the spit-filled rage lyrically that this kind of music once possessed before being softened for the mall kids, " while Crave added: "Darkness In The Light is a first rate slice of metal that helps return the meat to the hollowed and empty husk of the metalcore genre." Said Decibel of the band's unwavering vitality: "Whether they're tearing up a club at a headlining gig, opening for another band on a few square feet of stage space or blasting through headphones, that unmistakable energy is always there."
Several discounted pre-order deals for Darkness In The Light are still available. Packages include:
CD: $9.99
CD + T-Shirt: $19.99
CD + UNEARTH Beer Bong: $20.99
CD + T-Shirt + UNEARTH Beer Bong: $29.99
It should be noted that the UNEARTH Beer Bong is a pre-order item only and will not be available post street date. For further info, check out UNEARTH's official Darkness In The Light landing page where you'll also find news, tour updates and more: http://www.darknessinthelightalbum.com.
Worldwide Release Dates:
Darkness In The Light will be released in Germany, Austria, Switzerland and Norway July 1, the rest of Europe on July 4, North America, Spain and Italy on July 5, Finland and Hungary on July 6, Australia July 8 and Japan on July 27.
http://www.darknessinthelightalbum.com
http://www.unearth.tv
http://www.facebook.com/unearthofficial
http://www.twitter.com/unearthofficial
http://www.myspace.com/unearth